PDF files are, in many ways, the best format to use in business. They are widely used across the world, can be password protected and are small enough to share. But PDFs are notoriously inflexible for editing and maintaining across different platforms and are even more difficult to work with on the go.
.
PDFs were created with the sole purpose of being readable in the same way on every platform in every program, but the more towards paperless working means more is being asked of these documents. Editing text, filling out form details and signing documents are all more common requirements now. Because this idea goes against the original purpose PDFs are traditional complicated to edit and manipulate. Add the ease with which PDF files can corrupt, plus the lack of flexibility on the go and file sharers have a long list of potential headaches.
.
A free PDF editor app on iPhone and iPad has stepped in to solve these problems allowing editing, management and sharing across different platforms and devices.
.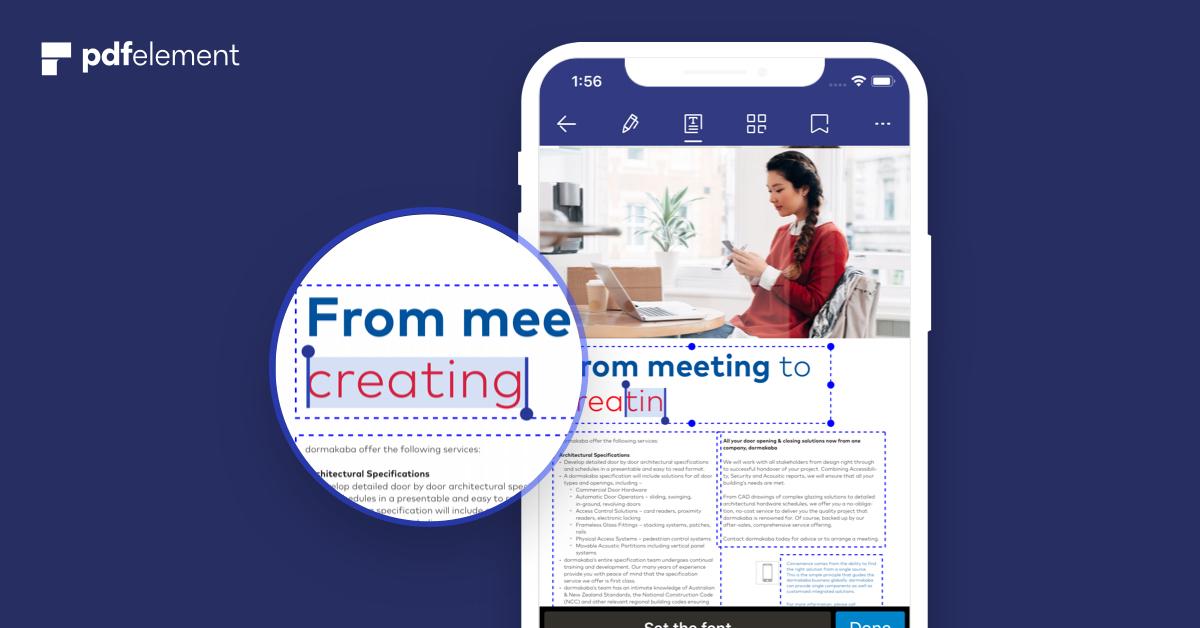 .
PDFelement – PDF app review
.
As is the nature with many apps the functionality is smoother on the bigger iPad but the functionality on the iPhone platform is also reliable and impress despite the limitations of the device.
.
PDFelement iOS app developed by Wondershare provides robust PDF solution to people working with For the process of this review, we'll split down the functionality grouped by what we want the app to do:
.
PDF Creation
.
.
With access to your devices camera PDFelement allows you to simply and quickly create a PDF from any existing physical document by taking a photo. Before saving, the app also has built in editing functionality to crop, edit and amend the document. Incorporating functionality from other popular photo creating apps PDFelement even has 'filters' to change the coloration of your document, including turning your document to black and white with the click of a button on screen.
.
Point, click, edit – DONE. With PDFelement it really does appear to be that simple!
.
Providing such simple and quick access to turning any document into a PDF is a welcome development that could change the way you work completely.
.
Converting PDFs into other files such as Word, Excel, PPT, ePub, Txt, HTML, XML and Pages files is also simply achieved with in-app functionality.
.
PDF Editing
.
.
PDFs are notoriously inflexible when it comes to editing and usually requires expensive software to edit effectively. But as a free app PDFelement is changing that with seriously impressive editing functions that allow you to amend and manipulate editable PDF files with ease.
.
Text is completely at your mercy. Without a single bit of reading or training, within minutes, I was editing text on PDFs. With the variety of in app text editing functions you can easily change fonts, font style and font color and edit the text itself.
.
Word processing elements like strikethrough, underline and text highlighting are also built into the same window giving the user all the tools needed to make changes on the fly.
.
Collaborative working
.
Success almost always involves collaboration and feedback from others, and PDFelement has seriously considered this fact when creating this app. Besides, PDFelement is an all-in-one PDF editor on Windows and Mac, too!
.
.
As an extension of the text editing functionality within the same window the app makes collaborative tools available. With the click of a button you can annotate with sticky notes to leave your feedback (and colleagues can as well when it is sent to them), highlight text, underline text and with the free drawing tool have some fun with the notes you leave – draw a smiley face to show you pleasure at the document, why not?
.
PDF file management
.
If you are working with a lot of different files, for different purposes organization is a must, if just for your own sanity! PDFelement would be lacking as a tool if it didn't have management functionality. Fortunately, the creators have added simple hierarchical folder management with drag and drop file movement. Adding new folders is simple, as is moving files around.
.
Sign important documents and fill out forms on the go
.
.
One of the main headaches working with PDFs is how complicated it can be to fill out forms and sign them. You want to sign off on an important deal or a new contract but will have to wait to print out the document, sign it in pen and post it off?
.
PDFelement has solved that. Completing forms in fillable fields is as simple as their text editing functions but the real bonus here is with signing documents. In the app, the functionality allows you to photograph your signature, crop it, edit it and sync to the device before a simple drag and drop function means you can stick it into any document. Done in minutes.
.
Or you can use the touch screen draw function to simple draw your signature on the screen and drop in to the document from there.
.
So, is PDFelement worth a download?
.
In a word – YES! PDFelement is an app that opens up the true possibilities of PDF documents and is a brilliant addition to your digital toolbox. As it is simple to use and reliable in the running, its limitations are more to do with the limitations of what creative ways you need to use PDFs. By the way, it is also available on Google Play.
.
If the descriptions of the functionality at times appear a little basic, it's because with this app there's not anything overly complicated to explain, it is reliable and simple to use and whilst more clunky on iPhone than iPad it is a great solution to your PDF needs.