Human nature is worrying constantly about the safety and security of your loved ones. The people who are most concerned are our parents. They would want to keep their children out of any trouble or harm that might be in their way, children these days can easily be a subject to many harmful things such as internet gambling, cyber-bullying or even pornographic content as a matter of fact.
Parents' dream of keeping their kids' activity and track in their knowledge at all times has just been true! The latest name in the technology world has released a ground breaking app that is answer to all the worries and concerns any parent has. The app is called "FamiSafe" that is developed by none other than "WonderShare". It has created a one of its kind app that helps resolve all issues a parent has along with protecting the kid it also helps to ensure the kids are not getting addicted to the devices they are using by its amazing features. It is a fast and reliable app that helps you stay updated about your kids in real time.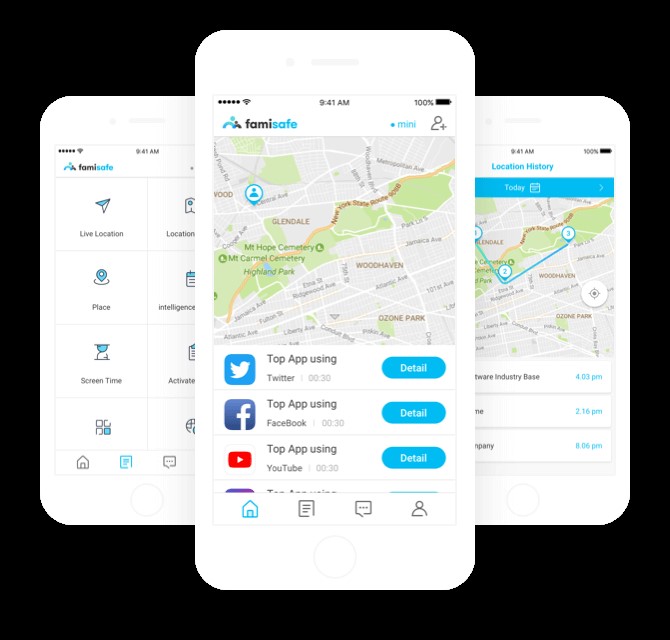 Key Features
The stand out features of this app that makes it unique from other spying or tracking app is its accessibilities and the key features it promises to deliver are: geo-fencing and location tracking, monitoring app and web content and usage, keeping a record of web browsers' histories. The only track it does not keep is the call logs and text messages log. Other than that it provides all the ideal features that were once only a dream for parents.
●Location tracking and geo fencing
The location feature comes in with two additional features, number one is that it not only provides with the current location but also provides a history of all the locations that the child visited with the time they visited, the feature number two is the ground breaking geo fencing feature, which helps the parents set up a certain radius of about 1000m and if the child is in any way out of the determined radius the app immediately sends an alert to the parents' phone.
●Monitoring screen time
The second feature of monitoring app usage allows parents to view the time spent on the any app by the children and can restrict its duration; this leads to blocking of certain apps from the kids devices thus decreasing addiction and time spent on the screen. The same feature is available for web browsing and web content, this will id in making sure they are not glued to their phones at all times.
●Schedule off and on time of devices
Another feature includes screen monitoring that will block the screen at certain hours decided by the parents so kids are restrained from using their devices at those hours such as at night.
This app is very user friendly and easily available on the play store for android devices and app store apple devices; it is widely compatible with a number of iOS and android devices. The app is free to download from the store and provides with a 3 day trial having access to 90% of its features for its customers to use and then choose from 3 different packages provided for subscriptions that are as per the requirement usage of the customers.
With that having said customers can avail a flat 20 percent discount by applying this coupon code: SENFSOFF