Uulala, is a blockchain based fintech company focusing on helping underbanked Latinos, refugees, and migrants. Uulala has built an ecosystem consisting of a mobile app, blockchain and banking core technology to provide an encompassing solution for financial inclusion and to build blockchain based credit. Uulala is a minority-owned company with the majority of shareholders being first or second generation Latin Americans. They empower the underbanked communities of the world through their platform by providing financial tools for them to build credit, send money, participate in ecommerce and elevate out of a cash-only environment.
.
Oscar Garcia, Uulala's Founder & CEO, said, "As a son of an immigrant, I saw firsthand as a child how my mother struggled without access to her money. We had to stand in line constantly. First to cash her check, where a fee was charged. Then another line to pay our bills where a fee was charged; another line to send money back to Mexico where again a fee was charged. Those fees cost us bread, milk and my favorite treat, pan dulce. This company was built to empower those like my mom. Their time is now, this platform is theirs, and we are here to serve you." The mobile app has unparalleled functionality as an all-in-one solution for financial inclusion. It provides access to many services including instant access to funds via a virtual or physical card, send and receive payments, mobile prepaid minute top up, pay utility bills, access to microcredit offers and more.
.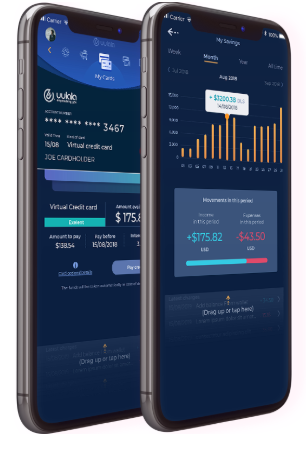 Uulala has created a banking core engine to power the consumer-facing mobile application. This robust technology allows them to create financial solutions that meet the unique needs of their unbanked customers. It also allows them to register our users' transaction history on our blockchain for immutability.Users instantly gain access to a virtual payment card inside the mobile application where their loaded funds are available 24/7. This means users can participate in online transactions with confidence and security as well as access both Apple Pay or Samsung Pay for retail purchases. Uulala users can also request a physical card, which is attached to their mobile wallet, so that they can check into a hotel while travelling, avoid carrying large amounts of cash, and make larger purchases at stores with ease.
.
With their bill pay feature, Uulala users can also skip the long line ups and excessive service fees that come when paying bills with cash. Uulala also provide cash back rewards to users who take advantage of their bill pay system.Also, the goal of Uulala is to empower their users through positive financial activities. Their transaction behavior will create a credit profile that cannot be manipulated or hacked. This means their daily financial activities will finally mean something for your financial future.
.
Get the Uulala App and read more about their services and products at Uulala.io