More people are using Android devices these days. Their affordability and flexibility have contributed to the popularity. With that, it means a large population is also using the same phones to text others.
.
Texts are an excellent way to communicate with the other person silently. On the other hand, the participants could be saying anything. So, if you suspect a target using their phone to communicate something worth checking, the best thing is to spy on the texts.
.
Since your target will have their phone all the time, it means you need another way out. That is why there are Android text spying apps that can fetch the messages remotely and secretly.
.
We will look at the top 5 apps that you can use to spy on the text messages for free. After that, you will have a recommendation and other options to explore. One thing you need to know is that these apps will work like spies. Let's see how.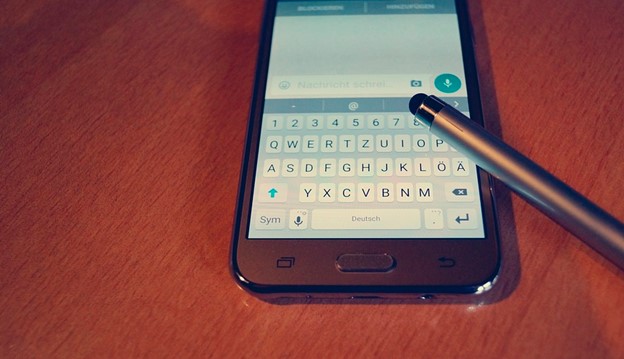 Part 1: Spyic Android Text Spy App
One of the best spying solutions on the market today is Spyic monitoring application. This is an app with more spying tools than you may need. When it comes to text messages, Spyic will fetch everything from all the apps involved on the target phone. It will spy on the actual messages together with the contact details and timestamps. All this is brought to you remotely via an online dashboard. That means you will not need a phone (or the targeted phone) to read the fetched messages.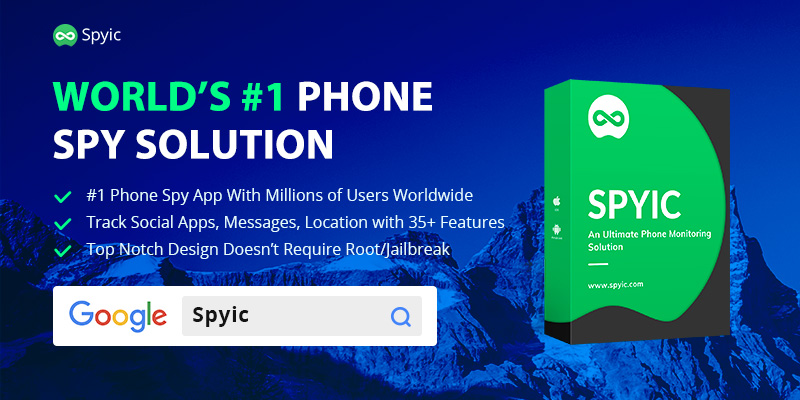 Another thing, it hides while spying on the text messages using the stealth mode feature. That means the target is never aware that something is spying on their messages. When using Spyic, you need to install it once on the Android phone you want to spy. After that, you will be remotely receiving the messages via the online dashboard. To access it, you will need an account with Spyic via the main site first. Later after installation, you can log in to check text updates. You can use any device to check on the updates. Spyic's dashboard works with all browsers. You can use this application to spy texts on any Android out there with OS version 4.0 and above. The best thing is that it does not require rooting. So, do you want to know how you can spy on your kid's text messages? Then read this guide about monitoring my child's text messages with Spyic solution. To start spying on text messages for free using Spyic, check the steps below.
.
How to Start Spying on Text Messages Using Spyic App
Step 1: Register an account with Spyic via the main website. Next, choose the Android icon to continue to available plans.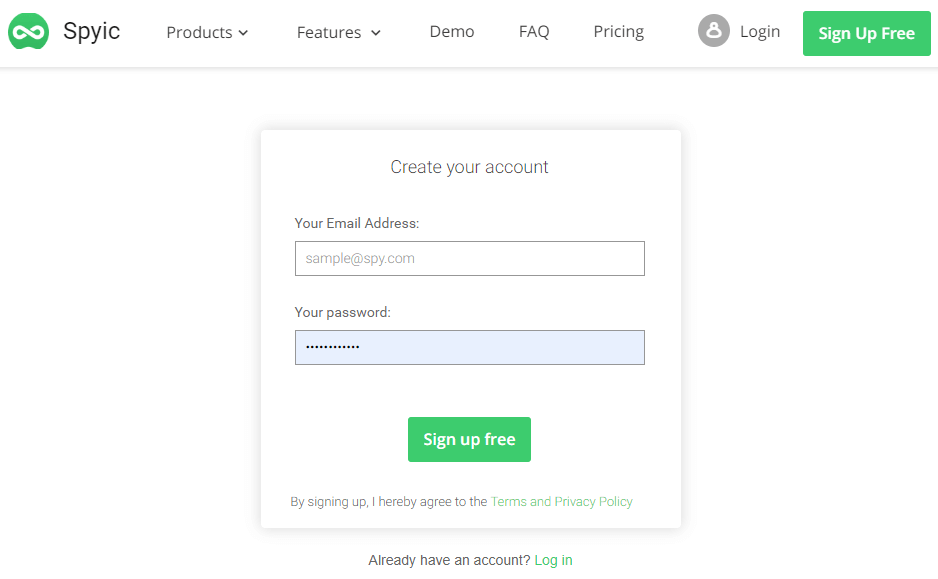 Step 2: Once you get the most suitable plan for you, make the payment in which you get the whole Spyic package. After installation, you can spy on text messages for free. You will then get an email with the receipt, log in details, setup instructions, and a download link. Step 3: Use the sent link to download and install Spyic on the phone you want to spy. Make sure you activate stealth mode by selecting the 'Hide Application' option. After that, finish up the installation and get ready to access the messages remotely.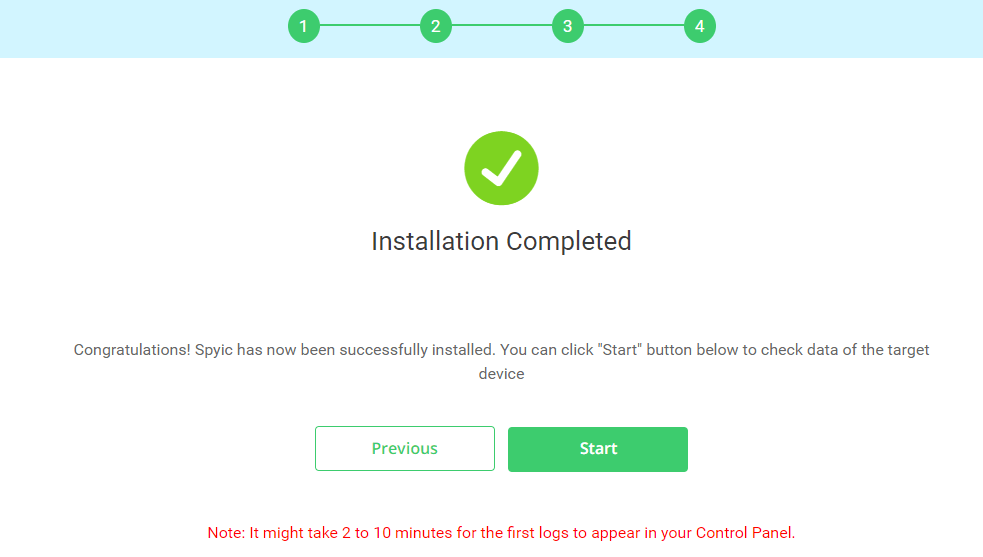 Step 4: Login to your Spyic account and wait for it to synchronize with the targeted Android device. After the syncing, you will access the dashboard with all the spying features on the left menu.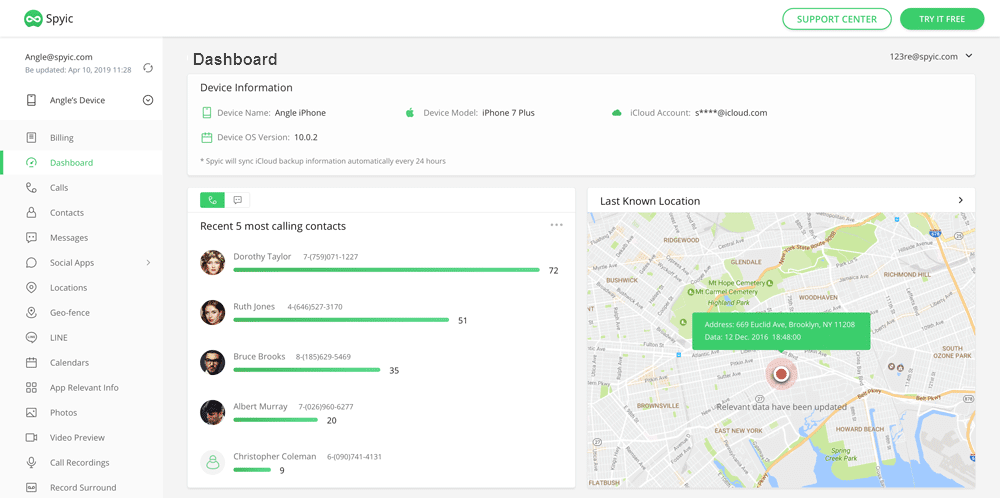 To spy on text messages, click on 'Messages' to see what Spyic has secretly gotten for you.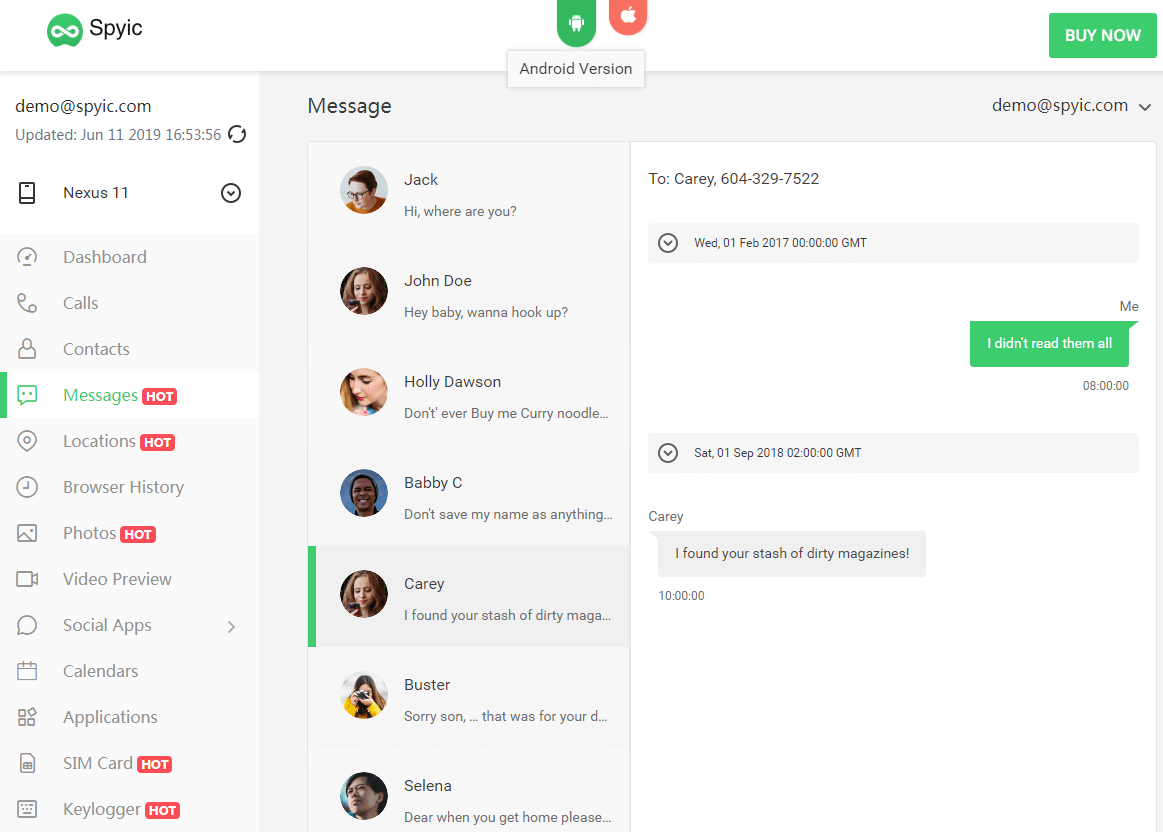 .
Part 2: Spy on Text Messages with Cocospy
Another reliable application that millions of users in more than 190 countries have used is Cocospy. It's a spying application with features that benefit users by fetching phone information remotely.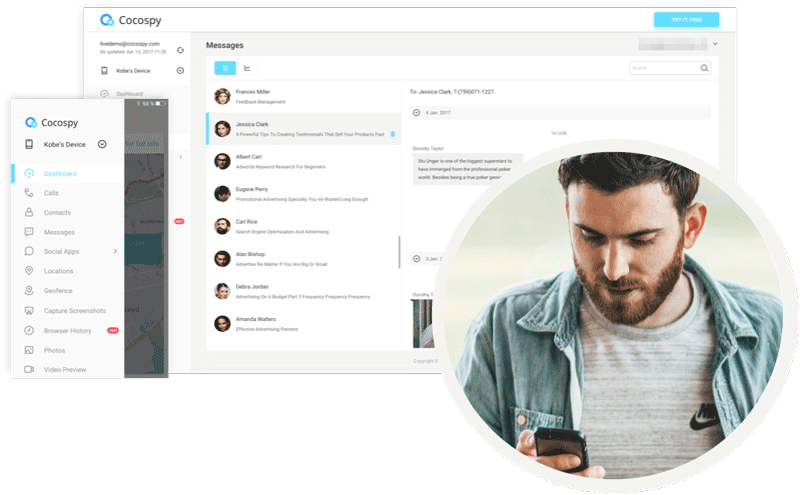 Cocospy also achieves secrecy by using stealth mode. So, if you want to spy without being known, then this is an amicable solution for you. When it comes to spying texts, Cocospy fetches the actual message, contact details of those involved, and the timestamps too. In Android, Cocospy also needs you to install it on the targeted phone. This, however, happens only once. After that, you can spy on the text messages remotely via the online control panel. You access it via your account, which you need to set up before the installation. Cocospy also works with all Android devices with OS version 4.0 and above. You don't need any rooting before the installation making it safe and reliable. When viewing the messages, you can use any browser to access the dashboard since it's fully compatible with all browsers. For more information about how to spy on text messages using Cocospy, check the main website. Make sure you visit the demo page to see how the message spying feature works.
.
Part 3: Copy 9
Another Android text spy that you can depend on is the Copy 9 app. it works on all Android devices with OS version 4.0 or later. Being a spying app, it will remotely fetch the text messages, among other features.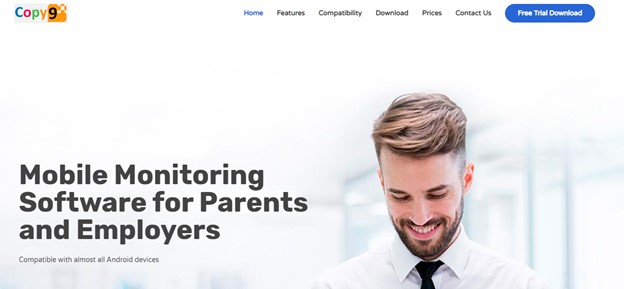 They include call tracking, checking browser history, and more. As for the messages, it will get the actual text, contact details of those involved, and the time too.
.
Part 4: Monitor Call SMS Location App
As the name suggests, this is an app that can remotely record calls and SMS from the target phone. It allows you to get email notifications of all the calls or messages received or sent via your target.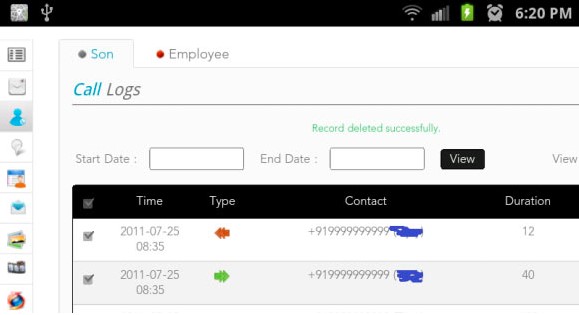 It requires installation on the Android you want to spy before you can start collecting the results. Other features on it include checking web history and call log. To test it, it comes with a three-day trial.
.
Part 5: Free Android Spy
The last one on the list is a free app that will spy on Android while hidden. People have already used it to spy on their loved ones and friends. Employees have also found it as a working solution to keep their employees in check.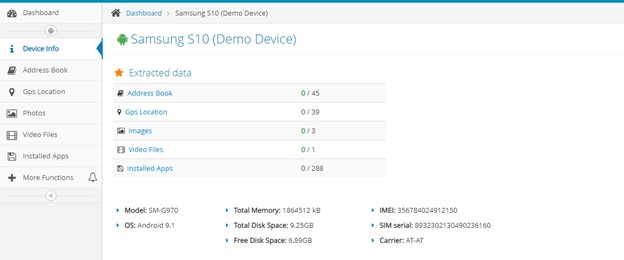 Apart from fetching you the line messages, it also allows you to get the target's location, contacts, media files, and more. The only flaw is that it doesn't allow you to enter the social media apps.
.
Conclusion
Now, you have five applications that will suit your Android text spying expedition. In all, you need a one-time installation on the targeted phone before you can spy on the messages. After that, you can spy remotely using an online control panel or using the app on another device. As for Spyic, it's our top recommendation. The reason behind it is that it's a powerful app with more beneficial spying tools. It also does not require Android rooting before use. While in use, it will spy on the text messages while hidden. If you want to see how it works, visit the demo page via the main website.