Last year when Delta Exchange steadily started its ascent in the crypto investment world, not many were willing to take this platform seriously. Many crypto industry experts tagged this platform as yet another pretender, while some had even started writing its obituaries. But as things stand today, these very critics and doubters have become ardent supporters of Delta Exchange and are proudly claiming that this platform is by far the best alternative to Bitmex. Delta's impressive journey from a mere pretender to being a genuine alternative to an incumbent industry leader has been largely possible because of its highly proficient features. These features essentially exposed the several chinks in the armour of Bitmex, which apparently gave into complacency that usually gets hold of a dominant market leader. In the past, Bitmex's severe shortcomings and its apathetic attitude towards investors got exposed on many instances, especially when its order engine got choked because of high trading volatility. As a result, scores of traders frequently failed to close their positions and enter into new contracts; thereby causing enormous losses to them.

Investors were also apparently upset with Bitmex's unscrupulous practices – from manipulating the market, giving preferential treatment to in-house traders to making money at the expense of investors. Amid this growing discontent with Bitmex, investors saw Delta Exchange's steady rise and its increasing profile as a beacon of hope. Although the current trading volumes at Delta continue to be low compared to Bitmex, investor's growing optimism and affiliation towards the former is as much an undeniable fact. Here is a look down at some of Delta's top features, which not only vindicates traders growing bonhomie but also the claim that Delta is probably the only alternative to Bitmex. Altcoin Perpetual Swaps: Delta Exchange is the only platform offering so many altcoins for leverage trading. Delta offers futures and perpetual swaps on 19 leading altcoins apart from Bitcoin. Several of these altcoins swaps are only available for leverage trading on Delta Exchange only like EOS, ENJ, MATIC, LINK, WAVES, TOMO, ADA, XTZ, ATOM etc.
High and Reliable Liquidity: Delta's high and healthy liquidity has certainly played a major role in fueling its ascendency. This new emerging platform boosts tight spreads and deep books that virtually lasts 24/7 and 365 days amid all market conditions. In layman's language, this simply means that investors can enter/close contracts as well as take different positions with decisive ease at any given point of time and across all market conditions. Ask any crypto industry expert and they will claim unambiguously that deep & high liquidity is the best indicator of any platform's long sustainability. And Delta Exchange passes this litmus test with flying colors.
Fair and Transparent: Instead of paying lip service, Delta Exchange adheres to its enshrined principles of fairness and transparency seriously and as a result investors have willingly reposed their faith on this platform. Till date, Delta boosts an unscathed record on several contentious issues where fairness and transparency matters enormously. Be it leveling no hidden costs, not resorting to any market manipulation or giving equal treatment to all investors.
In today's profit seeking age, Delta Exchange's unwavering adherence to its principles is indeed praiseworthy.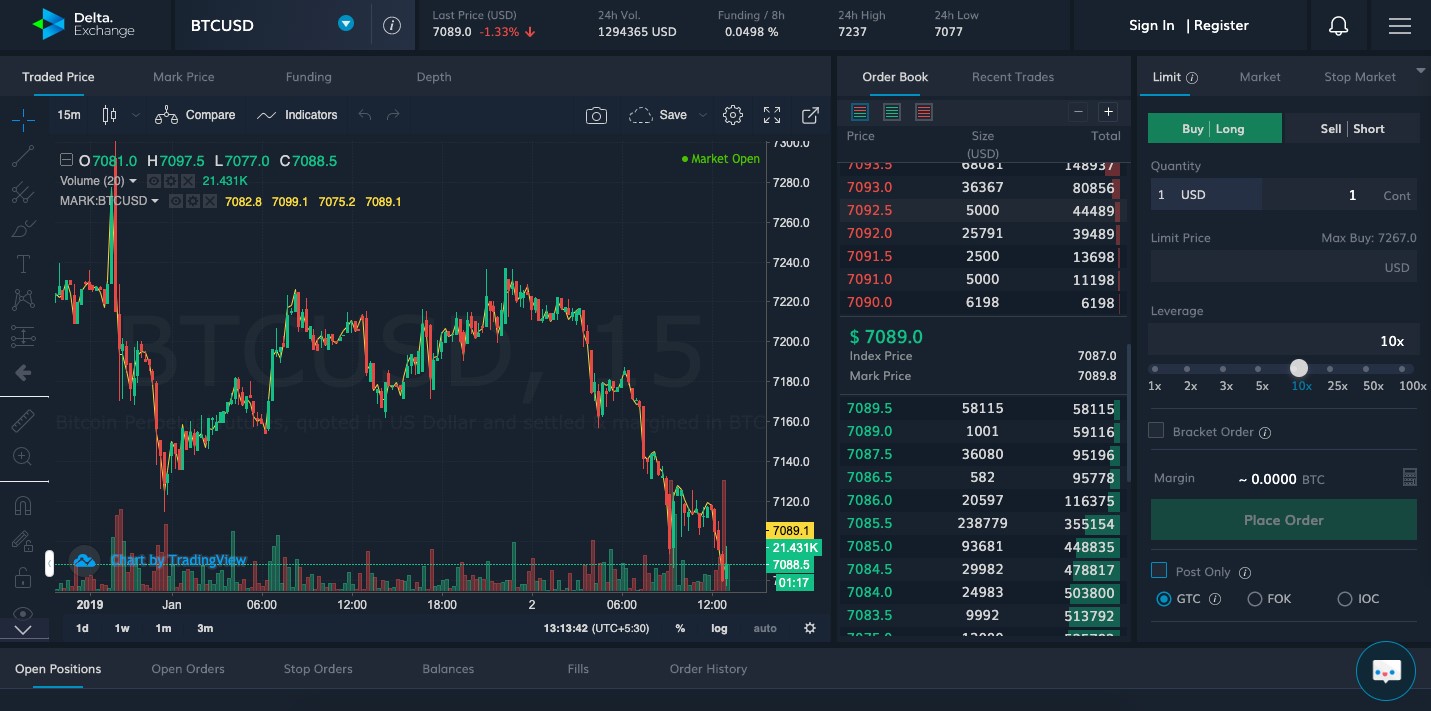 Benefit of Leverage Trading: All the futures and perpetual contracts that are carried out on Delta come with inherent advantage of leverage trading. While today leverage trading is a standard feature that is offered by all trading platforms, Delta's leverage rates standout for their absolute parity with Bitmex and other leading competitors in the industry.
.
Futures as well as perpetual contracts on Bitcoin are leveraged by 100x while on altcoins the max leverage that can be availed is 20x. The maximum leverage that can be availed on Ripple is 50x.
Protection against market volatility: Today Delta Exchange can proudly take a higher moral ground for safeguarding its investors against the risk of extreme price volatility, since it is the only platform to launch USDC feature that is known for its price stabilization function. With Delta's investors having the unique option of settling their contracts in USDC, today they can certainly feel less vulnerable and relatively safe in the event of extreme price volatility. Even Bitmex doesn't offer such comfort and safety net to its investors and this has only helped in increasing Delta's goodwill in the investment community.
Unwavering focus on Security: Delta follows top notch security protocol by storing all the cryptos in a multi-signature wallet and thereby ensures wholesome protection against hacking as well as other unlawful activities. To ensure additional security, withdrawals are processed only once a day following a thorough manual review. Although this apparently causes some inconvenience to investors, most Delta investors are happily enduring this minor inconvenience for the sake of availing top notch security.
Ease of trade that is setting a new benchmark: Delta Exchange platform essentially promotes inclusive spirit and this is most sharply visible in its unique feature of 'mock trading platform.' The mock trading platform is designed especially for relatively inexperienced and newbie investors, since they lack hands down knowledge about trading derivative contracts. While Bitmex and other platforms don't even bother about inexperienced investors, Delta's unique reach out can only be described as unprecedented. Something that can even help in fueling the growth of the crypto investment industry in near future.
.
Moving ahead, Delta's ease of trade philosophy also comes out sharply through other invaluable features like simple & uncluttered trading terminal, ease in opening an account (open account only in a few minutes), dedicated FAQs & blog section to resolve further queries.