Linguation.com: online translation agency app
Providing professional translation by a human being
This app offers accurate translation services quickly and at reasonable prices for personal and business translation needs. There are lots of apps for translation out there and if you travel on vacation or for business these can be really helpful when ordering a meal in a restaurant or asking for directions; certainly much easier than carrying a dictionary around! But these translation apps should carry a warning; for recreational use only! It seems that more and more businesses, shops, restaurants, hotels and the like are using machine translation for business use. It is true, we do live in a world where immediacy is demanded and these apps are quick and easy. However, business translation requires quality professional translation by a human being. This app may provide the answer.
Providing professional translation at reasonable prices
Linguation.com is an upcoming online professional translation service offering affordable and quality translation. The app is free and easy to download. You can easily upload a document using the app and get an instant quote – no waiting for someone to get back to you the next day during office hours. The app provides translation to and from a number of language combinations that are chosen using a drop down menu; the app allows you to choose the source language and then shows availability of target language combinations. The app is also perfect for both personal and business customers.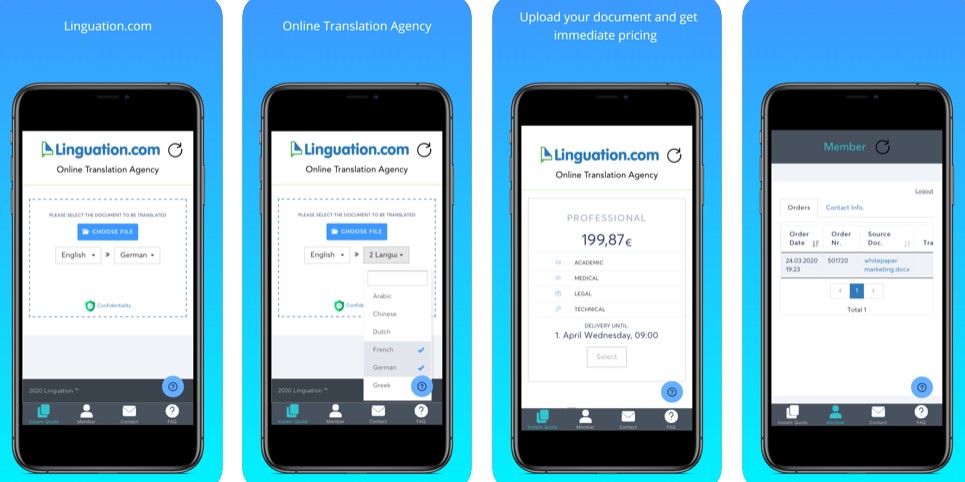 Providing a confidential and secure service
The app is easy to use and simple to navigate. Another advantage is that via the app you can contact the Linguation.com team 24/7. The team can be contacted for a quick response by their telephone hotline, via email and through the app contact form. The app confirms confidentiality, data is transmitted using SSL encryption and the Linguation.com system is ISO certified. There is an option to register as a customer for future ease but registration is not required. Moreover, there is a section of frequently asked questions.