There are at least 4000 bike apps currently in the market! These are meant to make the biking experience more satisfying for all kinds of cyclists, ranging from city and mountain to regular and electric riders. The apps include everything from training planner to navigation and bike-fitting tools. With so many options to choose from, which of these apps are useful enough to have in your home?
This article lists some of the best electric bike apps available to you.
Exercise Bike Workout
This phone app won't be a substitute for your personal trainer, but it offers useful guides for bike workouts, as well as heart rate monitor through individual or programmed training sessions on the electric bike. This application will calculate training zones according to the rider's data, display intensity, as well as the interval during training before eventually assessing the training. Other than that, the data offered by the app proves to be a motivator to the rider, especially during the winter season.
Gravatron
The Gravatron app tells you how far or how fast your electric bike ride was in relation to your friend and goes ahead to record the time your ride took. This app seems like a better fit for a mountain biker compared to a city commuter. Nevertheless, it will still be fun to know the number of speed bumps you go over on your daily ride to work. Furthermore, the app records other telemetry data such as elevation, speed, distance, bumps jumped, etc.
Falk Maps and Route Planners
This is a navigation app that is a particular hit among tourists. Just like other navigational tools, the Falk maps provides users with routes, maps, points of interests, as well as possible accommodation facilities in the region. It also links you directly to hotel websites and rail connections. Overall, it will be a nice app to have on your phone when you go for your next e-biking trip abroad.
Trailforks
This happens to be the second most preferred GPS mapping application for e-bike users! The app focuses primarily on off-road mountain bike trails, so it will be a nice tool for owners of eMTBs like the ones on electrc-biking.com. It enables you to access offline maps of numerous tracks and trails all over the globe. When it comes to GPS tracking, the application pinpoints your exact position on the map to ensure that you don't go off-trail. Lastly, this app is user-driven, so you can expect up-to-date information about the status of the trail.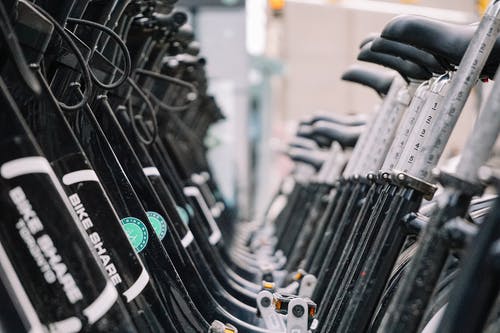 Komoot
Komoot is more than just an app! It is a popular navigation and route planning website that outdoor enthusiasts swear by. The app is always updating new routes for electric biking tours of all kinds. It also includes directions, as well as the degree of difficulty when you follow a particular bike route. Komoot is an accurate and stable bike application that you can use to plan your upcoming e-biking adventure. However, some of its functions will cost you a few bucks.
Saddle Adjust
This is a bike tune-up app that allows you to enjoy your ride. It helps to correct a wrongly adjusted saddle, which can easily take the fun out of your e-bike ride. When you have the Saddle Adjust app, as well as a smartphone with a position sensor, it is possible to avoid gross saddle positioning mistakes. To use this app, place the phone on your saddle then answer a couple of short questions about the rider and the bike before the app provides a precise guide to the perfect saddle setting for you!
Spokes Tension Gauge
This is another useful tool that will help with the maintenance of your electric bike. It helps to get rid of wobbly wheels on the trail, ensuring that your ride is not interrupted. The Spoke Tension Gauge app serves to help you tune the wheels of your bike using sound. With the phone close to the tires, simply pluck one of the spokes and its tension will be displayed on the screen. As such, you get to know which spokes are loose to adjust them accordingly.
Final Thought
Bike apps are proving to be a convenient tool for electric bikers who want to get the most out of their cycling adventure. They come in handy in various situations and make your riding experience more satisfying. So, if you want a nice and exciting e-bike tool to install on your phone, the above apps will set you on the right path.