This article aims at enlisting and explaining the fundamentals of how to create an eLearning platform without coding from scratch. It explains, how you need not to be a developer to build an eLearning platform, as the market is full of techs and alternatives to build one with zero coding.
Consequently, this article will unveil various methods accessible in the market. Hence, it would help anyone willing to start an eLearning platform for corporate training or online tutoring business by offering enough comprehensions of the choices.
ELearning platform itself is a broad word in actual comprehensions. It takes no time to get confused among the choices of solutions. That's why we will begin from the basics.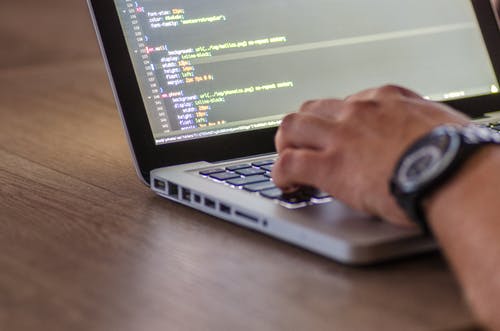 .
What is an eLearning platform?
Simply, a software solution that provides accommodation to learners and teachers with their respective access and feature control is an e learning platform. Traditionally, an eLearning platform lets a tutor create and share online courses, which is then accessed by the learners through the internet or intranet.
Breaking the building blocks of an eLearning platform, we can find various independent modules working collectively to build a whole ecosystem of online teaching and learning activities.
An authoring tool- that helps to create an online digital course in different formats.
A web technology- that builds the website to host the online courses.
A could sharing or hosting solution- that stores the courses and shares with the learners.
An LMS- that acts as a brain to the platform by managing everything from analytics, access control, course assessment, learning progress tracking, and report generation.
These are basic building blocks of an eLearning platform. Further, depending on the advanced requirements and innovative business models, developers also add various other techs, features, and APIs to custom build eLearning platforms. A few of the popularly advanced considerations are as follows:
Virtual shopping carts- to sell online courses to students.
Integrated payment gateways- to receive on-site payments.
ELearning marketplace script- to let other tutors sell on your eLearning site.
Video streaming engine – to host on-demand video lectures and lessons.
Live video conferencing API- to host live tuitions and two-way discussion sessions.
White-board interactive tools- to use a virtual white-board in a video lecture.
CDN- to ensure seamless content delivery with no latency.
Live chat API –to establish a real-time connection between users and tutors.
Reviews and rating system –to collect feedback from the learners. Etc.
.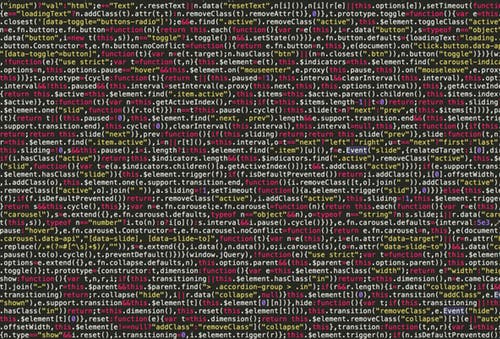 How are the types of eLearning platforms?
Depending on the business requirements and motive of the development, there can be x types of eLearning platforms in the market. Few of them are explained below-
For corporate training – Implementation of an LMS within a corporate organization to train employees and deploy Just-in-time job assistance digitally. For example, orientation, product training, etc.
For marketplace building- An eCommerce site of online courses and ways monetize them with the marketplace model of eCommerce. It's basically for selling courses. Revenue models may include commission, subscription, and featured courses. ELearning platform examples in this category could be Udemy, Coursera, Udacity, and Khan Academy.
For blended learning- Implementation of an LMS with the existing school, college or university management system to use digital methods for management and teaching activities. For example, digital attendance, multimedia teaching aids, online knowledge base and notes, online tests and quizzes, etc.
For MOOCs deployment- Universities or authorized educational establishments offering online courses, degrees, diplomas, and certifications for distance learning programs. For example, a diploma in digital marketing from Coursera or computer programming from MIT OpenCourseWare.
For live tutoring- Can be implemented in both corporate and marketplace environment. Such platforms can conduct live video sessions through video conferencing, which are further enhanced via integrated white-board interactive tools. For example, tuition-on-demand site like Varsity Tutors.
.
How to create an eLearning website without coding?
Now that we know the types of eLearning platforms, answering the question -how to create an eLearning website would be easier. So let's jump into the options we have for creating one with no coding.
The market is flooded with ready-made solutions to build an eLearning platform or website. These solutions do not demand you to code or manage the development. Instead, they come inbuilt with certain eLearning platform features you would need to run an eLearning website.
Depending on the vendor, some of them can be white-labeled or branded, open or closed source, and even costly or cheaper. Overall, a competent script would consist of all the minimal features by default and offer higher customizability to add any new feature on requirements.
Nevertheless, I am going to enlist two very popular ways to get an eLearning platform with zero coding.
.
SaaS eLearning solutions
SaaS has grown very rapidly in enterprise software development and deployment mechanisms. There are SaaS-based eLearning website builders in the market you can use to create your website. Traditionally, you required to either develop from scratch or download a CMS script to build your site. With SaaS, you can directly use your vendor's eLearning website builder, which is also readily installed on their or a third-party cloud server. You can simply access their cloud interface and set up your website from there. Ultimately, you will get a ready website which is already hosted on their server.
In Simple terms, SaaS will deliver a finished website through third-party cloud servers. You can start using your SaaS-based eLearning platform from the first day itself. You do not need to waste any time on coding or deployment of your site. Vendors take care of the coding, deployment, and maintenance.
.
Custom eLearning platforms
On the other side are custom eLearning platforms. These are more advanced forms of the traditional outsourcing model. The only difference is they are offered as a product instead of a service. Vendors develop their platforms and sell them with one time cost to the clients. These are ready-made and offer source code access to you. Building a website with zero coding using custom platforms would involve the following processes-
Check the demo of the ready-made software.
Buy-readymade script if satisfies the requirements.
Download the source code.
Install on your local or web host for development.
If the base script has all the requirements, host the source code on web-server and start setting up your website.
If you need any customization, edit the source code to do the same. Alternatively, you can ask the vendor to do the custom for an additional cost.
Post customization, host your finished website on the web-server of your choice and go live.
In this whole process, you would need hardware to develop your site, and a hardware (own or rented server) to host your site. In short, both SaaS and custom platforms can give you ready readymade platforms, but the latter is more accessible as you also get the source code you can tweak if intent any customization to the existing software.
.
Comparison- SaaS vs. Custom eLearning solutions
Both of the methods have their own pros and cons. Depending on the needs either can prove useful for your cause. Let's compare these two options on various grounds to understand the circumstances better.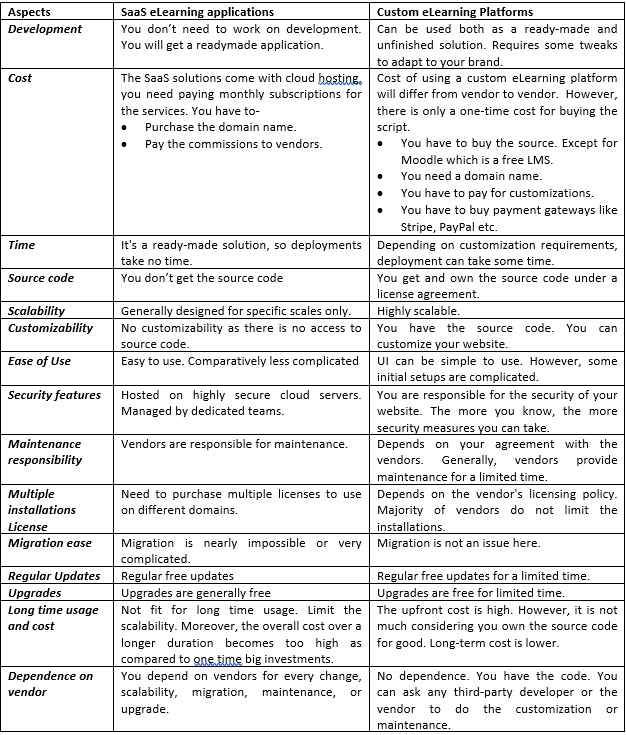 Conclusion
Both the options give you the choice to create an eLearning platform with zero coding. In either of them, you can choose to use the base features or go for a development or a better alternative to get new features.
SaaS solutions are the best options for starting a business in a quick time and with limited resources. If you are a small team with less technical expertize, SaaS is a boon for you. However, custom solutions are the ultimate destinations in the long run. You can choose a custom platform from the market to gain higher scalability, unlimited customizability, and freedom from over-dependence on vendors.
My vote goes for custom solutions if you intent growing into a medium or large-scale business with your platform. However, if you can do by depending on vendors for everything, SaaS is a good option. If time is not a constraint, and you can manage a small team to maintain your site, you can enjoy the versatility of your platform without worrying for the recurring bills from the vendor. If not, SaaS is always there for a quick pickup.
.
Author Bio:-
Kathy Alameda is a content strategist at PinLearn. She develops educational technology plans and online learning strategies for schools, businesses, universities in the USA & Other country. She is also an author and researcher on effective e-learning programs.