The best iPhone apps for castle defense
If you're looking for a game that is filled with action yet requires strategizing and thinking on your part then castle defense games are the way to go. What's great about these is that yes you can actually play a game where a castle is involved but there are also plenty of other themes that you can check out and probably become addicted to rather quickly.
8 Nov 2015, by&nbspCherry Mae Torrevillas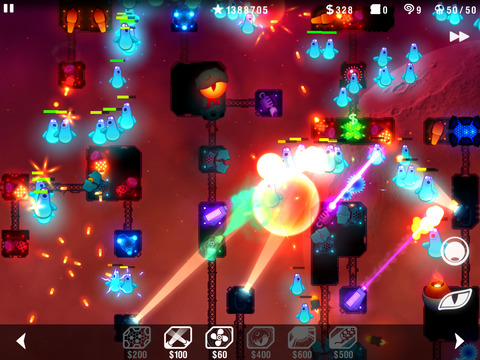 Aliens are moving in and they are about to invade the universe if you don't put a stop to it. The Radiant Defense app will require you to build a space fortress and then make use of your weapons to fight off the invasion. There are 14 missions to complete and there are over 300 waves of aliens. In order to be more effective you can upgrade your weapons; there are nine different upgrades available. Your score will be posted online so you can see exactly how well you're doing. The graphics are incredibly bright and vivid making for a really fun and unique experience, and the game is easy to understand yet very hard to master.
There are 14 missions

There are 300 waves of aliens

Build a fortress to defend the universe

The game is easy to understand

The scores are posted online

Upgrade your weapons
Radiant Defense app review: a beautiful and clever tower defense game
This one isn't your average tower defence-style game: this one is fast-paced and challenging right from the start. The Towers N' Trolls HD app will require you to fight off the trolls who are threatening to invade your kingdom. There are four different game modes that offer up 65 levels worth of challenges. You can even choose your difficulty level and there are 10 different enemy types. To keep things interesting there are 11 different worlds which also prevents you from getting too comfortable. The app is universal, supports Game Center, offers Achievements, and you can climb the Leaderboards.
There are 65 levels

There are four different game modes

The app supports Game Center, Achievements, and the Leaderboards

There are different worlds to make your way through

The game is fast-paced and challenging

There are plenty of enemies to defeat
Towers N' Trolls HD app review: offering a classic tower defense game
Just because you want to play a little game of castle defense doesn't mean you want the same old same old in this category. The Jelly Defense app is certainly capable of providing players with something unique, fun, and highly entertaining. In this app you'll be working with the Jelly forces are at war against the invaders. It's up to you to save the Diploglobe as well as the entire race of Jellies. In order to be successful this one will require strategizing and quick-thinking. You're going to love the graphics here as well as the use of the black, white, and grey tones mixed with the brightly colored Jelly characters.
Help the Jelly nation defend themselves

Fight off the invaders

Save the Diploglobe

Enjoyable, fast-paced gameplay

Use strategy

Beautiful and bright colors

Very user-friendly
'Jelly Defense': Charming Jellies in Need of Defense
My Top iPhone & iPad Apps Of 2011
It's time to put on your army fatigues and join all the other soldiers who are working to stop the invaders and in turn save the entire world. There are tons of levels to work through, plenty of weapons that are upgradeable, a variety of game modes, and gameplay that never seems to stop where action is concerned. Watch out for mines and air strikes, move through the trenches and tunnels, and make your way across bridges. Because the app supports the iCloud you can sync your progress between all your devices. The app features artificial intelligence that performs in a realistic and engaging manner.
Enjoy impressive graphics

Artificial intelligence that makes it realistic

Non-stop action

There are a few game modes

The weapons are upgradeable

There are tons of levels

The gameplay is easy to pick up on and understand
Fieldrunners 2 app review: an intense tower defense game with impressive graphics
It's time for you to take a stand against the alien machines that are invading earth and threatening to put an end to all of mankind. The Anomaly 2 app will have you taking part in tactical missions that are as challenging as they are addictive. Users will love the graphics, sounds, and action that this one offers feeling more like a movie than a game. The app supports Game Center and the Leaderboards. You've got the ability to take part in online multi-player mode as well, which certainly kicks the game up a few more notches. This is a sequel to the game Anomaly: Warzone Earth and Anomaly Korea. There's no need to have played the first one in order to enjoy this version.
Incredible and impressive graphics

There is multi-player online mode

The game is addictive and challenging
Anomaly 2 app review: novel tower offence war game with online multi-player option
It's hard to find a game that offers more fun and laughs than Plants vs. Zombies™ 2 app does. This game has won award after award, with more than 30 of them at this point. It's an action-strategy game where you need to beat the many zombies that are threatening to end the world. How you will beat these zombies is part of the fun as you need to build up an army made entirely of plants; plants with super strength, that is. The app is filled with laughs, amazing graphics, smooth gameplay, and plenty of thrills. You will be working your way through the many levels that get harder as you go. Along the way you'll earn points that you can cash in for prizes.
Fun and hilarious gameplay

Amazing graphics

Plenty of levels to work through

Levels increase in difficulty

Earn points that you can cash in for prizes
Plants vs. Zombies 2 app review: it's about time!
Tower defense games are among the most addictive and challenging games out there. The Kingdom Rush Origins app is a great example of this type of game that will require players to really think through their moves if they hope to be successful. This is a prequel game in a series of three games. You are working with Elves in this game as you do your best to defend your land. There are plenty of levels and enemies, there are 18 different abilities that you can upgrade to, there are different heroes to use, and a few different game modes add interest to the game.
Classic tower defense

There are upgradeable abilities

Plenty of levels

Play with different heroes

This is the third game in the series

The app requires strategy and a little luck
Kingdom Rush Origins app review: offering the best tower defense experience with new upgrades and enhanced gameplay
Here's the latest installment in the Sentinel gaming series. The Sentinel 4: Dark Star app aims to please by delivering up an action-packed game that spans across an incredible 26 maps. Each of these maps is unique so the game is ever-changing. If you'd rather, you can also play each map in Endless mode. There are all kinds of cool weapons, game moves, enemies, and graphics to explore here. The app also supports Game Center, Leaderboards, and Achievements. This one syncs across all your devices so you can pick up where you left off. You'll be having a blast as you put to the test all kinds of weapons that have some rather devastating results on your enemies.
Impressive controls, sounds, and graphics

There are 26 maps

Each map is unique

The app supports Game Center
Sentinel 4: Dark Star app review - the classic tower defense dynasty with tons of upgrades
Engage in some rather epic battles in the Defense zone 2 HD app. This game features all-new levels and what's great is players of any skill level can play. The app features settings that can be adjusted so that it meets your own level and goals, making this a customized game of sorts. Not only will you be having fun here but this one is also all about strategy and putting your tactics into play. There are all kinds of weapons to make use of here as you move across a variety of landscapes. There are power-ups that can help you with your gameplay as well.
Adjust the settings so it meets your skill level and goals

The app requires strategizing

Put your tactics into play

Make use of a variety of power-ups

Impressive graphics and game controls
Defense Zone 2 HD app review: offering a balanced tower defense game with military theme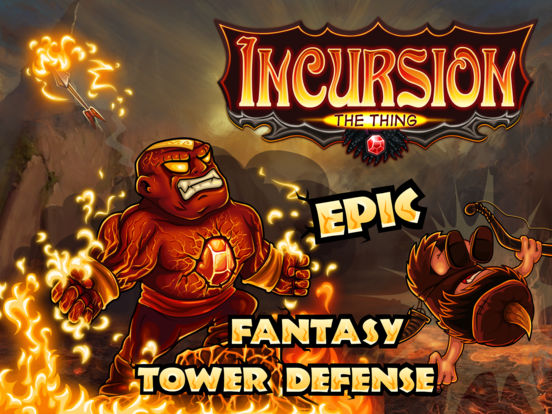 It's time to embark on a journey; this one won't be easy but it will offer plenty of fun. The Incursion The Thing app features eight different heroes you can play as and each one has their own abilities. There are more than 50 enemy types that you'll need to beat and of course there are powerful bosses that threaten your game. The game offers upgrades, over 25 game stages, and plenty of achievements to earn. You will be working to build armies and find the runes that are filled with power as you do your best to save the world from the dark enemies that are invading.
More than 25 game stages

More than 50 enemies

Eight different heroes to play

There are achievements to earn

There are upgrades available

Requires strategy and concentration
Incursion The Thing app review: offering a hybrid RPG action adventure game