It doesn't matter if you own a Mac or a Windows system – now you can easily perform data recovery on any computer like a pro. All you got to do is use a reliable data recovery tool like Wondershare Recoverit. Since people suffer from unexpected data loss in different scenarios, it is important to use a trusted video recovery software. In this post, we will let you know how to use Recoverit to retrieve all kinds of media content (like photos and videos) on any Windows or Mac system.
Common Reasons for Data Loss
.
Before we learn how to recover data, let's get to know the common reasons for it.
.
A corrupt or lost partition on the system can cause unexpected data loss.
Sometimes, users accidentally delete videos or photos on their computer.
A third-party application can also cause problems in system's storage.
The data can also be lost if the system has been restarted while it is still in use.
A malware or virus attack can also lead to unexpected data loss..
Wondershare Recoverit: The Best Video Recovery Tool for Windows and Mac
.
While there are a handful of recovery tools out there, not all of them can fulfill your needs. We recommend Wondershare Recoverit as it is considered the best data recovery tool for both Windows and Mac. It can perform MP4 recovery and extract the lost or deleted videos of all the major formats. The application is compatible with every common Windows and Mac system with a free version as well. The free application can recover up to 10 media files (without any size limit).
.
Recoverit is a dedicated user-friendly video recovery tool that supports every major video format like MP4, MOV, FLV, 3GP, AVI, etc.
Users can retrieve all kinds of other media content using the tool as well. The free version can recover up to 10 different media files of any size.
It features an intuitive interface. Therefore, users simply need to follow three basic steps to recover their data.
There is a provision to preview the recovered content and restore it selectively to any other location.
The application can perform data recovery on the internal storage of Window and Mac. Additionally, it also supports recovery on any external media like SD card, flash drive, memory card, and so on.
From virus attack to accidental deletion, Recoverit supports data extraction under all kinds of scenarios.
.
Compatibility: Users can install Wondershare Recoverit on Windows XP, Vista, 7, 8, and 10. It also supports all the systems running on macOS X 10.8 and later versions.
.
How to perform data recovery on Windows/Mac with Recoverit?
.
Without any prior technical experience, users can perform video recovery using Recoverit. All they go to do is follow these 3 basic steps.
.
Step 1: Choose a location to scan
Start by launching Wondershare Recoverit on your Windows or Mac. From its home, select a location to scan. It can be an internal drive/partition or any other external storage unit.
.
.
Step 2: Let the tool scan your system
.
As Recoverit will start scanning the selected location, you can just wait for the process to be completed. There is an on-screen indicator on Recoverit's interface to show the progress.
.
.
Step 3: Preview and restore your data
.
As the data extraction process would be completed, you will be notified. In the end, you can just preview the results and select the files you wish to retrieve. Click on the "Restore" button to get them back and save them to a secure location.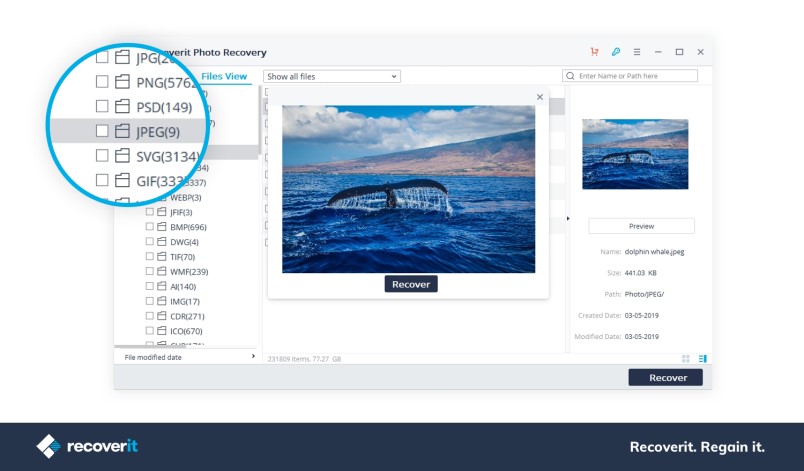 .
By following this basic drill, you can easily recover all kinds of data on both Windows and Mac. As you can see, Recoverit is such a user-friendly tool and allows all of us to restore our lost data without any technical help. You can visit its website and download its free version to get a hands-on experience of the tool.