The best email apps for iPhone
8 Jul 2016, by&nbspCherry Mae Torrevillas
Streamline the time you spend checking email by making it more efficient with Zero. This handy email app supports Outlook, Gmail, Yahoo, Hotmail, and many other email platforms. Zero will automatically delete or archive messages you don't want with each swipe. Keep your email box organized, clean, and ideally empty with Zero. If you just don't have time to deal with that email at the moment, tap Snooze, and the email can be scheduled to appear later. Features include priority mode, email templates, and an unread screen. Users can utilize email cards, preview and browse attachments, and keep it all secure since Zero won't store any password data.
Check email efficiently
Compatible with many email platforms
Snooze feature
Get to zero emails
Free email app for iPhone
Zero app review: a user friendly email productivity app
Get through your email at lightning speed with Spark, the email client for the savvy iPhone user. This app can only be described as "smart" as it automatically detects the category of your email message, and groups it with similar messages. The app can identify what is personal, what's a newsletter, and more. Distinguish easily and quickly between a marketing email and a birthday card from your sister. You can reply to an email with just a tap: send a quick reply by tapping a button that will enter a short pre-loaded response. The app even works with Apple Watch, to make it even easier to acknowledge and reply to messages.
Smart email client
Identifies categories of emails
One tap to reply
Choose from pre-loaded responses
Free email client for iPhone
Ark Mail adds a cool social media feel to your email experience. The app will show you relevant information about the email sender such as name, social networks, photos, and even extended information on your contacts. The app can handle multiple providers, so you won't need to clutter up your iPhone. Swipe to get at your message and tap to archive or delete, or undo. Stop letting email run your life and don't be a slave to your email platform's design; after all, you check it often enough that you deserve maximum functionality. With Ark Mail you get a personalized social media type experience every time you check your inbox.
Get extended information about email sender
Works with multiple email providers
Swipe to get at your message
Maximize functionality from email experience
Free email app for iPhone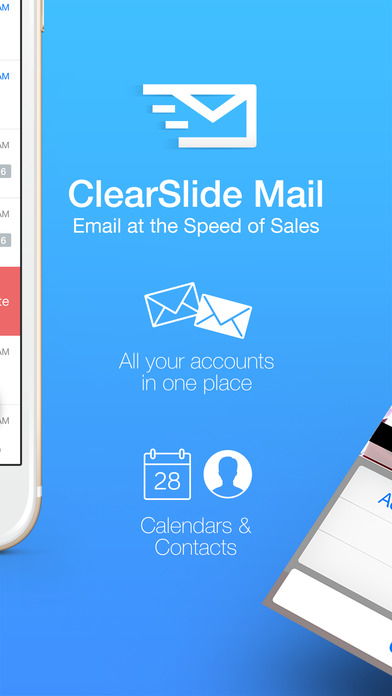 ClearSlide Mail is a multiple award-winning app that integrates directly to CRM systems, capturing customer engagement and interaction and updating automatically within opportunity and account records. Get critical customer insight from virtually any device. Features include secure access for iCloud, Outlook, Gmail, and more. Calendars and contacts can be managed easily from within the app. Insert presentations, send personal video messages, create, forward and open attachments, sync emails with Safesforce or with your CRM system, and even get real-time analytics on views, and responses. This app is always free, so get it for every iPhone in your salesforce and do a better job managing customer contact.
Multi award-winning app
Get customer insight
Manage contacts from within app
Get analytics
Insert presentations
ClearSlide Mail app review: a must-have tool for sales people
MailTracker adds amazing features to your iPhone's mail app. With MailTracker, you won't have to learn how to use a new email platform in order to gain extra features. This handy app will give you information about the emails you send from your iPhone's native email app. Know when someone reads your message, and tap the call or reply button to get in contact with the recipient quickly just when you know you have their attention. The app features no limits to the amount of notifications you can receive, and offers you loads of other data, such as location information, and for how long the recipient viewed your message.
No new email platform to learn
Get notified when recipient opens your message
Tap to contact them immediately
No limits to number of notifications
Free email tracking app
MailTracker app review: track when your emails have been read
If you're looking for a reliable and full-feature email provider look no further than the Gmail app. This app provides you with mobile access to your Gmail inbox and provides you with real-time notifications. With the app you'll be able to move through up to five different accounts, enjoy threaded conversations complete with profile pictures, make use of the inbox search tool, view your Google contacts and calendar through the app, receive and send out attachments, respond to Google Calendar invites, and so much more. This one is sleek and modern enough that it can even be used for a business email provider.
Access your emails while on the go

The app offers real-time notifications

Search your inbox

View and respond to Google Calendar invites

View Google contacts

Receive and sent attachments

The app is loaded with user-friendly features
Gmail App Review
Gmail app review
For those that use Yahoo Mail, Gmail, or Hotmail as their email provider the myMail app can act as a handy way to manager all your messages in one central location. The app also supports AOL email, iCloud, MSN, and Outlook. Instead of spending time switching from one provider to the next, wouldn't it be nice to get it all in one simple location? The app offers push notifications, you can create emails from within it, there is a Touch ID support and a PIN lock, you can use filters, and perform a search. Making it even more versatile the app also supports the Apple Watch.
The app works with a number of popular email providers

The app supports the Apple Watch

Make use of Touch ID and a PIN lock

There are push notifications

Perform a search and use the filters to find what you want
myMail app review: your free email manager for Yahoo, Gmail, Hotmail, Outlook, Live, MSN, and AOL Mail
myMail app review: new and improved!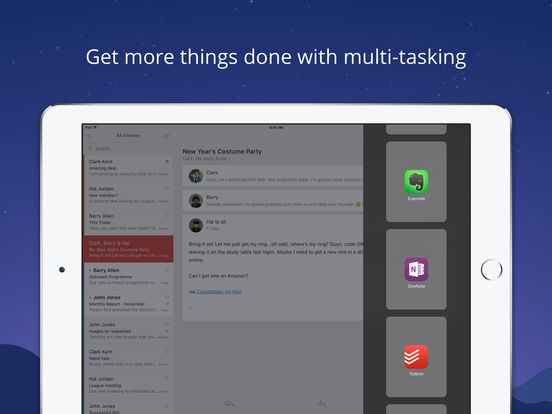 The CloudMagic Email app is a multi-functional app that works with some of the biggest accounts out there such as Google Apps, iCloud, Yahoo, Gmail, Outlook, Exchange, Office 356 and other IMAP accounts. Users can make use of the app on all their mobile devices including the Apple Watch. The goal of the app is to make you more productive when it comes to emailing, and with that in mind all kinds of tools have been built in. These include such things as instant push notifications, if you lose your device your data can be erased remotely, there are interactive notifications, sync your preferences and account across your devices, use one central inbox, and so much more.
The app supports a large variety of IMAP accounts

Get interactive and push notifications

Sync your preferences and account across your devices

Use one central inbox
CloudMagic app review
Sometimes you just want to go with the tried and true methods of emailing such as the Yahoo Mail app offers. Through this app not only will you be able to have full email access but you can also view weather details, news, entertainment headlines, sports news, and more. It's more of a social experience than just an email provider. You are given 1,000GB worth of free storage, so you've likely got more than enough space for your emails. Additional features include being able to search through your files, messages, and contacts, you can manage your emails using swipe gestures, sort your messages into folders, and plenty more.
Enjoy up to 1,000GB of free storage

Manage emails with ease

Create folders to place messages into

Access news, sports scores, weather details, and more through the app
Yahoo! Mail app review
Good news, the Inbox by Gmail app is now open to everyone and there is no need to wait for an invitation to join. This app was created so that your email inbox no longer has to be a source of stress and a bone of contention as you look at the sheer volume of mess. It's all about streamlining the entire email process and experience. Features include being able to bundle messages together that are about the same topic, you can view the highlight of a message without having to actually open it, you can search through the inbox, snooze a reminder or email, set up reminders, and more. Of course this one works with the Gmail email provider.
Works with Gmail

Streamlines the entire emailing and email managing experience

View highlights of the message without opening it

Bundle similar messages together

Set up reminders

Snooze reminders and emails