Alarm Clock HD - Free - App Review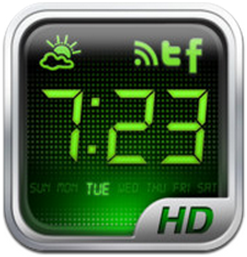 Alarm Clock HD - Free Rank: #33 on the Top 100 Free iPad Apps List as of July 28th For: iPhone, iPod touch, iPad Tired of looking at your boring alarm clock? Then here's the solution to that problem: Alarm Clock HD Free by Alarm Clock Company. This useful utility app is the Swiss Army knife of alarm clock apps in the App Store. It has tons of cool features. The app comes with built-in weather information, RSS, and Social Media integration like Facebook & Twitter that keeps you connected with your pals. It  keeps you informed even when you're hugging your teddy bear while drooling yourself to sleep. It has also a built-in flashlight for you to guide you to the bathroom in the dark. Plus, it lets you use your iPod tunes to wake up. That is way cooler than the standard alarm that comes with your iPhone or iPad. Moreso, it has a battery meter that keeps you informed of your battery life. This could be a life saver. What if you have to wake up early and your battery dies before morning? Then you are in serious trouble. Alarm Clock HD will be your guardian angel while you sleep. The app even has a built-in Sleep Timer where you can relax your mind and ears before you drop off into dream land. With a high-definition interface that works smoothly on your retina screen, your eyes will be more relaxed before you sleep. Thus, it will give help you transcend into a deeper and more serene sleep. You have multiple colors from which to choose. Plus, you can set your alarms for either daily or weekly. Choose between setting your alarm sound or let your chosen tunes fade once the alarm goes off. You can set your tunes individually or set your entire playlist if you want. Alarm Clock HD does it all!
Its integrated weather forecast keeps you up-to-date with the latest weather info including the temperature! It does wonders to your iPhone or iPad as it automatically feeds you current information about the weather. And to top it all, you can customize all settings, just the way you like it. No app even comes close to being as useful as this wonder tool. Download now for a limited time only. Alarm Clock HD is your ultimate handy tool while you sleep.