The video is slowly and surely starting to become the dominant form of content on all available platforms. Just look at Facebook, YouTube and other services where thousands of new clips are added every minute. This trend is also changing our behavior and software requirements. With the advent of 4K resolution, many users are faced with large amounts of data, but can be solved by efficient compression. For this purpose, WinX HD Video Converter Deluxe is a great tool worth having, which can quickly and easily reduce the size of the video while maintaining maximum quality. Besides, the application does much more. The primary function is to convert clips with the support of perhaps all conceivable codecs, including the currently most widely used HEVC / H.265.
As anticipated in the last few lines, WinX HD Video Converter Deluxe is an ultimate 4K video converter program that can compress, convert and download any 4K/HD videos within a few clicks. Thanks to this program, you will be able to get your hands on any SD, HD and UHD resolution movie using your Windows PC.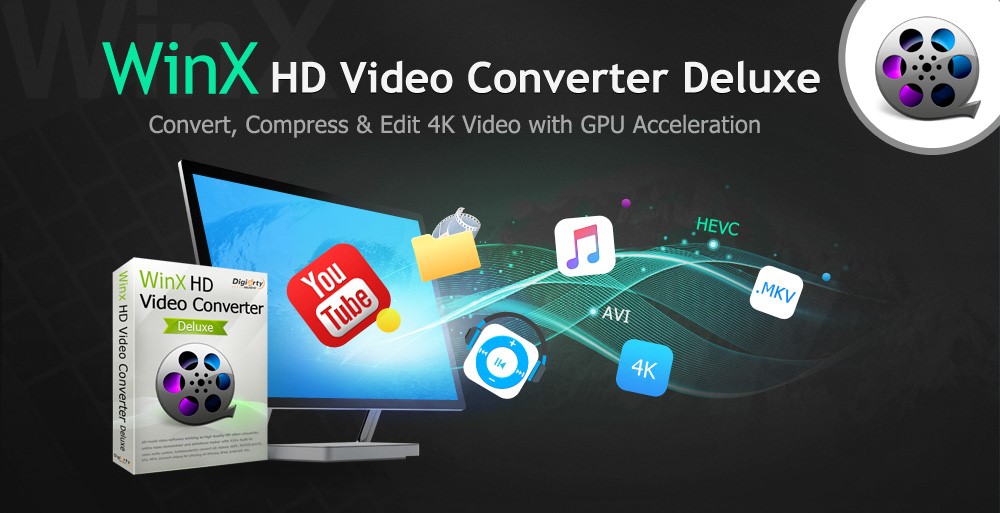 WinX HD Video Converter Deluxe: functionality
This particular program developed by Digiarty is able to make the most of Intel QSV and Nvidia CUDA / NVENC to modify and decode videos using full GPU acceleration technology. According to the company, this allows to speed up the processing of 16-fold movies compared to software acceleration.
WinX HD Video Converter Deluxe features over 420 preset profiles to convert movies and videos in SD, HD and Ultra HD quality to play them on your favorite devices like smartphones, tablets, game consoles, TV Boxes, Chromecasts and much more. For example, you can convert a video from MKV to MP4 using the integrated profile. The WinX software supports almost all types of video and audio files, even ISO images. And it also allows you to trim the video before converting to other formats.
In addition to this, there is an integrated downloader which allows you to download clips from the Internet up to 2160p / 4K resolution and music audio / video files from the main online services such as YouTube, Facebook, Vimeo, Vevo, SoundCloud, Dailymotion and so on.
If that's not enough, WinX HD Video Converter Deluxe also has a feature that allows you to create slideshows starting from the favorite images in JPG, PNG and BMP format in just a few simple steps. At the end of the creation, you can share the project with friends, add a background music track and / or convert it into an AVI, MP4, MKV, FLV etc. video.
Get WinX HD Video Converter license free, Win Bose Headphones or Sonos One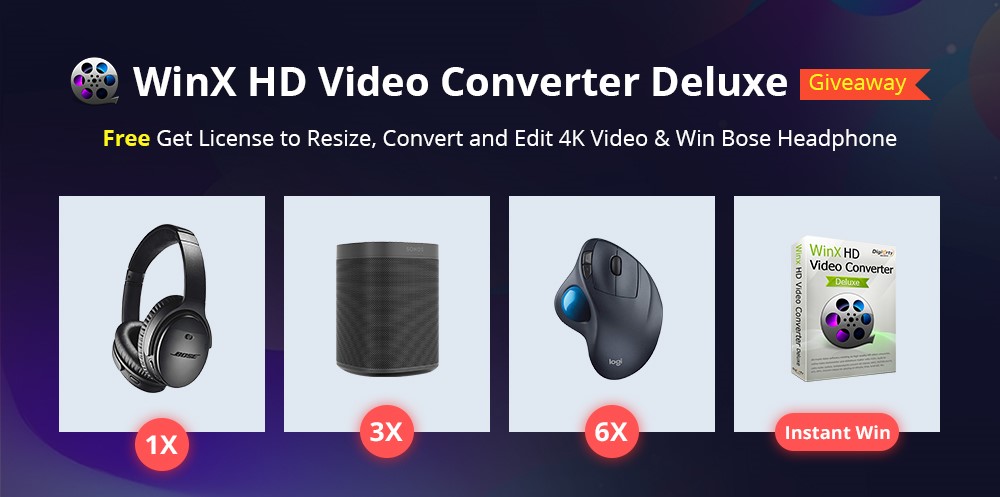 Digiarty Software has prepared an enticing giveaway and competition for all users. You could free download the 4K video converter and have a chance to win Bose headphones, Sonos One Bluetooth speaker or Logitech wireless mouse, do not wait and try your luck. If you want to use the 4K video converter on your Mac computer, here is also a chance for you to get the Mac version for free. Once the license code is activated, you could use all of the features without time limit.
How to convert video with WinX HD Video Converter Deluxe
Do you want to convert a MKV video to MP4 or H.265 in H.264? It is possible to do this in very few steps which we list below:
• Always open the software, click on the video icon with a + inside the middle or on the Video button at the top and then select the clip to convert using Windows File Explorer.
• Through the Output Profile window, select the profile of your interest (eg MP4 Video) and optionally use the switch to select the desired quality between low, medium and high.
• After pressing OK, you can change some output file settings using the dedicated box within the timeline. For example, by pressing Edit, you can adjust the volume with the appropriate slider (activating the Adjust Audio Volume option first), add subtitles, cut a part or set the start and end point. Remember to first press Apply to All and then Done to confirm any changes.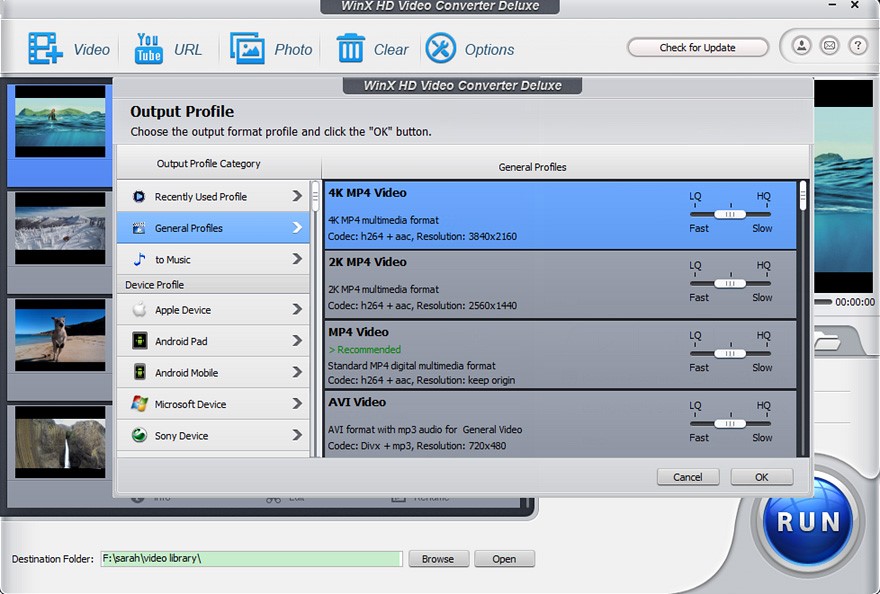 • After setting all the desired parameters, select the destination folder by pressing on Browse and press on Run to start the conversion process.