Are you looking to play blackjack for real money on your Mobile? Well, you've landed on the right page as we'll tell you all about it. For many years, blackjack has been a popular casino game to many gamblers. However, this table game seems to receive more popularity today more than ever before.
In fact, blackjack isn't the only online casino game experiencing a surge in popularity, others such as slots and poker continue to drive more profits for online casinos.
There's only one explanation for this. Advanced technology with great emphasis on the internet.
.
Today, almost everyone on the planet owns a smartphone. According to the Pew Research Center, 77% of Americans own a smartphone. This goes to show the vast market online casinos can tap into. For blackjack fans, mobile gambling has made their favorite game much more accessible.
…and guess what?
You can even gamble using cryptocurrency. See, how technology is transforming the gambling scene.
In this guide, we'll take a look at what you need to know about playing real money blackjack on your mobile. From the different variations available, supporting operating systems and the ways you can play this amazing game.
.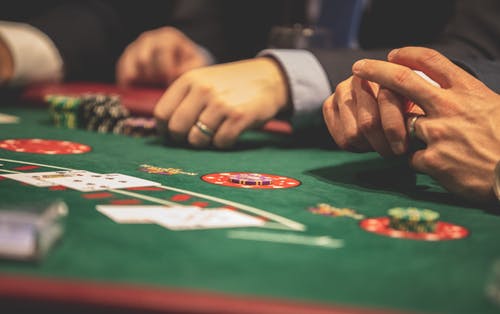 Variations on Mobile
Before we can dive into the various blackjack variations you can play on your mobile phone, it's important to note that the same rules apply whether you play the generic online version or live blackjack.
The interface may vary from one mobile app to another but expect a blackjack table, player controls which you can use to decide the stake amount, hit, double down, split or stand and of course, the cards.
Now you know what to expect when you play blackjack on your mobile, let's check out the variations available.
.
1.European Blackjack
Players can access this variant on the go which is played using 2 decks of cards. The dealer will stand on all the 17s and will not check for a blackjack. A player with 9, 10 or 11 has the chance to double down. On the other hand, if you have a pair of Aces, you're allowed to split them and get cards for both Aces.
Unfortunately, the game's mobile version isn't close in terms of quality as its online version. Nevertheless, you can still access and play the game while on the move. It's better than nothing, right? Besides, you still have access to all in-game features.
.
2.Single Deck Blackjack
Now, unlike the European blackjack version, the single deck blackjack uses one standard deck of cards (52). The dealer will hit on soft 17 and can check for a blackjack if he has a 10 or an Ace. While you can double down if you have a 9, 10 or 11, you're not allowed to double down after splitting.
As for the payouts, expect 3:2 payouts for blackjack and 2:1 for insurance bets. The gameplay is smooth on mobile and you can access the game regardless of the operating system. However, your mobile device will determine how smooth the game will be.
.
3.Multi-Hand Blackjack
As the name suggests, the game is played using multiple decks, 5 to be precise. The dealer will stand on both hard and soft 17 but cannot check for a blackjack. Also, players can draw to split a pair of Aces and double down but aren't allowed to re-split.
Further, players aren't allowed to surrender, and the insurance bets placed will be sorted out after the hand. Again, you can play the game using multiple hands at one go. This means there'll be a lot on the screen. Therefore, for the best gaming experience, you'll need to tilt your phone.
Finding an online casino offering these variants can be difficult. If you don't know where to start looking, consider BestOnlineCasinoSites.com for a start.
.
How it Works
If you're an ardent online casino gambler, chances are you've already come across the various ways you can play blackjack on your mobile. There are three different ways to play blackjack for real money on your mobile device:
The first and most popular method is through a mobile application. In this method, the application will link to another software application, which is more or less a website. This will then provide access to more games offered by that online casino. The downside to this method is the cumbersome nature of the app.

Through a casino software client download. Most of the online casinos prefer this method. With this method, players will only download the game they wish to play. This is an advantage to the player since they get to save on space, unlike app downloads which require one to download specific apps for every game.

Then there's the browser-based gaming, which is also known as flash or no-download. In this method, players aren't required to download any software on their mobile device. Instead, they get to play online. However, gameplay will be smooth and exciting if you have a wide screen.
Note that technology can be confusing at times, thus if you encounter any difficulties during gameplay, contact the customer support team for assistance.
.
Mobile Platforms Offering Mobile Blackjack
There are four mobile operating systems with a wide user-base. However, two of them, iOS and Android occupy a huge chunk of the market. Windows and Blackberry are the other operating systems. If you own an Android and iOS device, then you won't have to dig too deep to find real money blackjack games.
Blackberry and Windows operating systems support multiple free blackjack variants but fall short on real money blackjack games
.
Final Thoughts
Playing mobile blackjack for real money is a great way to have fun and earn extra money at the same time. Nevertheless, it's important to understand the rules before depositing your money, so make sure to navigate to the rules section to get a better understanding of the particular variant you intend on playing.
Even better, open a free or demo account so you can practice and get a feel of the game. Once you are confident enough, you can advance to a real money account.