Online poker is a touchy subject in America. While there has been plenty of debate over the regulation of the game, you can still enjoy playing poker online – using either your desktop computer or your mobile device.
There are several real-money online poker apps that offer American players the ability to play the game online using their smartphones and tablets. Each one has different features and functions, allowing you to find a mobile poker app that suits your interests no matter what type of poker you prefer to play.
BetOnline
BetOnline is one of the busiest and most popular poker sites in America, and you can get in on the action even when you're on the go. You can play on the site using your iOS or Android mobile device, simply by downloading the app from the BetOnline website.
All new players at BetOnline are welcomed with a 100% match bonus up to $1000 – but, the bonuses don't stop there. Weekly leaderboard competitions are available, offering players the chance to claim impressive cash prizes. The Bad Beat Jackpot is another great opportunity for players to win big.
Both tournaments and cash games are available on the BetOnline mobile poker app. A wide range of stakes are available from 1c/2c to $5/10, so experienced players and microstakes players will both be able to enjoy themselves here.
The stand-out feature of BetOnline's mobile app is that it allows players to multi-table. On most poker apps, this functionality is simply unavailable due to mobile limitations, but this isn't the case at BetOnline. You can play on up to four tables at once. While not all of the tables are visible at the same time, a small indicator at the top of the screen lets you know what your cards are at the other tables and when it's your turn to act.
.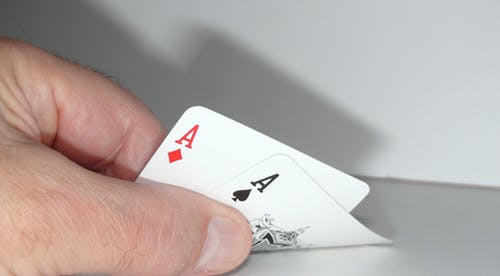 World Series of Poker
If you would rather not spend money on mobile poker sites and apps, and you're simply looking for a fun way to pass the time, you should give the World Series of Poker's mobile app a try. This is a fun social mobile game, where you can wager with play-money.
Having been around since 2012, the World Series of Poker app has had plenty of time to figure out what players want from a mobile gaming experience. So you'll find that the app has vibrant graphics that look great on any screen size, as well as smooth animations that keep the action flowing nicely.
There are dozens of free-play poker apps out there right now, but World Series of Poker stands out because it isn't limited to Texas Hold'em. On this app, you'll be able to play Pot Limit Omaha, as well. As the second most-popular poker variant, PLO is a great game for poker buffs to try – and, according to the experienced reviewers at OnlinePokerAmerica.com, it's not often that you get the opportunity to give it a spin when playing on a social app.
.
Ignition Poker
Ignition Poker takes a different approach to mobile online poker games. Rather than requiring players to download an app, the mobile poker room is based in your web browser. So, you can play from any platform – whether you're accessing the site from your iOS, Android or Windows device.
The graphics on Ignition Poker mobile are impressive with a sleek look that is very similar to aesthetic on the desktop site. The animations are also smooth, and you aren't likely to experience any lag. However, if you have an older mobile device, you can adjust the animations so that your hardware doesn't create any issues.
There is only one downside to playing at the Ignition mobile poker app: there are no tournaments available. You'll be able to play Zone Poker and regular cash games, but bigger competitions just aren't available.
.
PokerStars
If you live in New Jersey or Delaware, then you'll be able to play on one of the world's most popular online poker platforms. PokerStars is licensed to offer its services in the two regulated states, and players from both locations can compete against one another.
The PokerStars mobile poker app is considered to be one of the best on the market. It not only provides players with a wide range of cash games but also many tournaments. So, no matter what type of mood you're in, you'll be able to access mobile games that suit you.
The Quick Seating function is certainly a plus when playing on the PokerStars mobile app. You'll spend less time scrolling through the game options, as the software will simply seat you at a table at your chosen stakes.
Mobile tables on PokerStars are known to load very quickly, and the action is just as fast-paced as it would be on your desktop computer. So, you don't have to worry about mobile software being inadequate. The user interface is also very well-designed, allowing you to easily bet, raise and re-raise.
.
America's Cardroom
America's Cardroom offers a mobile poker app for players all across the country. This is another browser-based app, similar to Ignition Poker's, so there's no need for you to download any software. As a result, you can play on this site using just about any mobile device.
In addition to regular ring games, the America's Cardroom app also provides players with the chance to play Blitz Poker. This fast-fold variant is the perfect game for playing while on the go, as it doesn't require a lot of concentration. All you have to know is when to fold, and then you're moved to a new table immediately.
Your choice of mobile poker app will depend entirely on what type of gaming experience you're after. All of the poker apps listed above are great options for playing poker on the go, but each one does cater to a different type of player. So, explore them all and see which one best suits your mobile gaming style!