The mobile phone has revolutionized the way we live by allowing us to do a whole lot of things, from shopping to casino gambling, on the go. Mobile phones are cheaper than laptops and allow you to play your favorite casino game on the go; these are 2 major reasons for their popularity. The iPhone is one of the most popular smartphones today; that is why every casino operator has an iOS-compatible version of their casino. On this page we discuss the different aspects of gambling on an iPhone.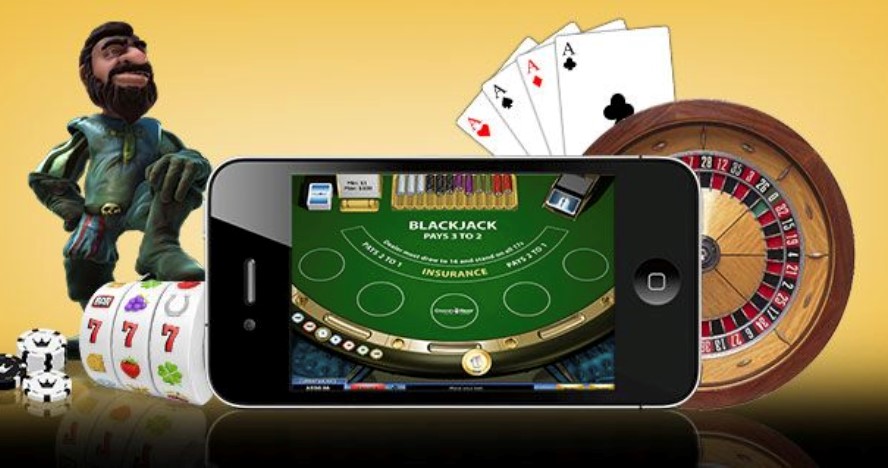 Every type of casino game is available
The Basics of Gambling on an iPhone
Gambling on an iPhone is as easy as it gets. If you are looking for a casino app, the process is easy:
Head to the app store.
Search out the casino you want to play in
Open an account to start playing.
If you already have an account with the casino just log in and start playing. Once you open an account or log in, you get access to all the games at the mobile casino. Depending on the casino you are playing at or the app that you are downloading, you get games powered by some of the best software providers in the business including Microgaming, NetEnt, Playtech, Real Time Gaming, BetSoft Gaming and others. There are also providers who cater specifically to the mobile platform. The promotions available at the desktop version of the casino are usually available to iPhone gamblers as well. Some casinos may have special bonuses for playing at the mobile casino, which you can use once you have logged in from an iPhone and have funds in your account. If the special offer is a no deposit bonus, you don't even need to deposit funds to get started. Of course, you will need to ensure that you fulfil all the terms and conditions, including wagering requirements, to withdraw winnings from the bonus.
Most of the games available at an iPhone casino are available for both real money play and free practice play. There are some free-play apps as well that you can access to play the games completely for free. There will be ads of course, because that is one of the main revenue stream for these apps. Some free apps offer give you a skeletal version of the game for free, and then give you a chance to upgrade or sign up for monetized play. Regardless of whether you play at a free-play app or real money app, download is quick and free.
.
Casino Gaming Apps Accessible from an iPhone
When you play on an iPhone you get access to different kinds of gambling apps. The ones that you generally look for are the casino apps. Every online casino has its own iPhone-compatible mobile casino. This is not a separate casino but an optimized version of the desktop casino. Other than the casino apps, you get apps for individual games as well. The following are some of the popular iPhone gambling apps available to mobile casino fans playing from an iPhone:
Slots apps
Blackjack apps
Roulette apps
Baccarat apps
Craps apps
Poker apps
Video poker apps
Lottery apps
Keno apps
Betting apps
Horse racing apps
When you play at an iPhone casino, you also get access to the jackpot games and live casino games that the casino offers. Live casino games on an iPhone are exciting to play because of the personalized experience and the high quality of imaging and graphics.
.
Security at an iPhone Casino
You get a secure and reliable gaming environment when you gamble on an iPhone because of the stringent levels of security that the iPhone comes with. And if the casino you are playing at is licensed by reputed licensing authorities like the Malta Gaming Authority (MGA) and the United Kingdom Gambling Commission (UKGC), the guarantee of security is 100%. One thing is a given, be it in the early years of mobile casino gambling or now in 2019 you have to protect your privacy, and VPN is the best software to do it while enjoying your favorite online casino. NoDepositHero has written a detailed guide on how to choose the best VPN to play at no deposit casinos anonymously.
.
Advantages of Gambling on an iPhone
The iPhone is one of the most popular mobile devices for mobile casino gambling because of the numerous advantages it offers. The biggest advantage over a traditional desktop casino is the fact that you can gamble at your favorite online casino anytime and from anywhere. The graphics are of the highest quality given the sophisticated technology that the iPhone comes with. And despite the fact that Apple has had issues in the past about allowing real money games to be showcased on its app store, you get access to a number of high quality online casino apps. And you can download the app or play directly from the browser of your iPhone. Downloading an iPhone app is very simple and quick. We will discuss this in another section. Other advantages include a fantastic choice of games and operators providing them and a good range of payment options. The interface is totally responsive and there is zero lag time and no glitching, making for a smooth gaming experience overall. There is an entire series of iPhone devices that have been launched over the years, which means you get a whole range of hi-tech devices from which to access your favorite casino. The same iPhone casino or gam app works usually for the different kinds of iPhones, but there are a few operators that offer different apps for iPhones and iPads.
.
Latest Updates on Gambling on an iPhone
Up until now, mobile casino operators used HTML5 to offer games in what was popularly referred to in tech circles as container apps or wrappers. These were easy to develop and were quite cost-effective as well. However, in June, Apple announced that developers would no longer be able to do so anymore: new iPhone apps would have to be developed in native code. This was stated in Guideline 4.7 of the summary of the updated document titled App Store Review Guidelines, and the deadline for implementation was set for September 3, 2019. What this means is that while players playing at installed casinos or apps built using container apps would be able to continue playing at them beyond the stated deadline, future updates wouldn't likely be possible. It is also highly likely that players would not be able to download or install casino/mobile casino game apps developed using this technology beyond the given deadline.