Not everyone is born a people person. Although you may be great at commanding a board room or running a successful business event, you may not have the social skills to really connect with those around you. Don't worry, Calendar.AI is here to the rescue.
.
.
What is Calendar.AI?
Calendar.AI is a smart and unique new app for Android and IOS, but it is so much more than just a calendar. First, it syncs with your Google Calendar seamlessly. It also integrates with Office 365 and Outlook.com Calendar. When you first install it, all your meetings, events, and calendar details are instantly brought over. Now the magic begins.
.
Calendar.AI is packed full of amazing features. Some of the highlights are:
It works on both iOS and Android.
The app is lightning fast, no waiting for anything to load.
Social media profiles are included (LinkedIn, Instagram, Google, Facebook, and Twitter).
Company information, includes key members, insights, funding, news, social profiles, and more.
Easy scheduling built right in - create a schedule in seconds and integrate video conferencing on the fly (Zoom Meetings, GoToMeeting, Webex, and Skype for Business).
You can also add private meeting notes right in the app.
Add meeting minutes, an agenda, and action items to any calendar event instantly.
See the weather each day without having to click a thing!
.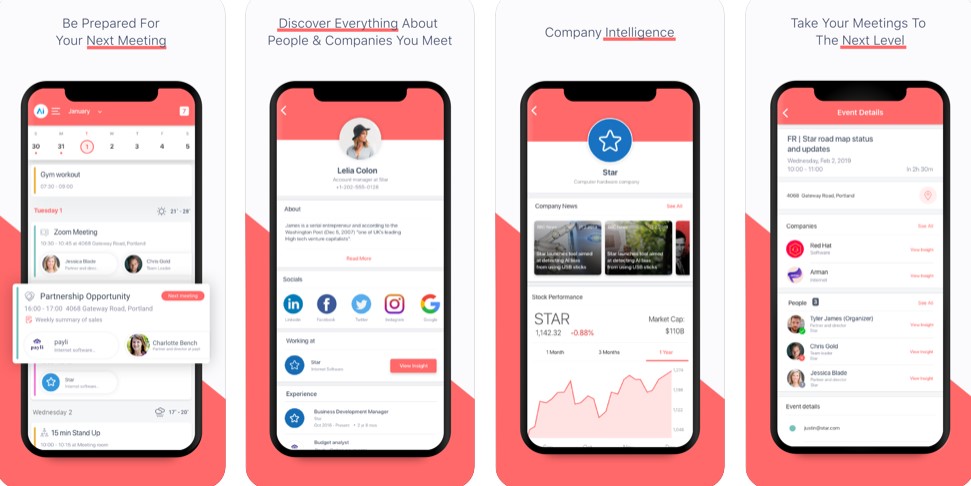 If those great features weren't enough, the beautiful interface ads icons to each of your events to keep them organized and interesting. Schedule a lunch date with a friend and instantly see a plate and utensils or a burger show up automatically! It doesn't get any easier than this.
.
How Can I Use Calendar.AI to Connect More with People?
You don't always have time to prepare for a meeting and research the attendees to know who you are dealing with beforehand. Thankfully, Calendar.AI has you covered by gathering all the data you need in one place. It works like a trusted assistant. With the tap of a finger, you can see all about the person you are meeting with and use that to draw them out and connect with them. For example, if you see that your 10:00 a.m. meeting is with a person who loves dogs, you can bring up the subject of dogs and get them talking. When people connect on a personal level, everything in business goes smoother. Once you connect with them, a relationship starts to bloom, and both yours and their investment in the project becomes much deeper. It's nice to get to know, and like, the people you are working with or for. With Calendar.AI, you don't have to work hard to find out all about your associates; it's all right there in your hand.
.
Calendar.AI - How it Works
The app showcases an attractive interface making it easy to see each person in the meeting. When you tap on the insight button, you can view their social media profiles to get an insight into their personality, as well as any hobbies and acquaintances you might have in common. You will also see their employment history, photos, contact details, including email, phone, and even address with a map. If you tap on a company insights icon, you can even see their stock price! Company information may include news, funding rounds as well as social profiles. Using this feature, you can get a complete picture of the company you are in business with and its top representatives.
.
Calendar.AI is Your New Go-To App!
If you weren't a social creature before Calendar.AI, you will be after you start using it. The practical features combined with personal profiles help you prepare confidently for any event, meeting, or gathering.
.
To start using Calendar.AI use the following links:
Android:https://play.google.com/store/apps/details?id=me.sync.syncai