With the rise in popularity of comparison websites, it's no surprise that they now cover the various casino offerings. One such site is CasinoDB which has recently also released a free app in the Google Play Store, with an IOS app coming soon. With over 200 casino websites in its database, the offering is very extensive. Based on a self-serving platform, the app allows casino operators to list their special deals and reach a wider audience. Essentially a middle-man with a lot of useful features. Looking more closely at what is available, it is apparent that a lot of work has gone in to developing this app.
.
One of the main features are reviews and videos of online casinos. In-depth analysis of games, payment methods and bonuses are all listed. So often, online casinos offer special deals to gain users and keeping up to date with such a dynamic task is challenging. Currently 174 listed in this category, I see deals like free spins, welcome bonuses and reload bonuses in this section. There's no way I could find all this out any other way. The Online Slots section covers Slots, Blackjack, Roulette, Dice games like Craps and many others.
.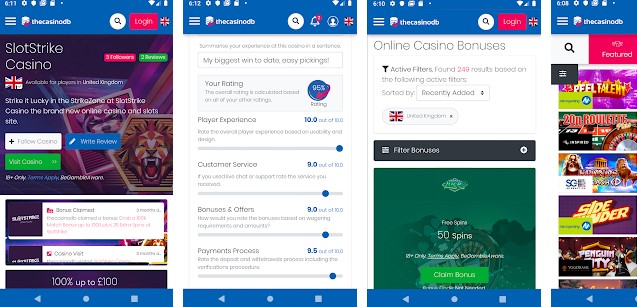 Using the fact that information is power, the app verifies casino websites for their safety value which is a really useful feature. It also allows users to search sites using a variety of filters to find exactly what they are looking for. A standout feature is the ability to find out all the best and latest deals on offer. To quote Bruce Raynor of CasinoDB, all this gives users an "informed choice".
.
Not restricted to online casinos, the app also covers bookies and allows you filter and search for those offering bonuses, in play betting, live streaming on horse races and other features like cash out and bet builders.
.
The backend is very functional and from the operators' point of view, giving them a powerful tool to list what they offer in a brief but informative way. Almost all the other services don't keep the information up to date whereas the CasinoDB can offer real time news on the latest deals and bonuses.
.
You can download the app for free in the Google Play Store here or check out the TheCasinoDB website.