PDF is a popular format for business use, and with most companies now allowing their employees to bring their own devices to work (BYOD), getting official tasks done on mobile devices like iPhone and iPad is becoming increasingly common. Since most PDF users typically edit or annotate documents on the move, it stands to reason that they need robust tools for this purpose. This article highlights some of the best apps for editing and annotating PDF on your iPhone and iPad without compromising on functionality or quality of editing. Keeping that challenge in mind, let's dive into this juicy topic.
.
#1: PDFelement for iOS - Powerful and Easy PDF Editing and Annotating Tool
Get PDFelement for IOS for Free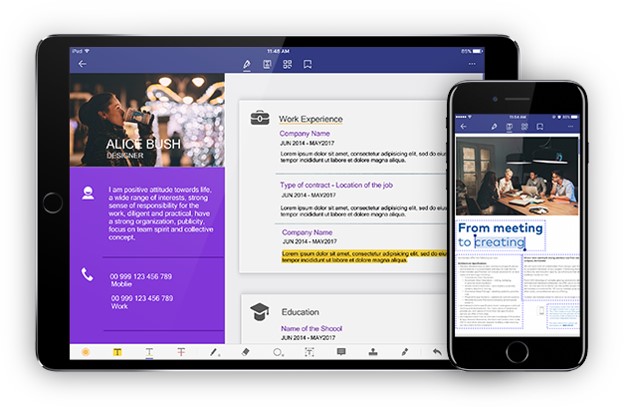 PDFelement for iOS is a totally free iPhone and iPad app that allows you to quickly and effortlessly take a PDF document and edit, annotate, fill forms, create, combine, convert, sign, share, and do page management. The slick interface makes using PDFelement a pleasant experience, and the intuitive controls are beautifully integrated into the smooth graphics experience of an iDevice. Here are just a few of the things you can do with PDFelement for iOS (iPhone and iPad):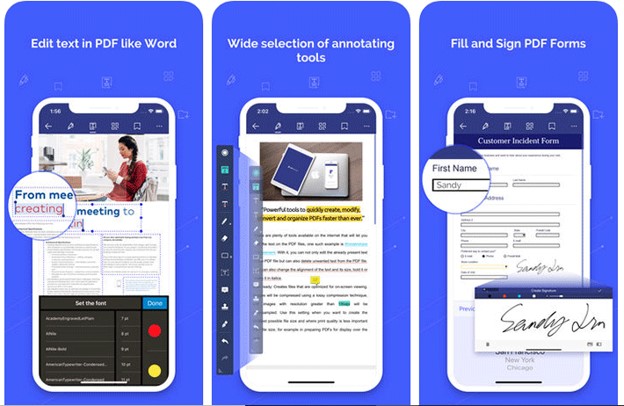 PDF Editor: Easily select paragraph blocks or individual lines, then edit, delete, move, copy, and paste the content. You can also control the font type, color, size, and other attributes. The original font is automatically detected and maintained in order to give you a uniform experience.
PDF Annotation and Mark-up: Quickly add any review and commenting elements like callouts, text boxes, stamps, etc. You can also erase, highlight, strikethrough or underline content, as well as draw freehand shapes and insert boxes and other geometric figures.
Fill Forms and Sign PDFs: Fill interactive fields and put a hand-drawn signature on your official documents.
Create and Convert: You can create a PDF from multiple source file types or convert PDFs into one of many options, including images, XML, HTML, Word, Excel, PPT, etc.
Document and Page Management: PDFelement for iOS makes it super-easy to organize files, merge or split PDF, or re-arrange pages.
Cloud Integration: Access your cloud folders on Dropbox or Google Drive and import directly into the iOS app. You can even transfer them wirelessly and securely using your Wi-Fi.
Maybe the mobile version can't completely meet your requirements at work. So the developer also
perfectly complements the desktop apps for Windows and macOS so you can seamlessly control your documents no matter what device you're using - including Android tabs and phones. The desktop versions come with a full-featured PDF creator, editor, converter, and form-filling tools. The OCR function allows you to turn non-interactive content into fully editable and searchable PDFs, and the form field recognition feature lets you identify and make fields editable. Here's a quick run-down of the features you can expect in PDFelement for Mac and Windows.
User-friendly Interface: This is the single most attractive feature that makes PDFelement a worthy contender against top-rated PDF applications like Adobe Acrobat or Nitro PDF. In PDFelement 7 and PDFelement 7 Pro, the interface takes on a new avatar that's even more intuitive, especially when editing various elements of your document.
Full Suite of Editing and Annotation Tools: Whether you're editing a PDF document or simply making notes and commenting, this application has you completely covered. Pro-level editing is available even on the free version. Annotation tools are aplenty and include highlighting, strikethrough, underlining, freehand drawing, shapes, stickers, stamps, and a whole lot more.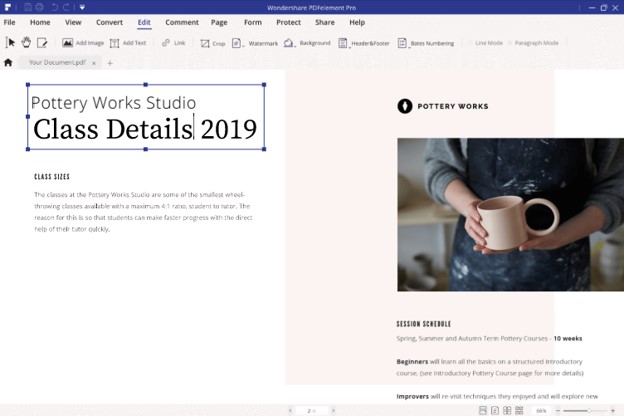 Powerful PDF Conversion Engine: Convert PDFs into a wide array of output formats that cater to the needs of executives, design professionals, editors, proofreaders, and others who rely heavily on PDF documentation and management.
OCR and Forms: Scanned documents can be accurately converted into PDFs that can be edited or indexed to search engines like Google and Bing. Scanned forms can go through field recognition to make them completely editable. Interactive forms can be created from non-interactive files manually and automatically.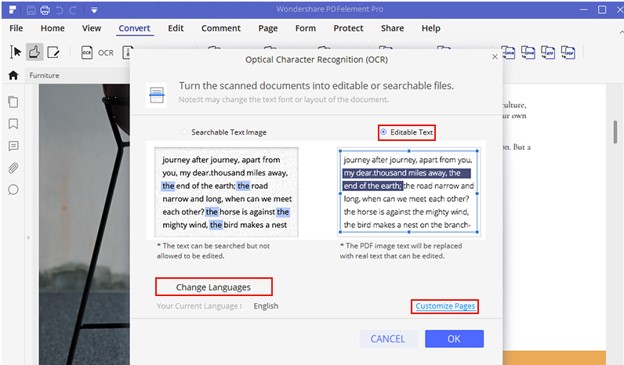 Protection: Apply two types of passwords and other security elements like redaction, watermarks, etc. PDFs are often sent via email or uploaded to shared locations on the cloud or in company networks. Give user-based permissions by applying strong encryption that takes decades to crack. You can also quickly remove any editing or printing restrictions in bulk using PDFelement.
You can find out more features on desktop version than you expectation here. Plus, they are offering a special offer (Up to $60 Off) of desktop version to our reader, check it now!
.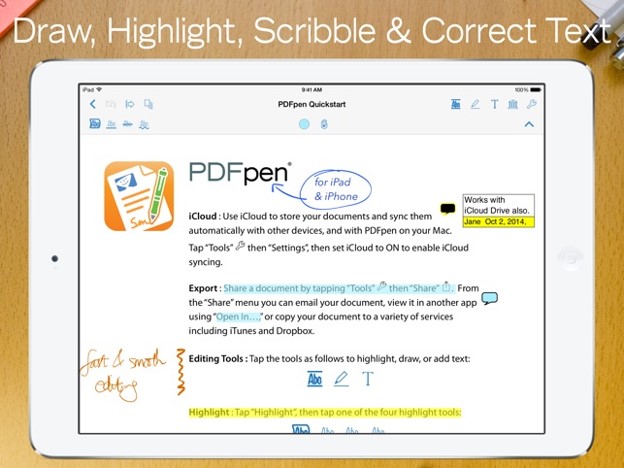 #2: PDFpen 5 (iOS) - Edit PDF with a Bluetooth Stylus
PDFpen is a feature-rich app that supports Bluetooth hardware such as styli. It also offers wrist protection so your documents don't accidentally get smudged when in annotation mode. It also offers other unique features like audio annotations.
Read or edit your local or cloud-based PDF files and save them back to their original location
Add annotations and notes, including recording and adding audio markups
Fill forms, add signatures, and even encrypt your PDFs for greater security and protection
Import and edit images, and manage pages with rotation, duplication, and other tools
Flatten out your PDFs so they're compatible with a wide range of desktop and mobile devices, then easily share them using AirDrop, Email, or cloud services
.
#3: PDF Viewer - The Annotation Expert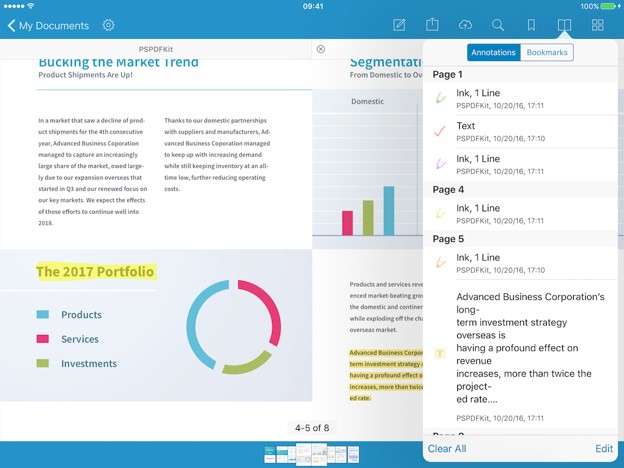 PDF Viewer is a highly functional toolkit to manage PDFs on iOS devices. Essentially a PDF reading and annotation tool, it comes with some cool iOS-friendly features like Dark Mode. It's also a great tool to sign, store, and share PDFs. On the flip side, you can't edit text elements in PDF with this tool, since it is mainly meant for reading and annotating. However, it does have some useful features that will help you work more efficiently.
As a PDF reader, PDF Viewer is a great tool to read and review documents on the move
Edit images with the Pro version (upgrade to a subscription)
Create and merge documents, move pages around, and annotate with comments and even audio - also works with the Apple Pencil
Fill forms, protect with password encryption, and add digital signatures
Offers a text-to-speech feature
#4: PDF PROvider - VPN Included for Privacy
Get PDF PROvider on the App Store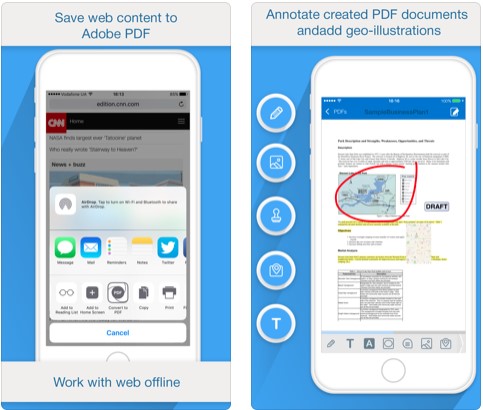 PDF PROvider, as the name suggests, is not a free utility, but it does offer some convenient subscription plans that are automatically renewed at the end of each period. Strictly speaking, you can edit text and image elements in your PDF documents; to balance that out, PDF PROvider gives you a plethora of tools for annotations, creation from other file types, scanning to PDF, and signing documents digitally.
It's a feature-packed annotation tool with stamps, shapes, highlighting, and other mark-up elements
Sign and share PDFs, and open documents directly from cloud services like Box, etc.
Save web content like entire web pages as PDF for offline access
Scan physical documents to PDF
.
#5: PDF Pro 3 - Full Support for PDF Forms and Annotation
Get PDF Pro 3 on the App Store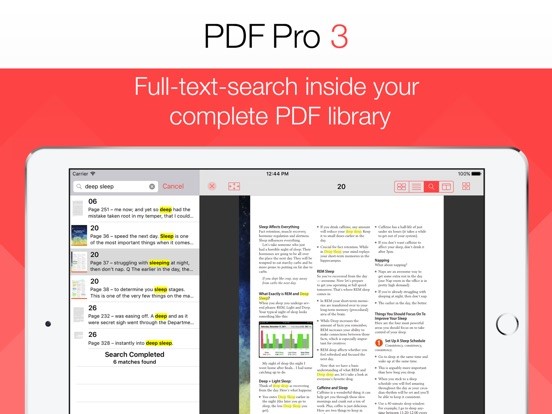 PDF Pro 3 supports devices running on iOS 11 and higher. It offers an impressive suite of annotation tools, along with text highlighting, digital signing, text search, and PDF management.
Edit text and add annotations from a wide variety of commenting and markup tools
Easy file management with color-tagging options
Import and download from cloud or FTP, respectively
View a clear outline of your annotations
Handles large PDF documents
In-app purchases for splitting, merging, and other PDF functions
#6: Documents by Readdle - Read and Annotate Practically Any Document on iOS
Get Documents by Readdle for iPhone and iPad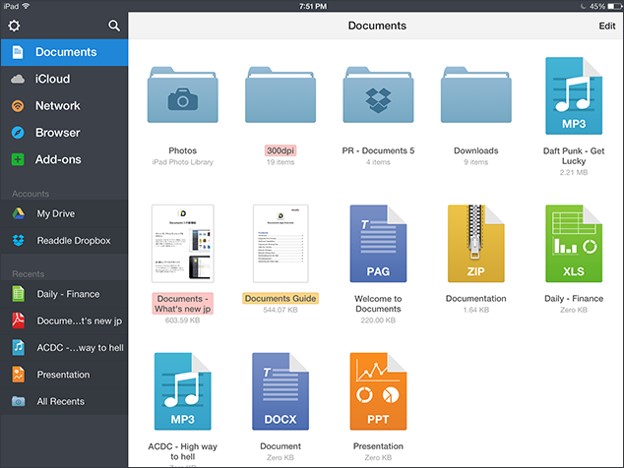 This utility is more of a document manager than a PDF tool, but it can capably handle all your PDF reading and annotation needs. It is more of a gateway to Professional PDF Editor, which is a paid product. It allows you to import and save a whole range of files, manage them, annotate and make notes, and so on.
Capabilities span annotations, downloading, sharing, and organizing PDFs and other file types
Search PDFs for specific text
Integrated image viewer and music player
Sync files back and forth to and from cloud services like Drive and iCloud
Use Documents for free or upgrade to Professional PDF Editor
.
#7: Foxit PDF Reader Mobile - Read and Annotate PDFs in a Jiffy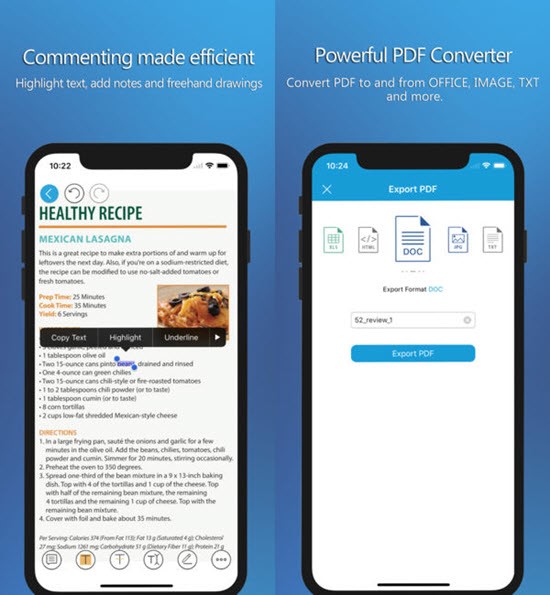 Foxit PDF Reader Mobile is essentially a free iOS app with in-app purchase options for editing, creating, converting, management, protecting, sharing, and signing documents in the PDF format. As a free tool, it's a simple PDF reader, but the $10.99 a year subscription will turn it into a powerful PDF editor with a host of capabilities. Assuming you're ready to shell out the money, here are the features you can expect:
A full suite of tools for text and image editing
Fill out forms, and export or import form-field data
Create and convert to and from PDF
Manage and organize files and individual pages
Add digital signatures and protect PDFs with password-based encryption
Annotate and share files securely via Wi-Fi
.
#8: GoodNotes 5 - Note-taking and PDF Annotation
Get GoodNotes 5 for iOS and iPadOS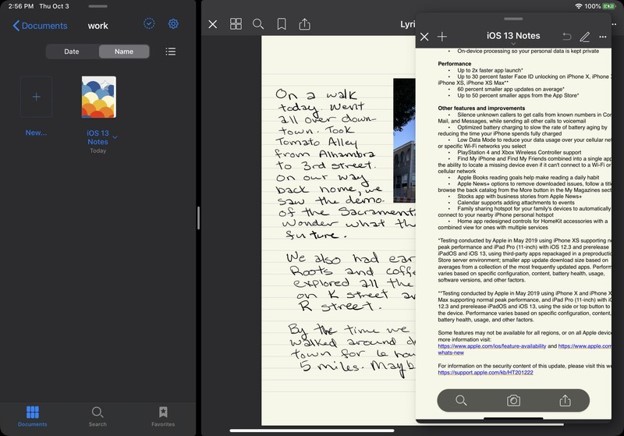 GoodNotes 5 is the latest iteration of the GoodNotes series of iOS apps to take notes and annotate PDFs and other document file types. It acts as a digital whiteboard for taking notes and marking up your documents. It also has extensive search features so you can always find what you're looking for in a document. Works best on iPad models.
Use your finger or any digital stylus like the Apple Pencil
Ability to search typed or handwritten material - everything gets indexed
Works with iCloud Sync
Import PDFs for reviewing, commenting, proofreading, and annotating
Organize PDFs and other docs into neat folders
.
#9: Adobe Acrobat Reader for PDF - PDF Viewer, Maker, and Converter
Get Adobe Acrobat Reader for PDF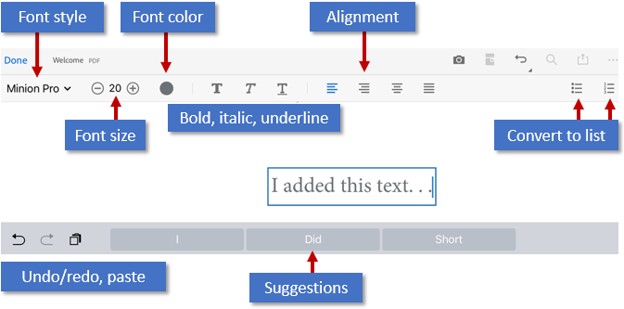 Adobe's Acrobat Reader app for iOS follows the design lines of the desktop application, offering a lot of the same functionality except for the crucial editing part, which only an app like PDFelement currently offers as a standard feature. Nevertheless, if you're using the desktop version of PDF Acrobat Reader or PDF Acrobat DC/DC Pro, you'll find that this app perfectly complements the full Mac or Windows version of the software.
Easy and convenient annotation tools - highlight, comment, draw freehand, use sticky notes, shapes, and more
Robust collaborative experience; review and respond to notes, get activity notifications, keep tabs on pending actions, and take advantage of link-based sharing via email
Scanned PDFs can be filled, signed, annotated and shared along with the companion Adobe Scan iOS app
Can be integrated with the user's Document Cloud account, if available
.
#10: PDF Expert 7 - PDF Editor and Annotation Tool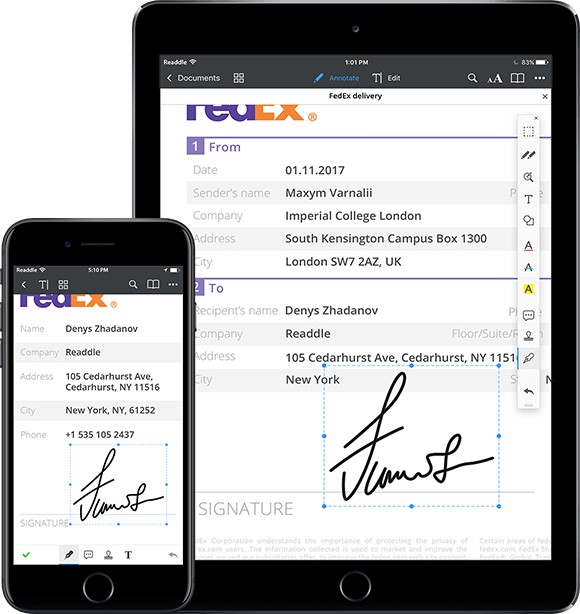 PDF Expert is essentially a free download but requires an in-app purchase to access the full range of features. These include editing, annotations, drawing, note creation, cloud integration, bookmarking, form filling, security, and converting PDFs. The custom toolbar makes it easy to navigate through all the functions and get the tools you need in a flash.
Full editing capabilities (Subscription as in-app purchase)
Robust annotation, review, and markup tools
PDF conversion
Security - redaction and password protection
Add links to text and image elements
Sharing via cloud and email
E-signatures can be added to PDF documents
Form-filling function
.
The Final Word
These are the Top 10 apps for editing and annotating PDF on your iPhone and iPad. Of note is the fact that PDFelement is the only one that has so many functions and is completely free. It also complements the fact that this software is available on all major OS platforms like macOS, Windows, Android, and Linux. While Foxit, Adobe, and others do offer robust functionality, users invariably have to subscribe to or purchase in-app to access many of the core PDF capabilities. If you're looking for an affordable cross-platform PDF editor and annotation tool that brings comprehensive added capabilities, PDFelement is it.