The key to owning a successful field service business lies in the ability to maximize efficiency and minimize costs. While there is more than one way to increase productivity, a route planner app is a particularly great way to save time, serve more customers in a day, and contribute more to your revenue. By using an advanced delivery route planner like Route4Me, businesses can determine the best routes for their vehicles, quickly schedule multiple drivers with multiple stops, and communicate changes in planned routes to their drivers on the go.
Key Features of Route4Me's Route Planner App
Route4Me's route planner app is cloud-based and available on both iOS and Android devices. Below are 11 useful features of Route4Me that will make your field employees more productive.
.
1.Share Routes with Field Employees in Real Time
The basic principle of a route planner app should be to stay in touch with your drivers and field employees and keep them updated on any changes in the planned routes. This is precisely what Route4Me's route planner app will help you achieve. Since it is cloud-based, it will allow you to share routes with your field employees automatically, without calling them or taking out printouts every time there's a change in the existing route. This makes it an excellent feature for collaborating with field employees on the go. Also, because you and your drivers are accessing the same information at the same time, there is no opportunity for miscommunication.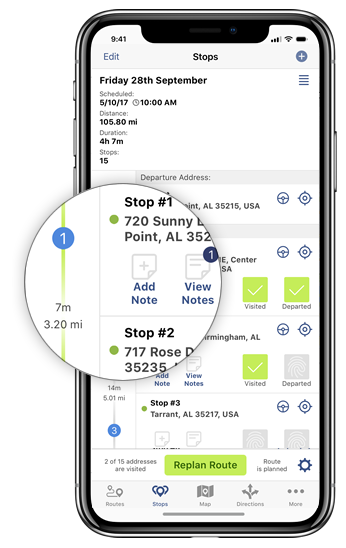 2.Offer Dynamic Routing
Dynamic routing is one of the most critical features of Route4Me's app. This feature gives you the flexibility to modify existing routes in real time whenever customers request changes or when changes are needed due to traffic issues or weather conditions. By modifying the routes as and when required and by informing the field reps about the changed schedules, the entire process can be made more transparent and efficient.
3.Enable Night Mode or Dark Mode
Depending on the unique needs of your business, your team members may need to travel at night. However, driving at night and using a mobile device can be dangerous, as the brightness of a smartphone can distract drivers from the road and cause eyesight fatigue or even a temporary distortion of vision. Route4Me's route planner app offers a night or dark mode feature that optimizes your field employee's screens for the dark times of the day, allowing you to improve their productivity without compromising their safety.
4.Provide In-App Voice-Guided Navigation
It is not safe for your field employees to switch between apps on a tiny smartphone, while driving. So, Route4Me's route planner app offers voice-guided route navigation. In this way, your field employees do not need to look at their tiny smartphone screens, since the app does the talking and auto-corrects the employees if they take a wrong turn accidentally.
5.Provide Weather Updates
Severe weather negatively impacts the productivity and safety of your field employees. For instance, if you send employees to customer locations when it's windy, raining, or snowing, it will lead to delays, reduced productivity, and increased costs. This is why you need an app that informs you about weather conditions in real time, allowing you to avoid delays and keep your employees safe and your customers happy. Route4Me's app will not disappoint you in this regard!
6.Send a Notification to the Next Customer
Route4Me will automatically notify the next customer that he or she is about to be visited by your field rep. Not only will your customers appreciate such a heads-up, but these notifications will also help your field employees complete a visit and move on to the next stop quickly. Ultimately, this feature will help your entire fleet stay on schedule.
7.Work in Offline Mode
What if your field employees lose data signals? This is especially prone to happen in rural and suburban areas? Losing access to the internet might cause your driver to get confused on the road and miss the planned ETAs. So, you need Route4Me's app which offers an offline mode to help field employees manage situations where the internet is unavailable for whatever reason. After a route is downloaded onto your driver's smartphone, it can be visited, routed, and navigated without an active internet connection.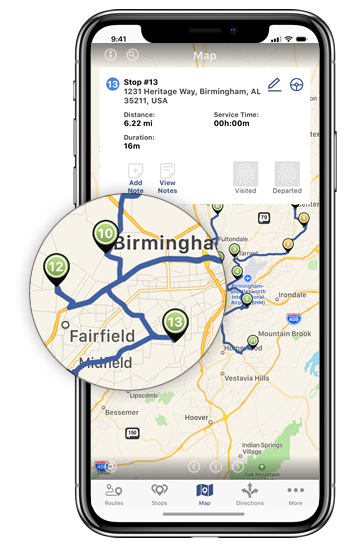 8.Plan Routes for Multiple Drivers
Planning routes for one employee is simple, but it takes an intelligent route planner app with an advanced algorithm to plan routes for multiple employees. In addition to finding the best routes for your field employees, you also need to consider customer requests for specific timings, the traffic situation at the time of day, and weather conditions in the area you are planning to send your employees. Trying to come up with the best route manually, while considering such factors, might take a lot of time and you'll be more prone to make mistakes. Route4Me considers all the factors and creates 100% optimized routes for multiple employees and multiple stops in less than 30 seconds.
Most importantly, Route4Me can factor in customer requests for specific time windows, while optimizing routes so that you can plan faster and more cost-efficient routes and adhere to your customers' preferred time windows. Your customers would definitely love that!
9.Allow Adding Notes and Images
Sometimes, your field employees need more information than just an address to make a delivery. For example, they may need the entrance location to a building or they might have to circle around the building looking for the right entrance which will be frustrating for the employee and will delay the rest of the deliveries.
So, how can you communicate any such particular information related to any customer or address? Writing it on a piece of paper is not a good idea as paper is easy to lose. Instead, you can use Route4Me's Add Notes and Images feature. Both you and your employees can add notes and images related to specific customers in the app and update it in real time. Even better, since the app is cloud-based, the notes and images will be centralized, which will help all of your employees see them anytime and anywhere.
10.Provide Proof of Delivery
Route4Me's eSignatures feature allows your field reps to capture customers' signatures and attach them to route stops. These signatures will give you real proof that your team members have appropriately performed their services at the customers' locations. Depending on your business needs, the customer signatures can also help you prevent driver fraud and detect unauthorized pickups or deliveries. Moreover, capturing the customers' signatures with an app is safer and more efficient than using pen and paper.
11.Enable Real-Time Tracking of Field Employees
It's always possible that your field employees are running personal errands, making personal stops, taking longer breaks, and taking detours on company time. All of this can be prevented by tracking your field employees in real time through Route4Me. With the route planner app, you can see the real reason for delays and communicate with your employees through the app. Also, your field employees will be less likely to indulge in wasting company time or engaging in unsafe driving practices if they know that they are being monitored.
.
Conclusion
These are just some of the many features that make Route4Me a hugely popular app that is indeed the most downloaded routing app. These features have been helping businesses increase efficiency and reduce costs for years now!