Technology has made it much easier to plan celebrations of any size, formal or informal. Many apps are geared towards weddings but can also be useful when planning other celebratory events like birthdays and anniversaries. In the meantime, WhatsApp groups, family FaceTime, Skype dates and Zoom parties and other indie apps have flourished in 2020, which enable us to plan celebratory events from birthdays to anniversaries and other important dates in our calendar without all needing to be at the same location. Here are some of the apps to consider:
Large celebrations
Wedding planning is stressful, but several apps make the process a little easier, and some of these are free. These apps, all of which are free to use, are also great for organizing a larger party such as to celebrate a milestone wedding anniversary, a wedding vow renewal ceremony or significant birthday.
.
WeddingHappy
WeddingHappy is a free app that takes your wedding date and creates a customized schedule and a checklist of things you need to do, including a date by which this should be completed. Here you can incorporate your ideas for unique gifts for your registry since there are options to coordinate vendor contact details. The app also offers payment tracking, a spending summary, with options to coordinate vendor contact details and sync with other users.
.
iWedPlanner
iWedPlanner is another free app that attempts to cover all the necessary wedding plans. This includes a to-do list feature to keep you on track, and the chance to organize all vendors in the app and take notes as the planning is ongoing, such as keeping track of RSVPs. This app can also plan your seating arrangement.
.
Wedding Planner by The Knot
The Knot is one of the most popular wedding websites. Their free wedding planning app offers a personalized checklist of things to do, together with budgeting options. Unlike other free apps, the Knot can search more than 250,000 recommended wedding vendors for flowers, dresses and venues, which you can then contact via the app.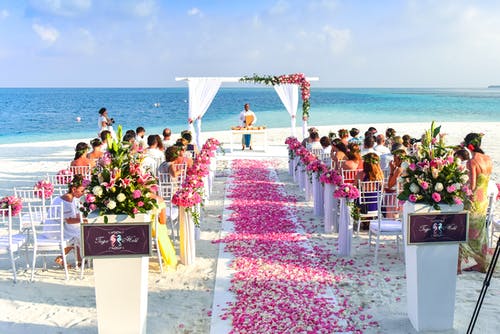 Split-location celebrations
2020 is when the world experienced social media coming into its own. With countries in lockdown and individuals in quarantine, birthdays, anniversaries and other significant dates were being celebrated at home and shared via apps.
.
Houseparty
A video-chat app, Houseparty allows you to create a video chat room and provides a link you can send to others, inviting them to join. Houseparty uses a split-screen that allows multiple users, though there is also a feature that allows for secret chats among the participants.
.
24me
24me is a personal assistant that keeps your planning on track with its integrated calendars, to-do lists, and notes. It automates events by keeping your tasks and schedules in one place and sending you reminders for them when necessary. The app links to your social networks, and service providers and works well for planning smaller events.
.
Pingg
Pingg lets you send out customized invitations via email or regular postal mail and will manage your RSVP list. You can add a gift registry or a potluck sign-up to your event, so you know who is bringing what.
.
Strayboots
Strayboots is a smartphone app that will create fun challenges and scavenger hunts in a particular neighbourhood, with help to customize the challenges. Each person has to download the app, which connects them to your event. They follow an interactive map and answer trivia questions to progress through the challenge while event planners can monitor everything from our dashboard.
.
Zoom
Video-conferencing app Zoom has become the most popular app for virtual parties if you are stuck at home for whatever reason. Zoom has become the most popular app of Spring 2020. With the first weeks of isolation due to COVID-19, virtual pubs were bringing people together for a drink, or to otherwise be online to play board games or host dinner via video conference.