Whether you are just now hearing about the amazing benefits of CBD or you know firsthand the ways it can improve your life, you're going to love this list of CBD apps. You can use them to learn valuable information and fun facts about CBD, find out where to get the best CBD gummies around, like the ones Verma Farms makes, and even connect with other CBD enthusiasts all over the United States. Whatever your reasons for wanting to find CBD knowledge or connections through an iphone app, this list has you covered.
.
1. Releaf
Releaf is one of the first apps of its kind and is endorsed by Americans for Safe Access, a research group dedicated to advancing research and information dissemination within the medical cannabis industry. Users create a profile where they can track the products they use, where they purchased them, and the overall effects. If they take CBD oil for pain, all they need to do is enter the information about their brand, then start documenting the effects. The community of app users consists of doctors, consumers, and cannabis professionals of all kinds, and allows people to connect, interact, and share experiences so that everyone can get exactly what they are looking for and make better educated decisions along their journey toward using CBD for wellness.
2. Hemplink
Hemplink is still in the development stage, but you can follow the company on Facebook and sign up for emails with progress updates. Hemplink is an online hemp marketplace, and this app will be one of the most comprehensive ways to connect with the hemp industry as a whole. You can learn about CBD production companies, but also hemp farms and processors, the hemp market, and even alternative products like building supplies being made with hemp.
3. Leafly
Leafly connects you with all the latest information about cannabis products, including hemp-derived CBD, CBD gummies for pain, CBD oils, and CBD topicals. You can search for products by the desired effects, read reviews, connect with other app users, and share information about the science behind CBD and its use. Enter your location and the app will help you find the nearest store selling the product you are looking for. This award winning app is a comprehensive guide to everything you need to know about CBD, from where to find it, to what kind to use for each of your personal goals.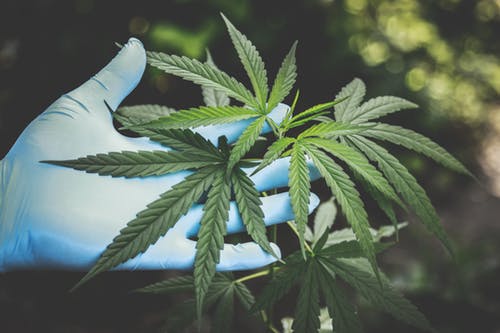 4. MobileDetect
This super nifty app is for all you gadget junkies out there. It works with special pouches (purchase required) to detect the presence of various chemicals, then you scan the QR code on the pouch for instant results. The main applications include drug and explosive detection, but you can order pouches that will help you differentiate between products with THC and CBD. You can use this app if you think you may have gotten CBD from a company that is less than honest, or try it just for fun. You may want to be careful, as at-home testing accuracy is questionable, but the company claims that it can detect any substance that may be outside of the 0.3 percent federal limits on THC.
5. CBD+me
Another CBD community-building and results tracking app, this one has special features like asking you specific questions as you build your profile and using the answers to support you along your journey. You may want to try each tracking app on this list—Releaf, Leafly, and CBD+me— to find the one that matches exactly what you need. Or you may find that you love them all for what each one provides. They all come with their own unique elements, to make the experience as individual as you.
6. Scan 2 Know
The CBD journey has almost as many steps from seed to sale as you will have in finding the perfect CBD products for your needs. Scan 2 Know is a revolutionary app that uses blockchain to track the production process of a number of consumer goods, from start to finish, and it has recently added CBD to the products it can track. You can use the app to ensure the ethical production of almost any product, but CBD tracking is one of the most exciting developments for this app.
.
Blockchain technology is transparent and immutable in nature, so you can never tamper with the data that gets stored, and every transaction or edit that ever takes place is recorded forever. This technology prevents any product that is loaded onto the platform from lying or falsifying information like farming and harvesting methods, third party lab results, and extraction process. Use the app to find out the entire journey of your CBD, from the time the seeds are procured, to the time your CBD gummies or oils are delivered to your door.