No matter what side of the barricade you belong to, the teachers or the students, you may have found the switch to online education to be a serious challenge. Many of us have tried MOOCs and toyed with other forms of online learning, but only a few have been engaged in it full time. Today, when the coronavirus pandemic has changed the world, the system of education is bound to adapt. Digital learning seems to be the solution educators are looking for. But while the abundance of digital tools looks encouraging, it can also turn out to be overwhelming. We have compiled for you a list of the most efficient and user-friendly apps that help facilitate online learning. From making notes to holding webinars – you will have all the apps you need at your fingertips. Online learning is here to stay. And, as everybody knows, the readiness is all.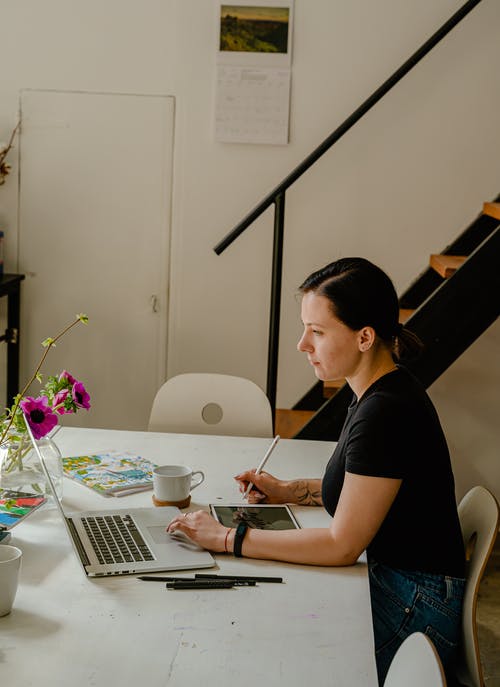 1. Google Classroom
https://play.google.com/store/apps/details?id=com.google.android.apps.classroom&hl=en
Cheap and cheerful, or, more precisely, free and cheerful, Google Classroom app is an ideal choice for those who want to stay organized and keep track of all the tasks and materials. It is definitely one answer to seven troubles. With this app, you can create courses, add students, assign and check homework, share resources, including photos and videos, and post announcements. The interface is simple and functional. If you have no time to spare grappling with endless functions and settings, Google Classroom is a perfect app for you.
2. Google Docs
https://play.google.com/store/apps/details?id=com.google.android.apps.docs.editors.docs&hl=en
It is another must-have essential from Google, which will make your life easier. With Google Documents, you can create, share, and edit documents in co-operation with other users, be they students or teachers. By saving the results of your work to Google Drive, you will make sure nothing is lost. On top of that, you can use Kaizena add-on, which allows you to provide audio and text feedback in Google Docs, both on the private and group level. Kaizena web app will help you grade papers easily and comfortably. Google Documents can also be effectively used to work with sample essays ordered from such helpful services as, for example, EssayService at https://essayservice.com/buy-an-essay. Sample essays are a great educational aid that makes the process of writing a paper more transparent and easier to master.
3. Zoom
If you asked me to name one app that has become the symbol of 2020, I would say "Zoom" without hesitation. Zoom has already starred in multiple viral videos, comic strips, and memes. And there is a reason for that. It is a truly convenient and easy-to-use app for online lectures, seminars, workshops, and less formal meetings over a cup of tea. It has all the necessary functions, including a possibility to share your screen and record the session. And of course, it has a fun side to it: with custom zoom backgrounds, you can steal the spotlight and capture everybody's attention within the very first minute of the meeting.
4. Kahoot!
https://kahoot.com/home/mobile-app/
Anant Agarwal, the head of edX, believes that gamification is an essential strategy to reinvent education and engage the learners on a really profound level. If students are willing to shoot monsters for twelve hours in a row, their stamina and motivation could be employed in education as well. Creating an interactive learning environment is easy with the Kahoot! app. You can host and manage games turning tests into a fun pastime. Users get an opportunity to create their own cahoots, which include images and videos. It is also a great asset for students who can use the app in a single-player self-paced mode to practice and revise the material. What can be better than watching students create an interactive learning challenge?
5. Seesaw
Seesaw is an app that can work wonders for teachers struggling with building a rapport system that will connect them with younger students and their families. The foundation of success is a feedback loop that relies on a learner's digital portfolio. The portfolio allows teachers and parents to gain insight into the learning process. Learners can use it to reflect on their results and share the achievements they are especially proud of. The app makes it easy for the families (of up to ten members) to follow the progress of the student, celebrating every step forward and encouraging them to keep working when something has gone wrong.
6. Educreations
Educreations is a digital whiteboard tool that will help you create fun and illustrative multi-page presentations and share them immediately. The app is intuitive and functional. It will enable you to put together cool visual aids with prerecorded audio, drawings, photos, and colorful highlighters. The free version of this iPad app allows you to save one draft at a time.
7. Additio
https://play.google.com/store/apps/details?id=com.additioapp.additio&hl=en
The Additio app is a multi-functional classroom management tool. Its key feature is a convenient digital gradebook, which saves you hours of calculating the grades. In addition, you may enjoy such handy functions as access to a lesson planner with templates, keeping a record of attendance, and managing the timetable. The app can be used to build rapport with students and their family members.
8. StudyBlue Flashcards & Quizzes
https://play.google.com/store/apps/details?id=com.studyblue&hl=en
This huge crowdsourced study library can make life easier both for teachers and students by allowing them to share educational flashcards. Flashcards are a good old way to learn practically anything without excessive cramming up. While you can create your own flashcards, there is also a database of over 400 million flashcards at your disposal. In addition, the app allows you to put together quizzes and track progress.
9. Evernote
No ultimate list of study-related apps can be deemed complete without this legendary digital notebook. It is a perfect tool for taking notes on the go – all you have to do is use the 'dictate' function. Evernote will also help you save webpages, images, audio files, and other resources you want to use in your virtual classroom later.
10. TED
https://play.google.com/store/apps/details?id=com.ted.android&hl=en
TED app is a go-to digital retreat for teachers and students low on motivation and eager to boost their creative energy level. With this app, you will get your daily dose of inspiration from such brilliant speakers as an education guru Sir Ken Robinson, a famous Harvard psychologist Dan Gilbert, a procrastination expert Tim Urban, and many others. It is a true treasure trove for intriguing and thought-provoking topics for discussion in any class.