There are a huge number of online mobile slots available for players to sink their teeth into, therefore creating a massive selection of choices they can choose from. However, just because there are a vast number of different options available, that does not mean all of them have been created with the same features or bring the same benefits some titles may pride themselves on.
Mobile gameplay has become hugely popular over the years as players find themselves on the go more often than not, as lives have become incredibly busy and at a rapid pace. Many may not have access to desktop computers or laptops anymore, either, with some preferring to use smartphones or tablets as their main source of technology. Therefore, selecting the right game to play becomes even more important as some slots do not work very well on mobile devices and will, ultimately, provide users with a negative experience and one that can leave them with a bad opinion of a particular title.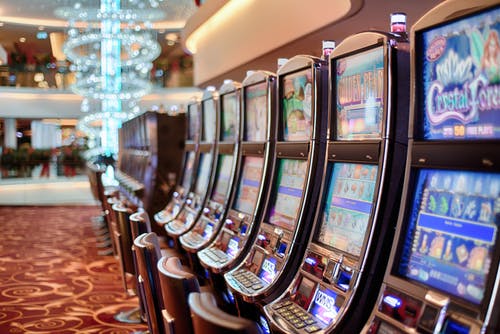 Thus, here is a list of some of the best mobile casino games available to players on mobile devices, with everything from graphics, sounds and features all having been evaluated, as well as potential Return to Player (RTP) rates, because the possibility of winning is what gets players drawn into playing a particular title.
Vikings Go to Hell by Yggdrasil
Vikings Go to Hell is a slot game that has been brought to us by software developers Yggdrasil and is fully optimised for mobile gameplay, whether that be in a landscape setting or as the device is being held in a portrait position. With spins starting from just 0.10 (pence/cents etc.), users are provided with the opportunity to win from 25 paylines in this Nordic-themed 5-reel slot game. The RTP rate is set at 96.1%, giving players the chance to quickly reap rewards although they might not be that big. The graphics are of the highest standard and the game is packed with features that keep things interesting, with the likes of big multipliers, free spins, re-spins and wilds all available throughout the game.
Finn And the Swirly Spin by NetEnt
NetEnt are perhaps widely known for many of their game titles due to the fact that players can expect the very best in terms of overall gameplay experience and what they can get out of the games. Finn and the Swirly Spin game is no different as this online mobile casino slot game continues their theme of providing players with the best. A RTP rate of 96.62% has been set, which remains one of the highest averages across the industry, and with 10 paylines available across five reels, this magic adventure slot leaves players with the possibility of being rewarded in the long run. As mentioned, NetEnt leave no stone unturned with their games and the graphics and gameplay are of an exceptional standard as well. In addition, a number of features are included in the game, with exciting bonuses like Dragon Destroy Randoms, Starfall Wilds, and Magic Transform Symbols.
Mega Moolah by Microgaming
Perhaps one of the most famous mobile online casino games currently available, it is no surprise that Mega Moolah has made the list as one of the best to play on a mobile device. The game by software developers Microgaming is known for paying out the largest jackpot in history, but also generates some of the biggest players have ever seen because of its progressive Mega Jackpot that starts at £1million and continues to increase quickly until won. As with the above mentioned games, Mega Moolah follows the same gameplay structure, whereby five reels are used, giving bettors the chance to win from 25 different paylines across five reels. The RTP rate is 94%, with the game being considered to have a high volatility. The game provides some of the best graphics available and keeps players interested in its African-Safari themes and simply nails down the basics perfectly without having to go into too much detail, as they have a classic look that brings some nostalgic feel to the game, whilst the soundtrack fits the theme the game is trying to depict.
Starburst by NetEnt
Whilst it would have been difficult to leave Mega Moolah off this list of the best online mobile slots, it would have truly been criminal to have left Starburst. Considered one of the pioneers of the mobile slot games, the NetEnt creation remains one of the most popular games to this very day, despite having been around for several years. The game uses a number of simplistic themes, with graphics and sounds remaining as timeless as ever before and working to perfection on mobile devices. Starburst has a typical setup with 5 reels and 3 rows. It features 10 fixed paylines, which pay both ways and a rather appealing RTP rate of 96.01% with low volatility.
Cleopatra by IGT
The Cleopatra slot machine game takes players on a journey back to Egypt as you look to collect a number of symbols widely associated with the country. The mobile version of the game does not demand too much from devices, though, which is a nice touch as this game is hugely popular amongst gamers. IGT are not necessarily known for having the best graphics on their slot machines, whether that be on desktop or mobile, however they have not done too badly with this particular title as the mobile version looks almost identical to the one found on the computer. There are a number of sounds that are available throughout the game that help to add to the Cleopatra theme, which is a nice touch. This 5-reel classic game provides players with 20 winnable paylines with a slot volatility that ranges from being low to the medium side. RTP is set at 95.02%, and whilst Cleopatra is not expected to pay out big often, the nostalgia it screams from the overall gameplay is more than enough to get users hooked.