The Coronavirus pandemic has forced the population to dramatically adjust every aspect of their lives. From remote working to socializing via video chats, things have gone from normal to the new normal. However, while many aspects have felt inconvenient, they have been necessary, and there are still services that have worked hard to reduce the spread further. One example of this is mobile apps, which consumers have embraced to make their day-to-day lives a little easier and safer. So, here are 5 apps that are helping to reduce the spread of COVID 19
1. QR Code Readers
QR codes seemed to be on the way out over the past few years. Once upon a time, you saw them everywhere you looked, snapped a photo, and followed the link, but now that our smartphones have evolved to be more powerful than we ever really thought possible, the need for QR codes has diminished. Once lockdown was lifted, and businesses reopened, however, businesses brought the QR codes back. Customers were required to scan the code upon entering a pub, bar, or restaurant so that they could input their details and order food and drinks, which would be delivered straight to the table, rather than wait around the bar alongside a group of strangers. Online menus are nothing new. They have been a critical feature for new businesses, giving customers the chance to browse what is on offer before attending the pub or restaurant. However, not everyone uses these. They would rather hold the physical menu when sitting down, ready to order.
This still involved patrons heading to the bar to others or having the wait staff loiter around the table and chat with customers. Since COVID 19, pubs and restaurants have turned to using app-based menus, which gives customers the chance to browse and order directly to their table. These apps include UpTappd, which is used at bars, while the Greene King app is just one example of pubs taking their muni online and embracing table service.
2. Food Delivery Apps
Apps such as Just Eat and Deliveroo have been the go-to service for lazy Saturday evenings in front of the sofa. Still, they have also been essential components in reducing transmission. The delivery services mean you don't need to run to the shops if you're low on something, but aside from this, there're plenty of other factors to consider. The no contact delivery, including card-only payments through the app rather than cash-based exchanges, has been vital for lessening the spread of COVID 19. Furthermore, the policies outlined by the services regarding delivery behaviors include placing food on the doorstep rather than handing it to the customer directly, and also keeping their distance.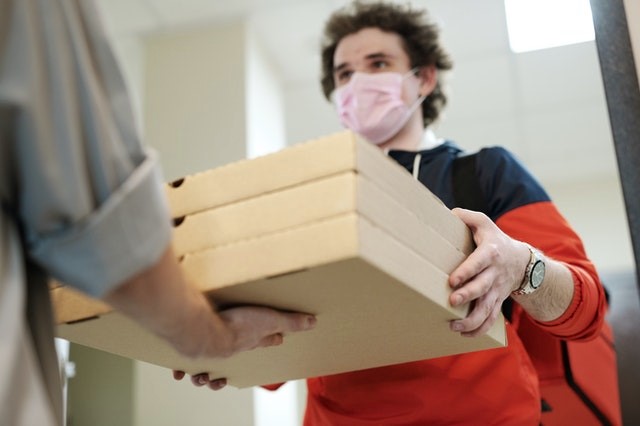 3. Parcel Tracking Apps
During the lockdown, orders from ecommerce sites such as Amazon and ASOS skyrocketed. While all other businesses were struggling, these companies found themselves with more business than ever. But while these services were useful for you to explore a plethora of new hobbies, parcel tracking apps, such as ParcelTracker.com, ensured social distancing guidelines were followed when a parcel is delivered to minimize the spread of coronavirus. With these apps, customers could select a No-Touch Package Pickup solution. This ensured that there would be no contact between the delivery agent and the customer. Like food delivery, packaged food would be left on the footstep, or even in a designated 'Safe Spot'. This helped to prevent potential transmission while also putting customers at ease during the delivery process.
4. COVID Proximity Apps and Trackers
COVID proximity apps and trackers have been used to alert users of potential infections in the area. The NHS COVID-19 app, launched in July by the British health organization, uses end-to-end support to identify where someone has been and alerts them if there has been a positive infection in the area. Across the world, other countries will have their own version of the Track and Trace system. For example, Australia utilizes the COVIDSafe app, whereas Canada relies on COVID Alert. Germany uses Corona-Warn-App, and these apps are available on both Android and iOS devices, with a framework developed by Google and Apple.
Safety In Your Hands
The whole point of technology is to make our lives easier, but while most people associate it with ordering clothes or checking their bank balance on-the-go, it's also useful from a health perspective. By embracing mobile apps and technology, you can reduce the risk of spreading the virus and eliminate the possibility of transmission, ensuring that the public is safe to venture outside with minimal risks.