Wearable technologies are now everywhere from your Apple Watches to your Fitbits, and they are now no longer exclusive for younger people. Older adults and even the elderly are turning to these wearable devices to help them monitor their health and stay active. In fact, 45% of surveyed elderly reported increased motivation for healthier living after six weeks of using a wearable device.
These smartwatches and wearables can also provide an option for family members and caregivers to monitor elderly parents. There are wearable devices that are specifically designed for senior citizens with unique features like emergency monitoring, fall detection, and more.
Here, we will discuss the top five best wearables that are suited for seniors, especially for monitoring elderly parents.
1. Apple Watch
Apple Watch needs no introduction. It is currently one of, if not the best smartwatches available in the market.
Apple is obviously one of the biggest names in the industry and is well known for producing some of the best technology available in the market today. The Apple Watch is probably one of the most complete smartwatches today, and although it is not designed specifically as a medical alert device, it can be used as one.
With an Apple Watch, we can monitor our elderly parents with a variety of tools from heart rate monitoring and fitness tracking. One of the key advantages of the Apple Watch compared to its competitors is the handy ECG App, which can generate medical-grade ECG that can be very useful for family members and for emergency responders in the case of an emergency.
Some points to consider:
Stylish design, as expected from Apple
Great set of features from Siri, music streaming, Apple Pay, etc. Very versatile
Great ECG app
One of the most complete fitness tracking feature
Handy walkie-talkie app and voice call capability
Verdict:
Simply one of the best smartwatches on the market with one of the most recognizable designs. Very versatile with a great set of features and a great variety of health tools including a full-fledged ECG App. However, it is certainly not the cheapest, and you'd need an iPhone for the Apple Watch to work.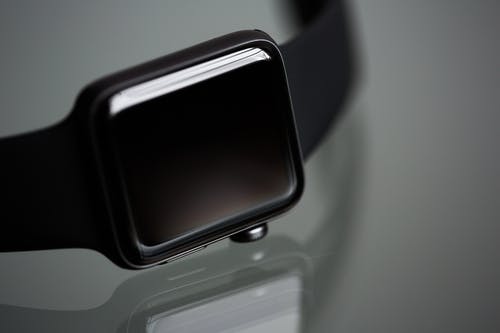 2. Medical Guardian-Freedom Guardian
Freedom Guardian by Medical Guardian is simply one of the best smartwatches available on the market for seniors. It has an emphasis on medical alert features with exceptional day-to-day support for elders. It features advanced location tracking through GPS and Wi-Fi positioning, alerts and reminders for medications, and integrated mobile phone support so seniors can get help from anywhere.
Pros and Cons
Pros:
Great minimalist design with large icons for easier viewing
GPS and Wi-FI advanced location tracking
Great companion mobile app for monitoring
Great health tracking features designed for seniors
Cons:
No fall detection feature
Relatively expensive monthly monitoring fees
Verdict:
The Freedom Guardian from Medical Guardian is a great medical alert smartwatch that is specifically designed for seniors. Great monitoring features with a lot of features designed towards seniors like large icons and easy access to emergency services. No automatic fall detection, but it's compromised with its emergency call functionalities.
3. ele ELEOPTION GPS Senior Tracking Watch
A great wearable option for elderly users with an emphasis on two-way communications. Can also be used for keeping an eye on children and pre-teens but it is also great to check in with elderly parents. There's a handy GPS tracking feature, and also an SOS alert function for our senior parents to use.
Pros and Cons
Pros:
Great overall build quality
Focus on two-way communications, great for a monitoring use case
Sophisticated and elegant design
Cons:
Not very intuitive and might confuse the elderly
Pretty basic set of features
Verdict:
Functionality-wise, it is a pretty basic smartwatch. However, its emphasis on two-way communication makes it a great candidate if you are looking for a smartwatch for monitoring elderly parents. Great safety features with an elegant design.
4. Fitbit Versa 2
Fitbit is obviously one of the most well-known wearable manufacturers in the market today, and the Versa 2 is a dedicated fitness tracker (with some smartwatch features) that can track steps, sleep quality, heart rate, and so on.
It is great for senior users mainly due to its pretty complete health-tracking features, large screen for easier viewing, and built-in smart assistant (with Alexa) so users can set alarms and reminders for things like medications.
Pros and Cons
Pros:
Large screen, great for the elderly
Great health and fitness tracking features
Great battery life
Cons:
No fall detection feature
Limited messaging capabilities
Verdict:
For seniors who are looking to stay active, the Fitbit Versa 2 is a great option due to its versatile health and fitness tracking features. Great for the elderly especially due to its large screen for easy monitoring and ease of use.
5. GreatCall Lively
GreatCall Lively offers a simple solution if you want to monitor independent, elderly parents, or if you are a senior who wants to stay safe outdoors. GreatCall is technically an emergency alert button in the form of a smartwatch. You can pair it with your smartphone to connect to the internet, so when the button is pressed, it will connect directly with GreatCall's Agents that will notify family members or send immediate help.
GreatCall is very simple to use, you get an app that lets you set daily goals and challenges, and it has pretty intuitive fall detection, making it a favorite for seniors.
Pros and Cons
Pros:
Affordable (below $50) with affordable monthly monitoring fees
Waterproof
Simple and intuitive, one-button design
Reliable Bluetooth connectivity
Great basic fitness tracking functionalities
Cons:
Battery performance, not the best
A pretty basic set of features compared to more expensive models
Verdict:
A pretty affordable smartwatch that is designed for medical alerts. It includes an automatic fall detection feature for free and basic fitness tracking features. A great option for active seniors, and it is also waterproof so you can wear it anywhere without worry.