In late 2019, Apple announced that it was revising its App Store guidelines and that, effective immediately, the company would no longer approve any apps related to vaping and would remove all vape-related apps from the App Store. Some of the vaping apps on the App Store included frivolous titles such as games. However, some of the apps were also utilities that helped people reduce their nicotine usage or control the settings on Bluetooth-enabled vaping devices. Some apps included ecig reviews that helped people find the right products for their needs.
Nearly a year later, Apple has made no further changes to its App Store guidelines, and all apps related to vaping – even those intended as companions for specific products – are still banned. There is no indication that Apple will ever allow those apps on the App Store again, and that has left some vapers in a quandary. Has Apple's walled garden model finally gone too far? Is it time to jump ship and switch to an Android phone? Before we discuss what you should do, let's learn a bit more about why Apple made this controversial decision.
Why Did Apple Ban Vaping Apps for the iPhone and iPad?
Apple's ban on vaping apps was a response to two controversies that either began or increased in media prominence in 2019.
The 2019 Youth Tobacco Use Survey showed that over five million teenagers in the U.S. were using vaping products regularly. Apple didn't want to distribute apps that might encourage or glamorize vaping among youth and banned the apps partially for that reason.
Also in 2019, the vaping-related lung disease EVALI appeared in the United States and sickened more than 2,000 people. Although it was fairly obvious from the beginning that illegal THC vapes had to be the cause of EVALI, the condition caused a great deal of controversy because media outlets didn't distinguish between illegal THC vaping and legal nicotine vaping when reporting on the disease.
Teen vaping dropped significantly in the U.S. in 2020, and scientific research eventually proved that EVALI was driven by black-market THC vaping products and not by legal nicotine vaping products. Nevertheless, Apple did not reconsider the ban.
The ban on vaping apps applied worldwide even though EVALI and teen vaping were both problems that were unique to the United States.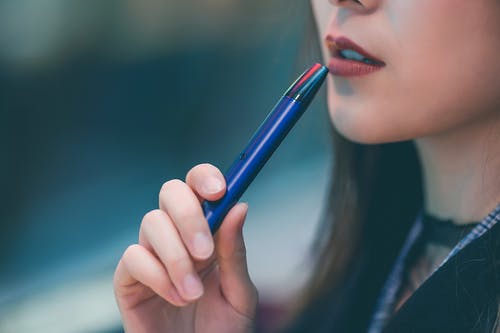 Why Are Vapers Unhappy About the Ban on Vaping Apps?
The main reason why people are so unhappy about Apple's decision to ban all vaping apps is because Apple made no effort to distinguish between frivolous games and pranks and legitimate utilities. While it's entirely possible that some vaping apps did glamorize vaping for teens, most of the apps were clearly adult oriented and served useful purposes by giving people easy ways to control their devices via Bluetooth or track and reduce their nicotine usage. The ban instantly made all Bluetooth-enabled vaping devices a bit less useful for iPhone owners.
Although Apple hasn't removed any vaping apps from users' phones, you're out of luck if you change phones or lose the data on your device.
What Is Google's Policy About Vaping Apps?
At the time of writing, Google doesn't have a ban affecting vaping apps except in cases where those apps may promote irresponsible or illegal use. If you're an Android user and rely on a mobile app to control your vaporizer or to keep track of how much nicotine you're using per day, it's unlikely that you need to worry about your favorite app going away. Likewise, if you're a developer and want to create an app that could serve a useful purpose in the vaping community, you probably will not have to worry about Google taking your business model away.
Are There Any Ways to Work Around the Vaping App Ban?
If you're not ready to ditch your iPhone and get an Android phone, you'll be glad to know that several of the vaping apps that have been removed from the App Store are now available in web-based versions that work on any device. Those web apps will work on any Mac or Windows PC, and they'll also work on your iPhone – but it might be necessary for you to switch browsers.
If you want to use a web app to control a Bluetooth-enabled vaporizer on your iPhone, you'll need a browser that supports the Web Bluetooth Low Energy (Web BLE) communication standard. You'll find several Web BLE browsers by searching the App Store. Some – but not all – Web BLE browsers are free.
After installing the browser, you'll need to enable Bluetooth on your iPhone and pair your phone with the device you want to control. After doing that, you'll launch your Web BLE-enabled browser and go to the website hosting the web app that you want to use. Click the "Connect" button in the web app, and you should be all set to begin controlling your device.
Does the Vaping App Ban Mean It's Time to Switch to Android?
Apple's ban on vaping apps appears as though it's here to stay, and it doesn't look like native iOS vaping apps are going to be back any time soon. With that in mind, you have a decision to make. Google and Apple have both released tools that make migrating between smartphone platforms as easy as possible, but "as easy as possible" isn't the same thing as "easy." Switching phones means that you'll need to move your data and migrate all of your accounts to the new device. It also means learning how to use an entirely different phone platform – and iOS and Android both have plenty of quirks to learn.
For most iPhone users, the fact that web apps can duplicate the functionality of most of the iOS vaping apps you've lost should be sufficient to keep you in the iOS fold and completely happy with your device. If you can't be happy without native versions of your favorite vaping apps, though, it might be time to consider a switch because vaping apps aren't coming back to the App Store.