Let's be honest, some of you won't read this whole article because chances are to get bored after reading for more than 5 minutes. But what if someone would read it out loud while you're driving to work or running in the park? Better yet, imagine a celebrity like Morgan Freeman reading it to you. You'd definitely hang on each sentence, and press next to listen to the next article/episode. And this is why podcasts are the next big thing and are becoming more popular with each day. The end of October 2020 marks the publishing of over 34 million episodes of podcasts. While some listen to podcasts on their computers, most prefer mobile devices because they are the most portable pieces of equipment and listeners can use them when on the run. 65% of listeners in the US use devices like tablets and smartphones to access podcasts, so keep these statistics in mind when you create your podcast strategy. Before you produce your first-ever podcast, check the following list of tools you may find practical if you want to create content that attracts a public. Related Guide: 7 Best Soundcloud Bots for Viral Plays (2021)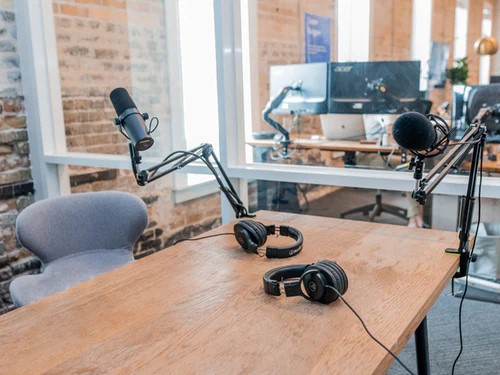 Notion facilitates collaboration
Notion was created as an online collaborative workspace that joins your notes and tasks. It allows your team to brainstorm all podcast related ideas, interview notes, and scripts in a central location. Suppose you have an established editing and upload process, Notion's Knowledge Base tool can assist you by downloading information in an accessible archive where everyone can access it, and determine what their tasks are. Notion also comes with a Task Boar that allows you to assign, manage, and evaluate tasks. You can use a different tool for each of these processes, or you can use Notion that puts them all together. If you don't like Notion, Dropbox is an effective alternative. It's one of the first cloud storage solutions the corporate world has ever used, and some of your team members may be accustomed to using it. You can add files, share information, and store data in a place you can access even when working remotely.
Calendly simplifies scheduling
Calendly helps you schedule interviews and other activities without engaging into tiring phone calls or long emails. With this tool you set up a calendar with the available times when the guests and co-hosts can join your podcast, share it with them, and they can sign in. The app is useful even if you collaborate with guests residing in other time zones because it has time zone detection features. If you don't want to pay for the premium version of Calendly, the free one can work just fine as long as you create no more than an event. In the beginning, use the free version for scheduling activities. You can later upgrade to the premium version if you decide to expand the range of events you organise during your podcasts. When one guest reserves a date, the information is listed in the Upcoming Events section of the dashboard together with all the information, the guest provides. Calendly allows integration within other management apps.
Buzzsprout provides easy-to-understand statistics
Buzzsprout Advanced Podcast statistics provide you with actionable data you can easily interpret. You want to know if you engage audiences and if the number of listeners is growing. Buzzsprout's statistics make it easy to track progress. The Episode Downloads Chart feature allows you to keep an eye on how your audience is changing and put your finger on the most popular episodes, so you can create content that meets your listeners' preferences. This tool also has another feature, the Listener Locations, that shows you where your content is at its highest search. The feature is so advanced it breaks the information down to cities to help you identify the locations that deliver the most downloads. Buzzsprout offers information about the apps your listeners use to access your content, so you can determine what their favourite apps are and provide content that works best with them. Buzzsprout allows you to sign up for a free account to get a glimpse at how these features work.
Melody Loops for royalty-free music
Unfortunately, you cannot use any song you want in your podcast. You must be careful about the music you add to your audio content because if you use copyrighted music without permission, Spotify, YouTube, and Apple Podcasts can remove your show from their platforms. They can even delete your account, and you'll have to start over from scratch. Podcast platforms have sophisticated copyright infringement detection systems that catch you even if you use only a couple of seconds of a song. With famous songs off limits, you need to use royalty-free music for podcasts that keep you safe from being kicked off from podcast platforms. Melody Loops allows you to select the genre or mood you prefer for your podcast without limiting the number of playbacks. It provides license confirmation and instant download for MP3 and WAV files.
Facebook Live records your sessions live
If you want to go the extra mile, you can engage your public through live sessions. Your fans will be enthusiastic about listening to your podcast while you're recording it. You can make live sessions a special perk for Patreon supporters, or you can use them as a tool to attract new listeners. Facebook Live is great if you're a beginner podcaster experimenting with live streaming because it allows you to stream directly from your smartphone or webcam and automatically share it on your personal profile, Facebook group or page. Once people tune in, ask them questions during the live stream so they can feel they contribute to creating the episode. YouTube Live is an alternative to Facebook. If you want to grow your channel while you produce audio content, live stream on YouTube and allow your public to listen to the rough material. You can edit the content later and provide them with a polished form so they can compare the products. It's wise to focus your efforts on the platforms that attract the most listeners.
Here are the tools you should use if you want to deliver content to die for.