Whether you're an avid traveler who likes to explore different locations or simply looking for an easier route to get to work or any other destination daily, using a GPS navigation app will definitely come in handy. It doesn't matter what smartphone brand you own, there are some quality maps to consider installing on your phone to make your life easier. From providing sufficient information, safety and privacy features, and easy navigation tools, we have gathered the 4 best map-related apps that offer all this and more, and the reasons why you need to download them on your smartphone.
1. Google Maps
Google Maps is undoubtedly one of the most popular choices for navigation because it works on any phone; iPhone and Android users can both attest to the fact that this GPS helps any avid traveler. The abundant information offered by Google maps is the main reason why it's so high up in the rankings of the best maps to download. This is because it provides so much from road layouts, locations of cities and towns, geographical features, state boundaries, and satellite images. Most notably, it offers reviews and information relevant to you and your preferences based on your search history. Furthermore, Google maps allow you to embed information in emails, and online pages and share maps through your Facebook and Google accounts.
2. Apple Maps
Apple maps are, in fact, surpassing Google maps for a couple of reasons, even though its original launch did cause a severe amount of backlash 8 years ago. One of the key attributes is the privacy policy; for starters, you do not have to sign in to Apple maps; instead, the personalized features are created using data on your device. The benefits of this are that your search history, traffic information, and navigation routing, among other things are not linked to your Apple ID. This appeals to many users as your location remains private at all times. Apple maps are also integrated with other features on your device like Siri and Apple Watch; therefore, simplifying navigation. The map data is not going to be as efficient as Google maps; however, the information Apple maps provides has yet to be inaccurate.
If you are looking for accurate maps in a particular area, then the California-based land surveyors over at www.rcmaps.com explain that you should look to download GPS maps that provide plenty of readouts and data for navigation. Moreover, those which offer surveys for any purpose and to the standards of the state's law.
3. Waze
Waze is mainly considered one of the must-have map-related apps on any device because of its community user-base. It can also be installed on both iPhone and Android. Waze provides a quicker route to its app users by using their data which is why many people have grown fond of the app. Data is submitted automatically onto the app but can be manually added as well. This means that you can enter information such as traffic jams, road accidents, speed traps, and any other details that could derail someone's drive. Waze was sold to Google in 2013 and is still considered one of the best navigation apps for its community-driven implementations giving you updates on navigation routes, police traps, and keeping up to date on where your loved ones are currently located.
4. Sygic
Sygic GPS Navigation is a fan-favorite map-related app because it works offline. It is an app that guides you to your destination with high-quality 3D maps. It is also considered one of the easiest and safest navigation tools because it is easy to escape traffic and avoid road accidents with its up to date information. It provides extensive information on fuel prices in petrol stations, speed limitations, and speed camera warnings. Moreover, Sygic offers free of charge regular map and application updates. In other words, you can enjoy Sygic's functionality and an array of features including lane guidance, route sharing, and voice navigation, and you are only charged fees once.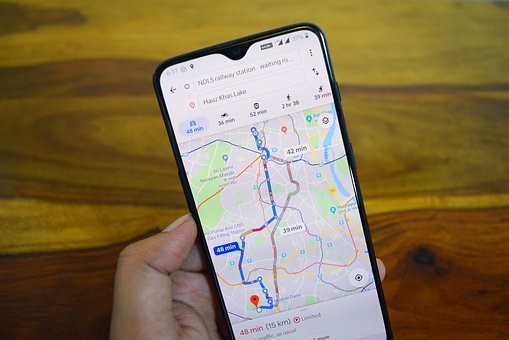 Depending on your smartphone, brand, and features that are most important to you, you might be hesitant to include some apps on your device. However, with access to each GPS app, you can alternate between these 4 maps to get all the tools you need from each. These are all suitable for easy and safe navigation. Enjoy faster and simpler ways to get by, regardless of traffic jams and any other hindrances that would otherwise ruin your travels. It's crucial to have an app that you know you can rely on so you don't have to worry about getting somewhere on time using the best route possible.