A watermark is utilized for recognizing the owner, producer, or artist of an image. Hence, when it is applied to an image, it indicates the rights to the image belong to its owner. With the increasing popularity of copyright awareness, more photographers are now using watermarks while publishing images. However, to maintain the beauty, sometimes we remove the watermark from an image while processing it.
Guidelines to Remove the Watermark from an Image
What will you do when the area of the watermark of some images is complex? This tutorial will mention some cleanest and quickest ways to remove the watermark from a photo. Let's get started!
1. Use the Best Online Watermark Remover Tools
Here are some tools that help remove the watermark from a photo without any hassle. They is the watermark remover online tool that don't affect an image's background by using smart assessment and leave the background as it was. Because of these tools' sophistication, they are more expert than humans at the removal of watermarks.
A. Inpaint
This online tool can greatly remove objects from images. Using it, you will get spectacular, clear images with some easy gestures. With Inpaint to remove the watermark from a photo is as simple as clicking a shot itself. Following just a few easy steps, you can remove tourists, power lines, background wreckage, buildings, and other aspects as if they were never present before. After removing watermarks, you not just can repair old images but also enhance them using Inpaint.
B. Apowersoft Watermark Remover
This is another online watermark tool that can help you add or remove the watermark in an image and a video feasibly. It contains 3 watermark selection tools to remove all unnecessary objects from images. Moreover, it supports batch processing of several watermarks simultaneously.
C. Pixlr
This is a free online image editor and one of the best online watermark remover tools. It can open nearly every photo format like SVG, PNG, JPEG, PXD, PSD, and more. Using the AI design tools in this editor, you can remove the watermark from a photo precisely with just a single click. Regardless of your location, you can edit images. This strong online image editor also functions magically on mobile devices, so you can edit photos at any time.
2. Use Dedicated Offline Watermark Removers
A. Fotophire
Fotophire from Wondershare is one of the best offline watermark removers as it is the easiest and fastest also. Its in-built guide will help you get up to speed in no time. Its interface does a great work of hiding the complicatedness behind it, but this is one of the most sophisticated watermark removal tools as well. It has perfect intuitive controls for image editing of every level, from newbie editors to pros seeking a fast way to identify this particular issue. Alongside the watermark removal choice, this package also provides a complete editing suite, incorporating photo retouching, editing, and replacing, and more than 200 effects that come at extra cost. This is the best recommendation for Windows.
B. Photoshop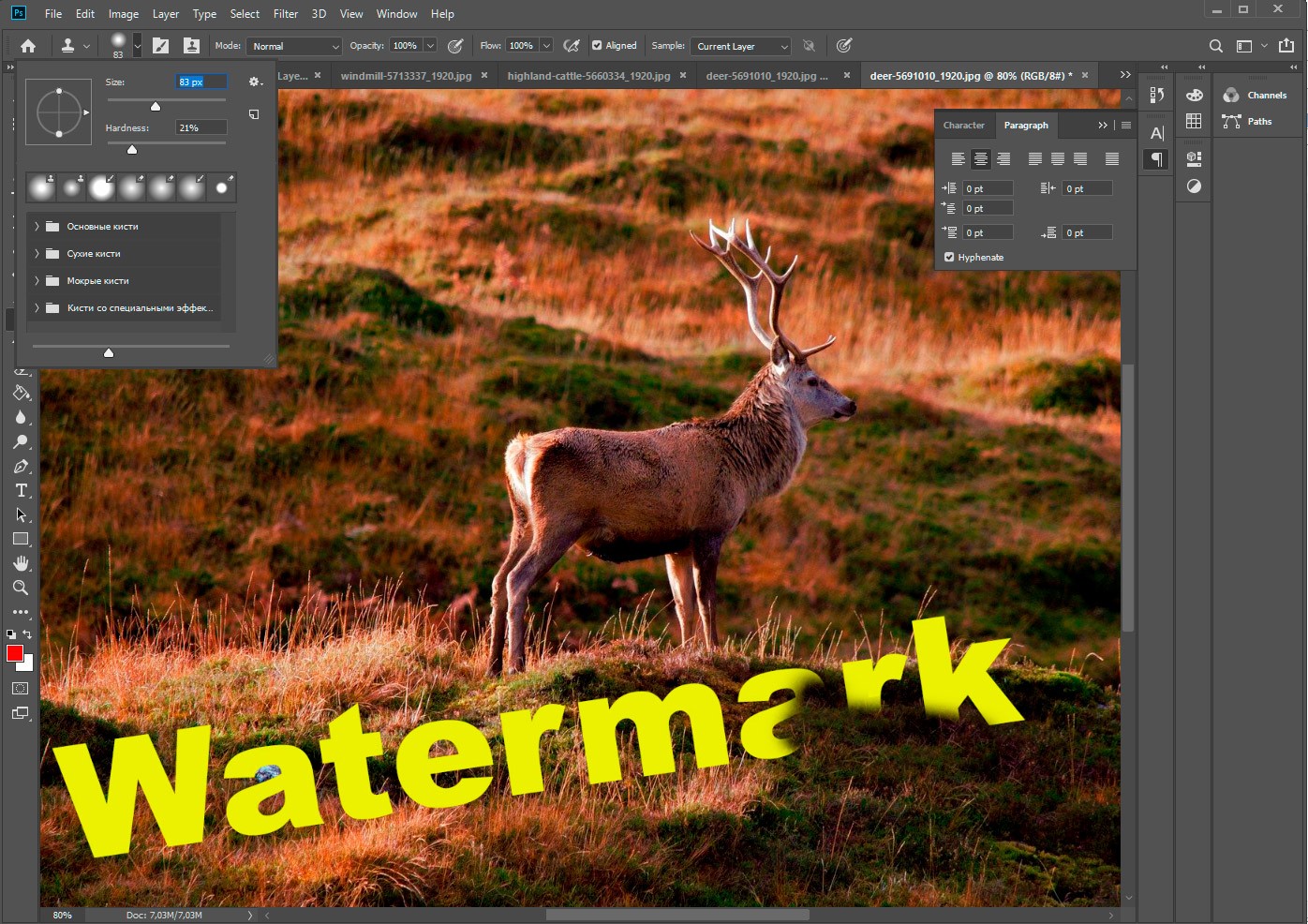 Photoshop is one of the best graphic design and imaging tools. From compositing and image editing to animation, digital painting, and graphic design, Photoshop is the best option. The pro photography tools make it easy to do daily edits or whole image transformations across iPad and desktop. Remove objects, crop, combine, and retouch images with Photoshop. Moreover, it supports playing with effects and colors.
2. Edit Images Using the Clone Tool
In case you already have an image editing suite like Fotophire or Photoshop, you can remove the watermark from an image manually. Using the clone tool is one of the most convenient ways. Based on the photo you will edit, this can be a complex procedure. Hence, follow these instructions to do it like a professional:
Import the image you want to edit.
Utilize the clone stamp on the background area.
Utilize the clone tool on the object or watermark you need to remove.
3. Crop the Watermark Out
This is an elegant and easy solution that only a few designers consider. In case the watermark is close to one side of a photo, it's simpler to just crop it out. If you will post the photo online, maximum sites will stretch it to the precise size automatically. So this will always work with large size images.
4. Overlap Your Own Watermark
In case you want to use your own watermark, then just put your own photo over it. You can do this with both offline and online photo editors. You just require importing the photo you wish to use, resizing it, and dragging it over the earlier watermark until it is completely covered.
5. Search Online for Associated Photos or Stock-Free Pictures
You can use Google Images to search by keywords or images to find associated photos that are relevant to use without requiring going to the hassle of editing it. This is perfect in case the picture is something you would prefer to use across a presentation as you will be capable of finding the same substitutes that you can utilize instead of it. Moreover, you can look for stock-free pictures that don't have watermarks. There are several websites for doing this and Pexels is a great place to begin.
Final Thoughts
The aforesaid 5 methods will help you remove the watermark from an image. We have compiled both offline and online tools for you. In case you want to edit your image further, we suggest you for using Fotophire and Photoshop Editing Toolkit. You can utilize the online tools directly if you only want to remove the watermark from a photo.
Seeing all the outcomes of several software tools to remove the watermark from an image and pondering the cost of every tool, we would recommend the first one that is Inpaint. In case Inpaint cannot meet your requirements, then you can opt for Photo Stamp Remover. Feel free to stay connected with us for further ideas regarding this post.