Gone are the days when we were romanticizing the writing process. Now, the power of words is applied in so many situations and jobs, from actual fiction writing and research to marketing and personal branding. And as time fries, more and more tools come up to help even the less verbal person seem more like a pro.
We've curated top apps for writers that will help you at all stages of the creative process. The one to journal your ideas without any distractions, an app to write down your points and prepare a draft. Some of the tools are meant to make sure your ideas are expressed clearly and without any mistakes. Since writing is a thoughtful and imaginative task, other applications will inspire you and help you meet the deadlines.
Since you never know when the next great idea will pop up, we've collected only those apps that are available on the iPhone and iPad. Read till the end, and you'll find a secret helper.
Ulysses is an all-in-one writing application. It includes multiple features but still is easy to navigate. Working on a document on an iPhone or iPad, you have a handy dashboard where you can track the number of characters, words, and average reading time. You can set a goal and follow your progress. For example, if you need to write a 600 words article, it'll be easy to see if you exceed your limits. For more advanced analytics of the article, you can see the number of words per sentence or number of paragraphs.
Ulysses provides convenient tools for document management. You can group documents in projects, create tags or keywords. Another profit for writers is syncing between connected devices. If writing is a part of your daily routine and you're working on your texts all day, you can easily switch between iPhone, iPad, and desktop. All your documents will always be one click away from you. So, no more ideas left behind, and no more time wasted copying and sending different fragments. Recently, the company introduced revision mode. Ulysses suggests grammar and style improvements and corrects spelling mistakes. The feature also comes on tablets and smartphones.
Last but not least, if you value time and efficiency, the app suggests multiple export options: PDF, Word document, an eBook, HTML document. Depending on your use scenarios, you can choose what suits you best. You can even publish an article to WordPress and Medium right from the app.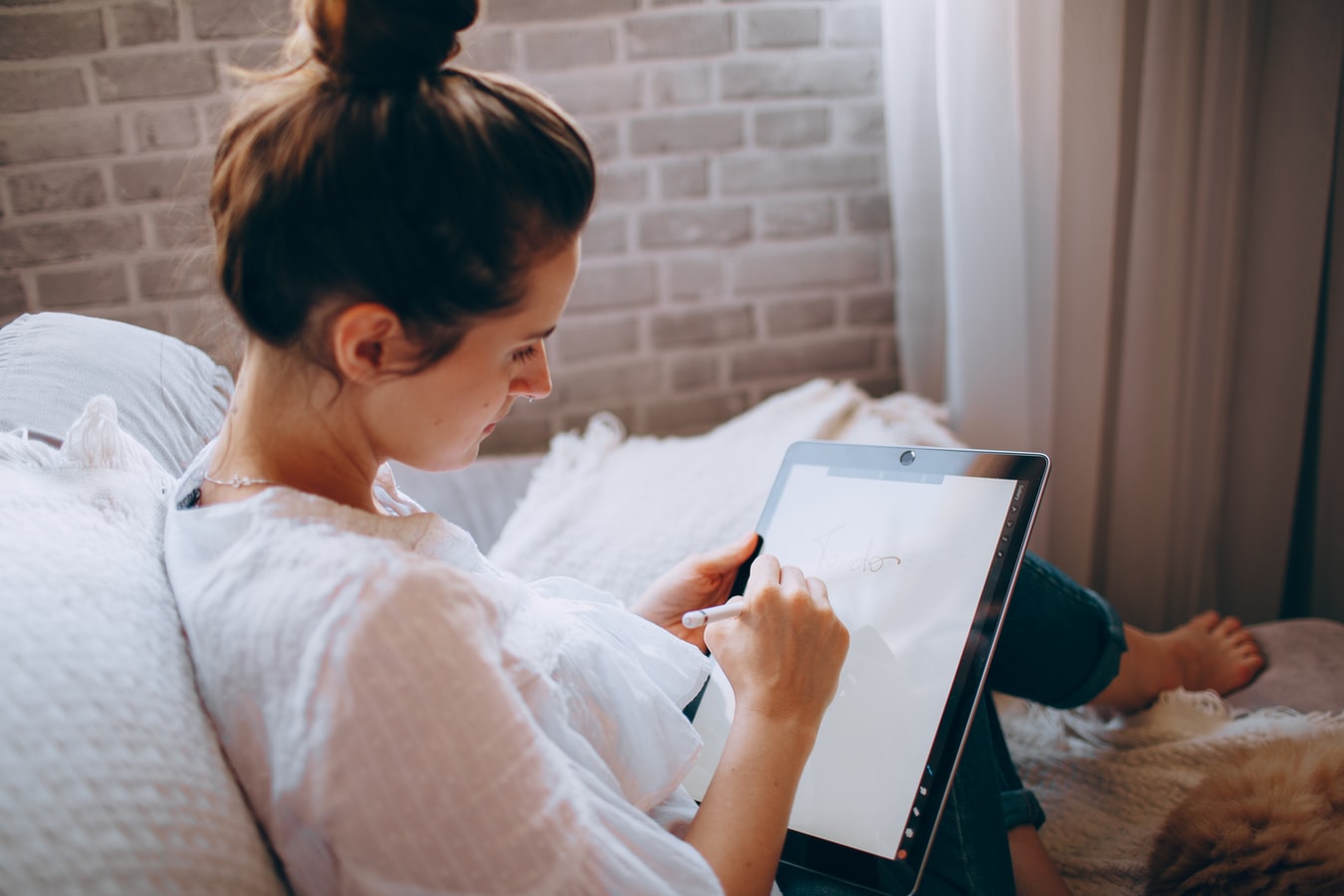 Next on the list is a Flowstate app. It's not for the average user, but it helps when you struggle to keep the momentum going. Flowstate provides a full immersion with the text. How does it work? You open a new document and choose how long you want to write, either 5, 15, or 30 minutes. The key is to keep on typing. The moment you pause for more than 5 seconds, it's all gone. The same is if you exit early.
It sounds scary, but there are lots of benefits of such an approach. No matter if you're a professional writer or an amateur, if you write a research paper or an article, we all know what it means to hit a wall. You are stuck on something and spend hours thinking about elaborating on one point or describing character traits. The app forces you to think quickly and forget about perfectionism. You first write and only then react to your words, and thus how you free your creativity.
As a writer, you may already know about Grammarly. It's an editing and proofreading app. Paid subscriptions also help you manage the tone of the voice and suggest better words to describe your points. The app is pretty easy to use. You can either type right in Grammarly or paste your pre-made text. You can edit the formatting of the text and add links.
The app is compatible with tablets, but not all iOS, and iPhone models support Grammarly. Make sure to check your iPhone characteristics and read the description before downloading.
Brainsparker is not your average writing app. It's a brainstorming simulation game. Like Flowstate, the app aims to spark your creativity and overcome any roadblocks on your writing path. You shuffle a pack of cards, and it gives you a random prompt. It can trigger words, quotes, images, actions, or questions. Next time you get stuck wondering how and from where to start, open Brainsparker and see where it leads you.
It's the best iPhone app for mind mapping your ideas. If you need to line up a story, prepare an outline for an essay, think of argumentation for a research paper, XMind is coming to your aid. A mind map helps to create a structure for a complex writing project and stick to it.
The app has integration with Ulysses. You can export your mind map as an image to the text or as an outline. Topics will be transformed into headlines, and the rest of the map will go down in corresponding hierarchical order. The two work great together!
Not all of us are professional writers with multiple years of experience. If you are at the beginning of your writing career, or writing is a one-time task for you, consider resorting to writing services. There're a massive variety of services online. Some specialize in writing a college essay, others on research papers. There are writers to fix your resume and ones that will help with a motivational scholarship letter. The trick here is to find good quality service and stay away from the scam.
EssayAdvisor is an essay review service, mentioning different companies, their pros and cons. Going through the descriptions, you can find the ones that meet your writing goals and personal preferences. The website also features discount codes and gives a 15% discount on the first order at the mentioned services. That way, you will save time, money, and nerves.