The best social media apps like Instagram and Snapchat have been ruling the social media world through Iphones, especially this year, 2021. With WhatsApp, Facebook, Instagram and Snapchat locking horns in a very close position to be on the top, the competition is equally aggressive even though the majority of the apps are owned by some of the best app development companies, Facebook. Social media apps have been changing the whole outlook of the economies of the world and with the increasing number of mobile users, more than half of the people in the world use these social media apps. There are about six billion mobile users worldwide and out of which, four billion are internet users every year, and moreover, three billion social media users are there every year, and the number count is just going to increase by the year.
Human beings are social creatures who thrive on interaction, we are wired to interact with people in order to exist in the world. Interacting with other people is the key to survival which helps us to co-exist in this world. With the upcoming social media platforms, the whole process of connecting and meeting new people has been transferred over online and people are obsessed with the whole concept of being socially active on various social media platforms, and mobile phones have helped in increasing this experience to an unimaginable level of exposure and information overload.
Social media platforms are where relationships and friendships form and people meet new people, and find their own people. So, which are the seven best social media apps for iphones in 2021?
1. Meet Up.
Meetup is one of the best social media apps that have made it huge in the year 2021. The app is based on the concept of making people meet new people across cities, and one of its main ideas is that when people do get together and do things that actually matter to them, they are at their best and they feel the best. The main features of this social media app are that it helps you explore and know about the various events that happen locally and around you, and it helps you meet new groups and you can explore these events together. The events and groups are also categorized so it helps you to choose what kind of group of people you want to meet and the type of event you would like to go for. It helps you save the events and visit the event later, when you are free enough to check it out. Another feature about Meet up is that it also enables you to converse in the form of messaging and discussions in the app itself. You can very easily switch the locations and these options to personalize more specifically to your liking is always open to you. Obviously to use this app you have to pay a fee and the subscription of the app ranges from various plans from one month which charges about ten dollars or to six months where they charge thirty dollars.
2. LinkedIn.
LinkedIn is one of the best social media apps that are available for professionals around the world and is one of the easiest ways to promote their brand, business or even themselves. On this social media app, users can increase their business connections by just connecting with other people and connecting with different people. LinkedIn is also used for marketing and promoting businesses in order to establish themselves in the industry as a figure of authority and to attract new talent. This social media app offers endless opportunities to not only promote your business but also to advertise it, send personalized ads and give a major boost to the content you wish to display. The main features of LinkedIn are that it allows you to create your own articles and help you reach out to professionals, find relevant connections in your niche, is one of the best marketing platforms for you and helps you recruit or find jobs.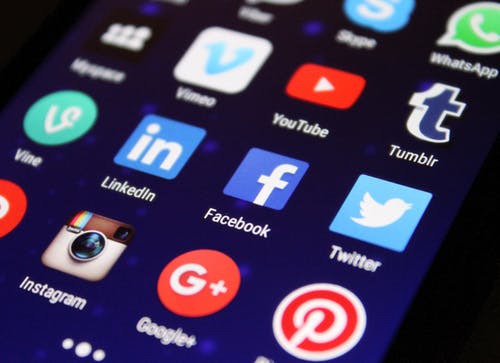 3. Telegram.
This is one of the best social media apps that are available mainly because of its user privacy policies and Telegram is well known for its secret texting. In fact, because of its security policies and the user privacy driven policies, it makes the social media app not only popular among masses but it also helps it stand out and be different. Apart from that, from the point of view of business, the brand helps in connecting with the users instantly and moreover, because of the multiple rules by various governments, Telegram has become famous because of their policies which are extremely user friendly. The main features of the social media app are that it encrypts and destructs the messages that are sent, it helps in turning off the notifications, and lock specific conversations. You can create groups with more than two lakh users and are completely free without any sort of promotion or ad features.
4. Reddit.
One of the best social media apps that are available, this is one of the most trending social media apps that are available on iphones this year. This app is not only free but it also encourages in growing a community of users with whom you can discuss topics, chats, pictures, almost anything under the Sun. There are also forums that can be used for almost anything which are called subreddits and you need to have a various kind of engagement for this, so it would be wise if you did your own research before venturing into the unknown. One of the main features of reddit are that you can vote and comment on various topics, features which can be unlocked on your account's karma, can create subreddits to build your very own community, and join in any conversation of your choice as well.
5. Tapebook.
This is the new social media platform which is where you can record and engage in tapes of audio and video. It is more like podcasting but a twist of social media into it by adding the feature of video recording. You can also record the conversation or audio log and the video log, and help people to share their talents, podcasts and so much more. They have a sleek user interface and they have no ads. The main features of this social media app is that you can create vlogs and audio tapes by recording by yourself, it has an extremely active community and helps in increasing the rate of engagement, you get to meet and know about a lot of unique people and you can even record connection by calling them from the social media app.
6. Snapchat.
Who does not know about Snapchat? This is one of the best and the most popular apps that are found in every iphone. The whole concept of sending snaps where the user can either send a video or a picture as a message and that disappears after the user on the other end has seen it. This is that social media app which made the concept of stories popular which was later adopted and taken by various other social media apps. The main features of the social media app is that you can watch an endless number of stories, use filters, message and so much more.
7. Instagram.
Instagram is the new sensation in the town of social media apps on android as well as on iphones. The social media app boosts more than a million users around the world, and it just keeps increasing. It is one of the best social media apps which allows you to promote your brand or business and helps you even gain an insight to your posts, followers and your social media handle.
These are the seven social media apps for iphones in the year 2021, and these will not only help you gain an audience for yourself, and help you carve a niche for yourself, but it will also help you meet and connection with different people who think like you and more importantly, it will help you build your network as well.