The handyman business is a solid business model that provides versatility and flexibility while also promising high-profit potential.
Starting a handyman business doesn't really need a high amount of startup capital and has a relatively low overall barrier of entry.
However, just because you've started your handyman business and get it running, often the hardest challenge is to get people to know your business and attract more customers. Like most other businesses, you'll still need to have proper marketing and advertising strategy to improve both your local and online visibility to attract more prospects.
Here are some marketing tips you can use to grow your handyman business.
1.Your Marketing Foundation: Service Excellence
Before we discuss anything else, it's important to first understand that any marketing strategy would only work when your product and/or service is already good. In this case, you have to actually deliver a high-quality handyman service, or any amount of marketing wouldn't help.
Customer service excellence is very important in the handyman business, and in fact, you can stay ahead of 80% of your competitors by simply showing up on time and always deliver your jobs on the promised deadline.
Time-management is very important, especially if you are running a team of handyman crews. This is where having a proper handyman business software like fieldd can be extremely helpful in ensuring you can always deliver high-quality services on time. With a smart scheduling technology like Fieldd, you can allow your crew to focus on finishing their tasks rather than on the redundant administrative work.
By ensuring you are providing customer service excellence, you can retain your happy customers and turn them into your advocates: they will leave positive reviews of your business and recommend your handyman service to their peers and friends.
This remains the most effective way to market and grow your business.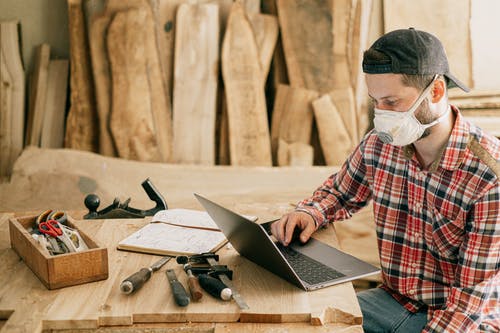 2.Have a Professional Website and Social Media Presence
Isn't a website redundant nowadays with everyone spending their time on social media? While it's true that social media will be useful in boosting your handyman business (more on this later), having a proper website is also a great way to gather your target audience in a single convenient location while showcasing the value of your business.
Nowadays, it's affordable and accessible to create and run a high-quality, professional business. Services like Wix or Squarespace can allow you to create a professional website easily even without any coding knowledge. It has also become very accessible and affordable to find high quality website designers should you require a Wordpress website for your business. [1]
Also, build your business's presence on relevant social media profiles. You should start by defining your target audience, and figure out the social media networks they frequent.
It's important to note that when marketing on social media, there are three different ways we can consider:
Organic: building followers to your account so you can engage them with your content. This is the most affordable method (can be totally free), but it will take some time before you can get the desired results.
Paid: using the paid advertising options offered by the respective platform (i.e. Facebook Ads). This is typically the most expensive option but will guarantee the fastest result.
Influencer: working with influencers relevant to the handyman service industry in your location. Can be cost-effective if you can find the right influencer to work with.
The key here is finding the right balance between the three channels so you can maximize cost-efficiency while generating results in a fairly short term.
3.Improve Your Local SEO
Nowadays, there are two primary ways people learn about new local businesses: via social media, which we have discussed above, and via Google search.
The thing is, Google now displays results from Google Maps for local-related keywords like "handyman services near me", "handyman in New York", and other target keywords you'll most likely target.
So, we should focus on improving our rankings on Google Maps to improve our visibility, and there are four key steps in doing so:
Claiming and verifying your Google My Business account. Google Maps only display businesses that are listed on Google My Business.
Optimizing your Google My Business account. Focus on providing complete and comprehensive information for your human audience.
Building local citations. Listing your mobile car wash business on various online directories and business listing sites. Make sure to maintain consistency and accuracy in information.
Encourage reviews. Both on Google Maps and other platforms. We will discuss more of this in the next step.
Do these four steps consistently, and your handyman business listing will slowly but surely climb the Google Maps ranking.
4. Content Marketing
You already have a professional-looking website and social media presence, so how can you attract your target audience to these platforms?
The answer is content.
There are various approaches you can do in delivering high-quality, valuable content for your target audience: you can start a blog, a YouTube channel (for example covering tutorials for basic home repairs), and so on, but the principle remains the same: provide informative and valuable content. Don't focus on promoting your service on your content, but focus on being helpful while establishing your credibility as a trustworthy expert in what you do.
Combine your content marketing with SEO best practices to generate more organic traffic.
Conclusion
Just because you've properly started your handyman business, doesn't mean your clients will automatically come. This is where having a comprehensive marketing strategy for your handyman business, which we have discussed above, is very important in attracting more prospects and customers to grow your handyman service business.
Especially, you should focus on always delivering quality service so you can build rapport and grow your business via word-of-mouth marketing.