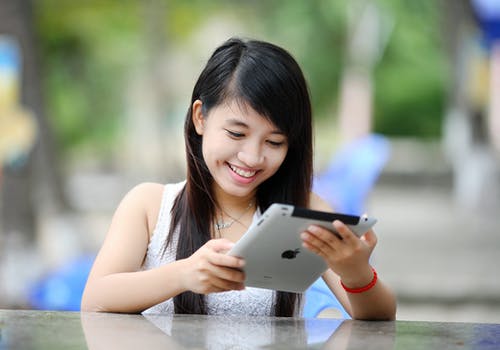 Regardless of where you may currently be in your academic career, if you're a student, you could benefit from using iPhone study apps. You simply need to use those that offer the most value and features.
Consider the following examples. As of this writing, they represent the strongest iPhone study apps on the market.
(Note: This isn't to suggest that using an app alone is enough to boost your academic performance. You also need to take additional steps to maximize your performance in school, such as enrolling in online courses to prepare for exams or cultivate knowledge that you're not getting from your traditional classes alone.)
The best iPhone study apps don't necessarily reinvent the wheel by offering new methods of studying. Instead, they may simply enhance existing methods. That's Evernote's key strength. It improves on traditional note-taking with such features as:
Camera scanning
Note organizers
Adding audio recordings and photos to notes
Syncing between two devices
Quizlet is another app that simply uses innovative technology to build on age-old approaches to studying. With Quizlet, a user can easily generate their own flash card style quizzes on virtually any subject, ensuring they have the opportunity to study anywhere their phone is available.
In-app games to make studying more appealing
Take quizzes generated by other students
Submit your own quizzes to study with others
Play games to learn about new subjects unrelated to your current coursework
Some students fail to study as effectively as they could because they're simply disorganized. My Study Life is designed for such students. It's an academic planner that allows students to conveniently store and organize information such as class schedules, assignment due dates, and more. Teachers and instructors can also use it to ensure students always have access to syllabi.
Cloud storage so data is available on any advice the app is installed on
Track assignment revisions
Store past exams for future studying purposes
Receive notifications when academic tasks haven't been completed
In some instances, the best way to study involves some degree of brainstorming. XMind is useful in these instances. It's a brainstorming iPhone study app that helps students store their ideas and build on them.
Built-in templates for easy idea organization and development
Drawing features for visual ideas
Topic linking tools to bridge the gaps between seemingly unrelated topics
Share files in multiple formats
The idea behind Dragon Anywhere isn't particularly revolutionary. It's a dictation app for students who need to record notes quickly when they don't have any other means of doing so. What earns Dragon Anywhere a spot on this list is its accuracy (as some dictation apps don't translate speech to text as well as others) and ease-of-use.
Built-in dictionary for commonly searched words
Edit notes and documents after dictation
99% recognition accuracy
Add topic-or-industry-specific words to dictionary
Technically, CamScanner isn't exclusively a study app. It's an app that allows users to scan documents into PDF files via the iPhone camera. However, it's particularly popular among students, as it offers an easy means of saving documents for future study.
Convert PDF to other file types
Smart cropping for maximum scan quality
Advanced editing and annotating features
Remember, these apps aren't replacements for thorough studying. They merely promote that type of studying. Whether you're in high school, college, or you're simply taking online courses on the side, consider how they can help you achieve your academic goals.