In the last few years, virtual reality has changed the game in different industries such as business, education, tourism, and medicine. When the pandemic started, the demand for VR has grown immensely because it makes every product or service more approachable. As far as the gaming industry is concerned, the popularity of VR is quite recent but has no intention of ceasing anytime soon. Therefore, gaming enthusiasts are probably not surprised by the fact that virtual reality is estimated to hit its revenue of 11.6 billion U.S. dollars by 2025. Let's go through a few points of why VR is so significant in the gaming industry and where it's going.
Benefits of VR in gaming
VR offers a different approach to games we used to play at home in front of our game consoles or PCs. It is true that gaming fans are more familiar with it and have experience in VR games, but the goal has been to attract more novice users who are just introducing themselves to this exciting world. One of the good points is that it is approachable and tailored to a wider audience. No matter how skilled you are in this kind of entertainment, you will be amazed by it every time you play. It offers well-thought-out stories with engaging environments and genuine virtual objects. You can play with other people from across the globe and make new friends through the same love for gaming. Also, interaction with virtual characters makes it that more impressive. Even if you play by yourself, you will communicate with the characters and still have a fantastic time from beginning to end. When it comes to appealing to the senses, visual perception is just one part of playing a VR game. VR brings a game to life through senses of touch and sound. A great example of this is "The Walking Dead: Saints & Sinners" VR game. It is a whole new level of excitement when you find yourself in this intimidating setting.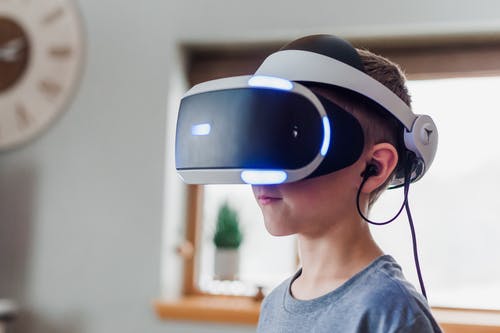 Game Genres
Virtual reality games are more present and more requested by users because they are exciting and fun. Of course, the choice depends on how much time you want to play and on which device. With the growth of VR comes a huge array of devices to play on. If you are only familiar with PCs then you will be surprised how many other options are offered. Renowned companies such as Microsoft, Facebook, and PlayStation manufacture their own VR sets and always work on quality and advancement. Gamers can easily find a game of their choice depending on their mood and interest. If you are a Star Wars or a Marvel fanatic, you will get lost in the universe of VR action games. However, for those who are more laid-back and want to enjoy an extravagant gambling night, there is something for them too. All they need to do is learn some basics such as good strategies on how to win at slots before diving into the virtual world of slot machines. They can get that atmosphere of a casino night packed with excitement. Without spending a dime on traveling to and from a brick-and-mortar casino, you get the same feeling by just putting on a VR headset.
Future predictions
Undoubtedly, the choice of VR games will be far greater due to the high demand for different game genres. Different age groups require different genres so the focus will be on providing a range of various types of games. This is why there are more people interested in owning a VR device to engage in a virtual game from the comfort of their own homes. Also, game developers are already working on expanding the range of senses during a game. Sense of smell will play a huge role in the popularity of VR gaming because it changes the whole experience. It is a competitive market, so we can only expect rapid progress in every aspect of it. The virtual world will surely attract more attention than television very soon. Television has our attention only visually, while a VR game makes us take the leading role in every story.
Bottom Line
Companies are constantly working on their products and pushing their limits which is greatly appreciated by gaming enthusiasts. Even those companies who were not thinking in that direction are changing their mind and working on developing their computer games into something more. This interest leads to VR games being mainstream and more available to customers. Players are those who change the industry. It is their preference that defines what comes next. Virtual reality gaming has just started its journey so we can only expect it to be better.