Introduction
There is a slew of options for a fighting game app available in the App Store, but none of them actually offer a great fighting game experience like we are used to from the arcade or classic consoles.
The best games for the iPhone-2021
This is mainly due to the fact that touchscreen controls are simply not as precise as the controls on an arcade machine or a home console.
A lot of different developers have already tried to get around this problem in a fighting game for iPhone app, but nobody has actually succeeded yet in making the controls as precise as they used to be.
Developers Nekki has actually done their very best to make the controls for their latest game, Shadow Fight 2, as precise as possible, but did they succeed? Shadow Fight 2 is compatible with both iPad and iPhone and is available for free.

Check out our Shadow Fight 2 app review for more details and to see if it's one of the great fighting games for iOS devices.
Gameplay
Let's talk about the most important first. The controls of the game are amongst the best I have ever seen. The directional joystick that is built into the game is very precise, and quite large, so you can actually easily plan your moves.
Best iphone and ipad apps
You will get to fight all kinds of different enemies and unlock all kinds of weapon types that each have a different fighting style. While you progress you will get access to these weapons and you can select them however you please.
The fighting itself, even though you have a lot of control, is quite difficult, mainly because it's so slow yet very fluent. It's all about timing which involves a lot of practice.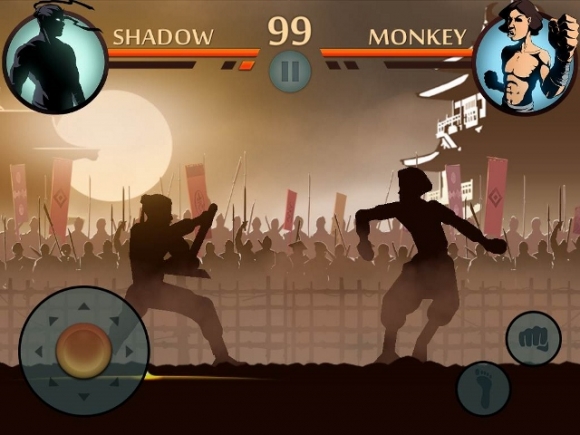 Graphics and Sound
The graphics of the game are delightfully simple. The characters are just silhouettes of fighters, which keeps the size of character models down nicely.
The backgrounds are quite simple too, but add just enough depth to make the fighting stand out. The animations is where the game really shines and the fighting looks so fluent it almost looks real.
Lastly, the sound of the game is also spot-on and it sounds like you are really deep into a fight. There is also some art in cut scenes which shows you what the characters you're fighting really look like.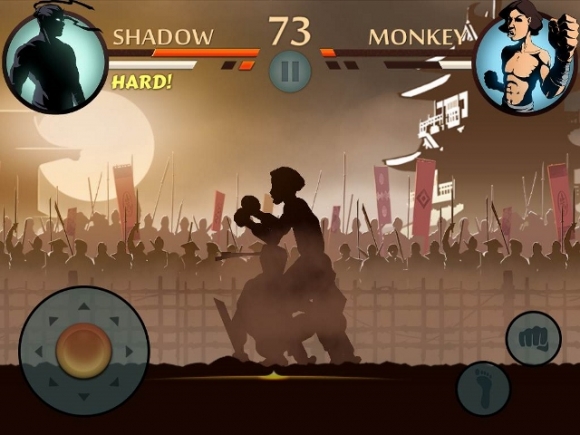 Pros and Cons
Pros
The best animations I have seen in a fighting game ever.
Great gameplay
Awesome sound effects and fantastic graphics
Cons
Learning how to fight can take quite a while
Conclusion
Shadow Fight 2 is definitely the most deep fighting experience I have ever had on a handheld device. The animations of the combat look absolutely stunning, but make the combat a bit sluggish, meaning you really have to learn how to time and control your character.
Tons of different weapons are available to make your experience even more fun and diverse. The app is designed for both iPhone and iPad, and the game is just under 100 MB, which I can credit to the fact that all the character models are mere shadows.