Introduction
Do you own a Mac device and need to recover data? Perhaps, you accidentally wiped out a drive and frantically need to restore the lost files. If you fall into one of these categories, or anything in-between, then you should download Stellar Data Recovery today.
This software is a powerful tool that recovers any lost or deleted data and does so without any limitations. You can fully restore a file to its original intent and location.
Let's check out some of Stellar's features and see what it can do for your data recovery needs.
How Does it Work?
This data recovery Mac software has made it incredibly simple to recover lost or deleted data. It really is a quick process.
First, choose the type of data that you want to recover. This can include files like documents, photos, videos and more.
Next, choose the location that you want this software program to search. In other words, pick the drive where the files used to exist.
Lastly, click scan to begin scanning the drive. Once the scan is complete, the results will come up and you can decide how to view those results in Classic, File or Deleted List by simply toggling between the three.
Once you find the file(s), just click on the blue Recover button and provide the destination on your Mac device or external driver where you want the recovered files to be saved.
The simplicity of this program can't be stated enough. It truly is a stress-free program. In fact, you really don't know how much you need Stellar until you end up in a situation where you lose important data or files.
And, if or when that time comes, you will be signing the praises of this software program.
Multiple Scanning Options
Stellar offers a few different scanning options based on your recovery needs and experience dealing with software tools like this one.
Users can customize their scans to find specific files, which cuts down on the time it takes to locate and restore. Additionally, the Scan Mode can be switched between Quick and Deep scan modes. This also depends on your recovery needs.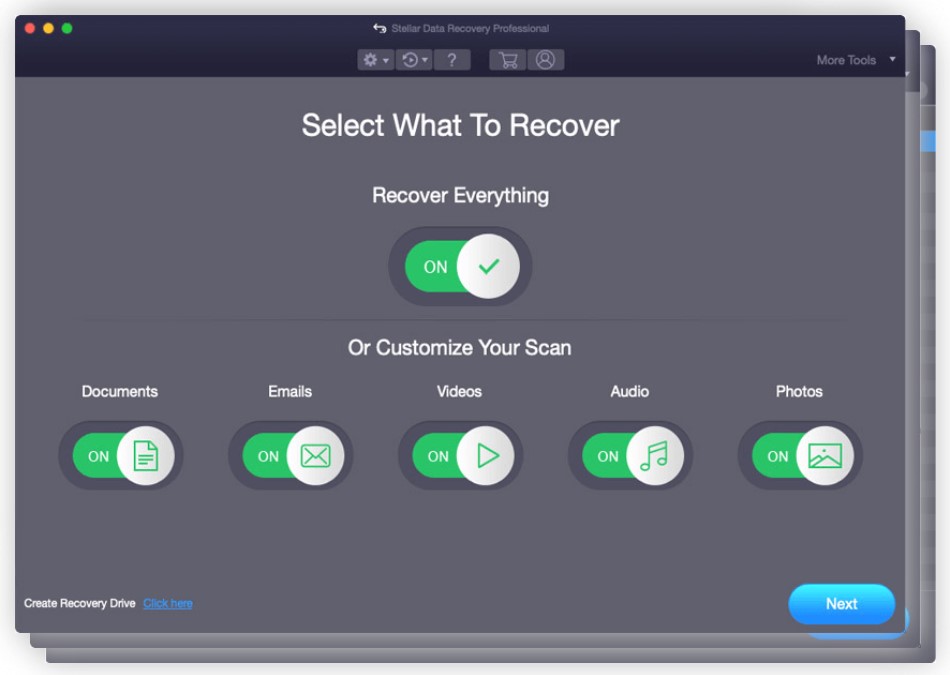 More Tools and Features
In addition to how easy this Mac data recovery software is to use, it also offers other wonderful tools for users like Disk Imaging, Drive Monitor, and Clone Disk.
Disk Imaging is where you create an image of a hard drive to expedite the data recovery process and to ensure that you don't lose any critical data. Stellar will create and save the disk image without users having to do anything more than a few clicks.
Another excellent aspect of Stellar Data Recovery is its Drive Monitor tool. This feature allows users to monitor the health, temperature and performance of a drive. It can tell you when a drive is experiencing too many bad sectors and facing a potential crash.
And if that weren't enough to convince you to get this software, Stellar also allows you to create a bootable USB flash drive to access your Mac device and/or create a Clone Disk of a particular drive.
Pros and Cons
Pros
Can use it on any Mac device
Find lost or deleted files
Restore files even if hard drive crashed
Powerful, yet easy to use
Disk Imaging
Clone Disk
Create bootable USB flash drive
Monitor the health of your hard drive
Cons
None that we can think of
The Only Recovery Tool You Will Ever Need for a Mac Device
This is without a doubt the only data recovery tool that any Mac owner will ever need. The ease of use along with more in-depth scans and tools makes it perfect for users of all levels of experience.
It doesn't matter if your drive has been partitioned, crashed or wiped out, Stellar Data Recovery software can find your lost files and restore them to your desired location.
This truly is a fantastic program that's a must have for all Mac owners. It's like having insurance for all of your files on your Mac. Nobody hopes that they will need this tool, but they're very thankful that they have it.