At times people find themselves wholly uninspired and unselfish at home, work, around their pals. Doing this period, you need motivation and inspiration. The funniest aspect of this period is that going to the counselors or any motivator will be a little difficult as you might not be motivated by anything. Due to advancements in technology, various motivational apps have been designed with easy accessibility on Android, iPad, or iPhone. With the development of those apps, people can derive the motivational benefit that will prepare them for work and other duties.
In this article, top 7 motivational apps will be selected from the massive list available app Android, iPhone, and iPad motivation apps. This app will assist you in achieving your goals and objectives through their daily motivation activities.
MINDJET
It just takes creativity to come up with a creative idea and nothing to compare with some organized ideas to be accessed on the App with Mindjet. The moment you have begun on an innovative idea, by adding info, arrange, and sketch it out. Mindjet is a fascinating application to organize plans as a backup to simplify your project. This app assists you in mapping your thoughts effortlessly. You can quickly trace what you have mapped out and determine your direction due to Mindjet user-friendly features. Mindjet is designed with a great mapping feature that allows you to determine your style, subject, text, and relations. It also enables the user to connect different and most especially essential details. Mindjet is excellent for those who like getting their ideas and expanding on them when they feel inspired.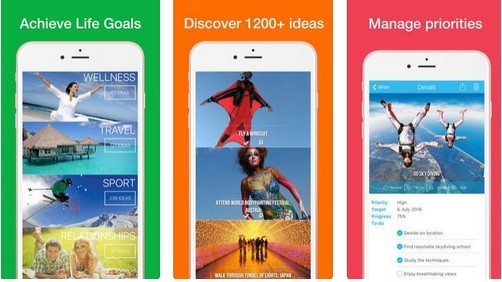 iWish
This iWish is an application that gives you greater control over your activities ranging from organizing, arranging, and controlling your daily tasks to remove the torments and bad feelings that come when you don't meet your target. This app is built with fun pictures and themes; this app lets you monitor your organized list to see if you've achieved the objective. More so, this i Wish features a reminder which you can use regularly as well as display motivational quotes to keep you focused all day long.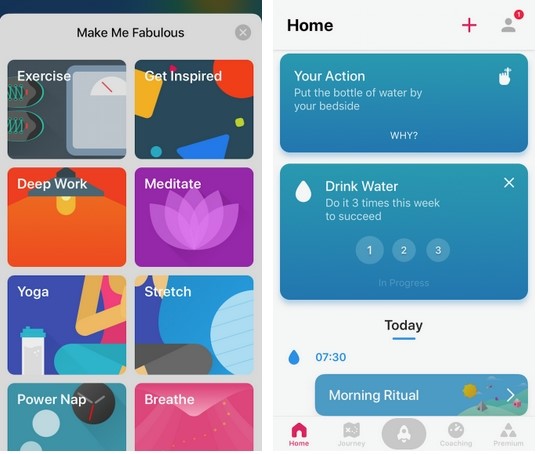 FABULOUS
This app is designed to harmonize the entire user life with its built-in personal coach. The idea for the development of this app is a holistic approach to human health. Advice and recommendations will give you how to improve your life, such as; enhance sleeping quality, workout, meditating, task execution, engaging in more positive thought, etc. For many days, the app user engages each task so that the new habit can be automatically created. These include daily routine work, fun, eating time, and other daily activities. For those who want to get bigger, more punctual, safer, and cope with the vital weight, this is an excellent trainer app for every day. All the techniques used in the software are pre-tested and scientifically validated, so you'll get the desired result when you perform some tasks.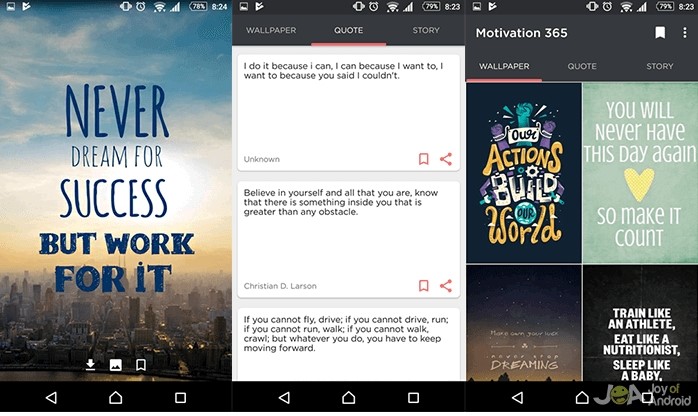 MOTIVATION 365
This 365 motivation app offers you a wide variety of motivational quotes, videos, and wallpapers. This app is a basic Android motivational app with an intimately familiar interface to the content. On the main screen, all is viewed, with tabs devoted to 3 specific categories. The wallpapers are a perfect way to make positive for your home screen. They are adorned with beautiful quotes, but they also have vibrant and lively images, making your home screen bloom with motivation. A lot of quotes are also available on the app; all are hand-picked by the curators. If stories are more in your style, there are multiple uplifting stories at Motivation 365. You can add a favorite item to your bookmark, so it's simple to get at when needed. Motivation 365 is designed with features to save wallpapers directly to your device storage; this allows for easy access when uploading and sharing them with friends and family on a different social platform.
MOTIVATION QUOTES
Quotes are one of the most popular used methods for motivation. The simplicity of a single sentence that gathers what you feel or what you need to do is challenging to tackle. This quote app includes thousands of quotes to improve your push. This app is designed with a daily quote. It also features a reminder that will allow you to have full control over when you want to get the quote. Not only that, Sharing and storing of the daily quote is also included. Although it is not a free app and there are benefits you can get depending on your subscription package such as No Ads with Premium Subscription, Different and Font choices.
STRIDES
Strides are another fantastic device that will keep you motivated. Your habit can track and improve on them in this app. A person's success hinges on his habits and behaviors'. Therefore, if you want to change your habits, then this is your go-to app. With this, your daily, weekly, monthly activities can be easily monitored. Due to this monitoring, you'd find yourself inspired and begin to see the changes in your behavior. Strides app is featured with the easy goal-setting procedure only that like another great app reminder is also included a comfortable arrangement on when to execute each task.
HABIT TRACKER
You can quantify lists and events, and monitor them. This app is fantastic with customized nature. Habit tracker allows you to get a sense of achievement immediately; you finish any tasks in contrast to other apps that only allow you to focus on what you want to achieve. Habit tracker is designed in a way that you can input some habits you desire to eliminate. Due to this, you will be eager to eliminate those bad habits as you will be felt with great positive energy due to those habits since you have identified and outlined what you want to eradicate. To achieve and get a new lifestyle with ethical behavior that will bring value to your health and life, the habit tracker is a must-have app to assist your achiever with such a goal. You can easily monitor different activities and repeat the daily to-do list. There is an excellent bar counter and percentage for every habit you practice daily. Habit tracker is built with great motivational quotes to help you achieve certain habits and accomplish many activities.
CONCLUSION
If you have a target or dream of achieving, or you're in the middle of the crushing process of your goal, using a motivational app can help you succeed. We believe that one or more of the above listed awesome motivational and inspiring apps are what you were looking for. Each app was designed with unique features that differentiate from one and another of the process of achieving goals, and advanced features make each step simple. So support yourself by picking the right device to match your needs.